Ex On The Beach's Jordan Davies and Olivia Walsh have rowed on their first night in the villa after Olivia commented: "He's desperate for a f**king bang."
Jordan had been inside chatting with Kayleigh Morris, the first ex of the series, while Olivia and Jem Lucy watched from the pool area.
Kayleigh had just arrived at the villa and was NOT a popular addition among the ladies
, as evidenced by rows with Jess Impiazzi and Jem, the latter of which had to be broken up by Jordan and earned both ladies a warning from producers.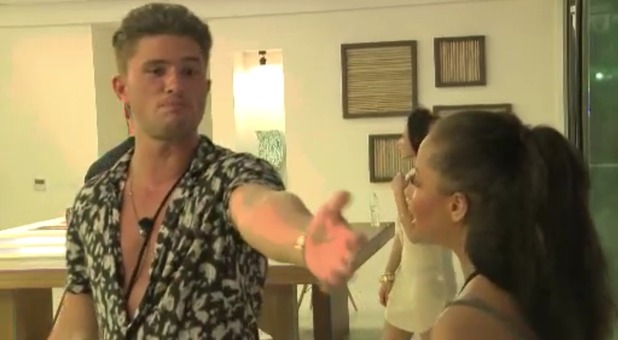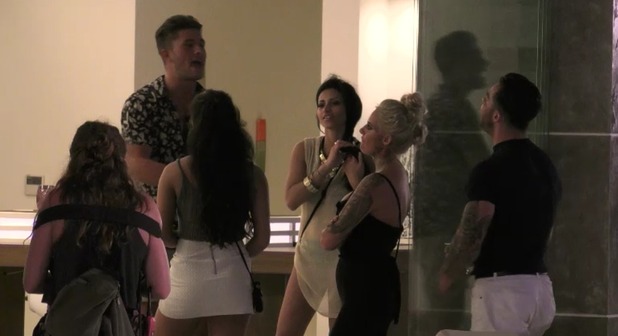 While Olivia and Jem stood outside, Jordan told Kayleigh she was "smashed" and should get some water. "I feel like f**king Jeremy Kyle breaking fights up and doing this and that," said Jordan, to which Kayleigh said: "I told you I was coming into a villa with four girls who didn't like me."
"The thought of her being in the same villa as me makes me feel sick," said Olivia, in a bonus scene posted to MTV.co.uk that didn't appear in the aired episode.
"He's desperate for a f**kng bang, Mr Magaluf Weekender," she added.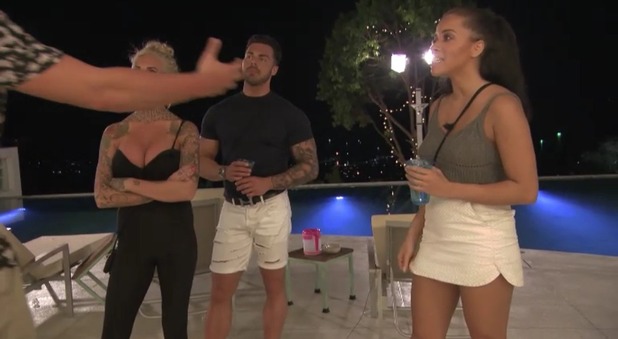 Well, clearly noise travels in the villa as Jordan heard her and immediately shouted outside: "Olivia, I'm not being funny, but what the f**k are you saying that for?"
"Because it's obvious, Jordan!" she replied.
Jordan then got up to go talk to Olivia, telling her: "All I'm saying [to her] is I'm keeping the peace here and I'm like f**king Jeremy Kyle keeping the f**king peace so why say I'm out for a f**king bang?"
"Because it's obvious, Jordan!" repeated Olivia. "You're bored! And when we were sat around the table you said whatever girl came in you would crack on. So she's in, you're cracking on. She's awful and I know she's not your type. If you want to get your d*ck wet…"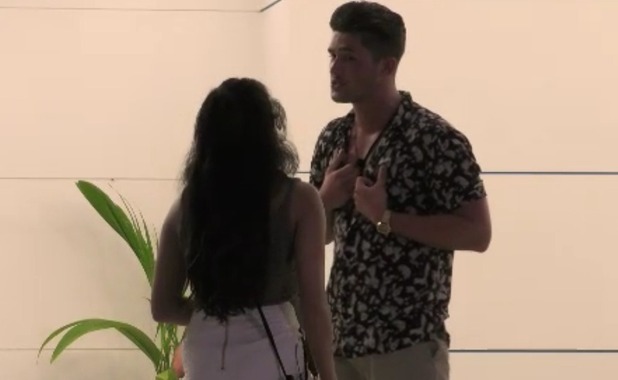 Jordan told her that was "out of order" and said he hadn't been flirting.
"When I was sitting there with Kayleigh I wasn't flirting. I said 'I think you've had too much to drink, have a water.' I wasn't flirting or being like, 'Oh yeah, come on.' Kayleigh is good looking, yeah, but I wasn't being a f**king flirt with her."
Olivia repeated: "All I said was Mr Magaluf Weekender wants to get his d*ck wet because you do! I'm not bitching. It was banter!"
Jordan started to reply but Olivia told him she was "bored", prompting him to say: "'Cause you lost the conversation as you're pissed out of your head."
What happens next?!
EOTB
continues Tuesday at 10pm on MTV.