Ferne McCann has undergone surgery on her nose and revealed the brand new look on today's This Morning.
The ex-
TOWIE
star, who is the showbiz correspondent for
This Morning
, gave the TV show access to the full process, allowing cameras into her hospital room ahead of the procedure, which she had done after a lifelong insecurity about her nose and nasty comments from trolls.
"It's subtle," she said. "I didn't want to change my whole face. It was just this one thing that bugged me my whole life, especially when I was a teenager and got teased about it at school. Boys used to call me goose and that made it become an insecurity."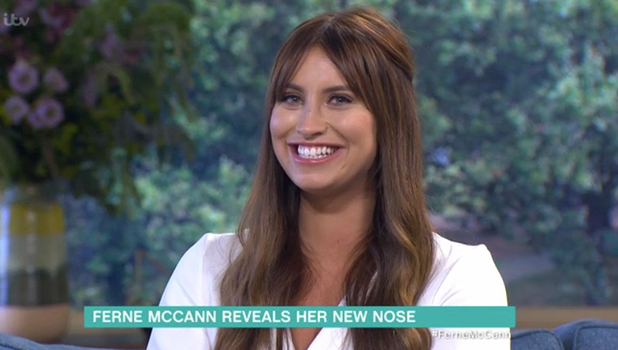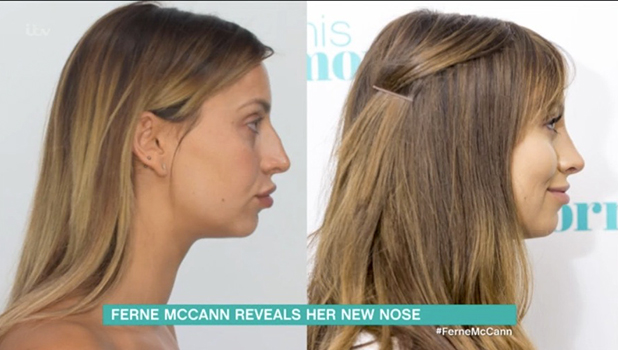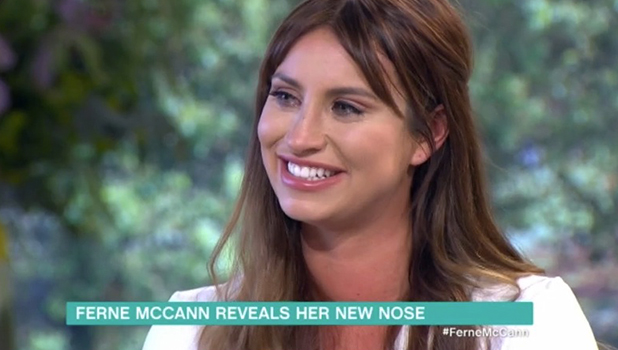 "For me, when I look in the mirror, from the front it looks very similar to what it was before," said Ferne, "but the profile, the bumps gone and it is completely different. Twitter trolls didn't help, but I didn't do it for them."
"It was a very considered decision. I turned 25 a few weeks ago. I waited until then. My first consultation was at 18 but I didn't feel ready," added Ferne.
"I'm in the public eye and some young girls may see me as a role model so I want to be completely open and honest. If you're thinking about getting any sort of surgery and you're a teenager and you feel insecure and awkward and feel you don't have this Instagram perfect commercial face, wait until you're an adult.
"It's not a decision you can make light-heartedly. It was something I did for myself, not Twitter trolls, journalists, boys at school. It was a personal thing. I just wanted to remove the bump on my nose."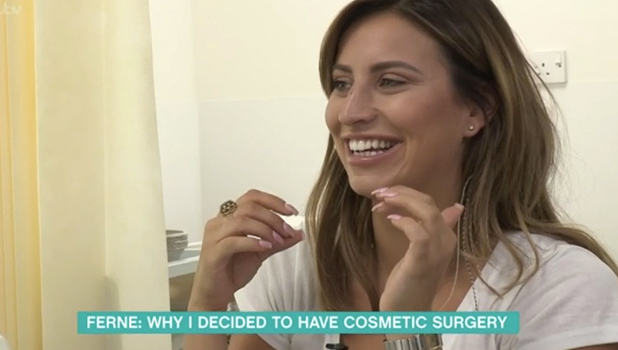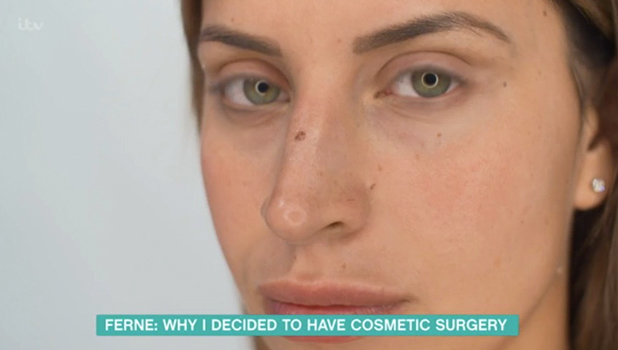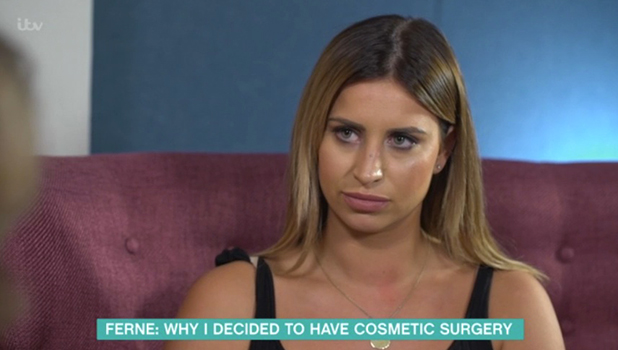 Ferne's mum sent a statement to the show which read: "All I ever want as a mummy, is for Ferne to be happy and to enjoy her life to the fullest. So if this meant changing her nose slightly then so be it. I think she's stunning. This won't change Ferne as a person. I really admire her and support her courage to go through with this and she's still my beautiful little girl and always will be."
In a pre-taped interview before the surgery, she said: "I'm not getting it done because I want to get closer to being beautiful. It's not about that. It's just something that I don't like, and every day I look in the mirror, it knocks my confidence."
Ferne has previously spoken about being targeted by vile trolls online, and said today: "My nose is my insecurity and it's the easiest thing for them to say... It hurts."
Viewers saw footage of
I'm A Celebrity
star Ferne talking to
This Morning
's counsellor Penny Jordan before her op, saying: "There'll be a lot of people that understand why I'm doing it and a lot of people that won't."
When asked if she cared about people who didn't understand, a very tearful Ferne replied: "I don't want to upset my mum and that's what makes me really emotional... but she really understands now."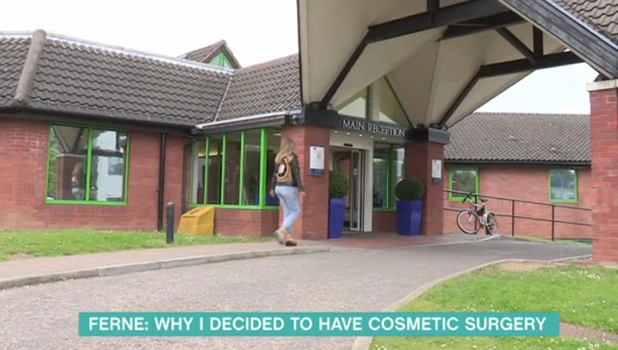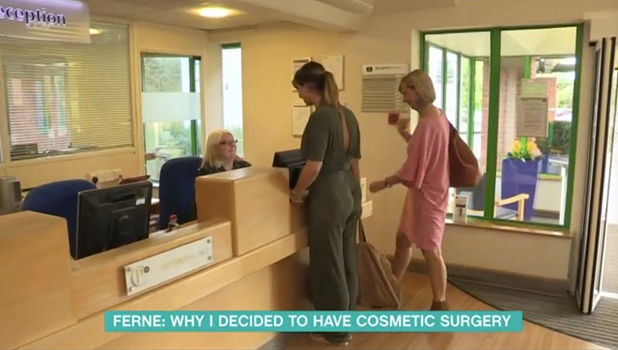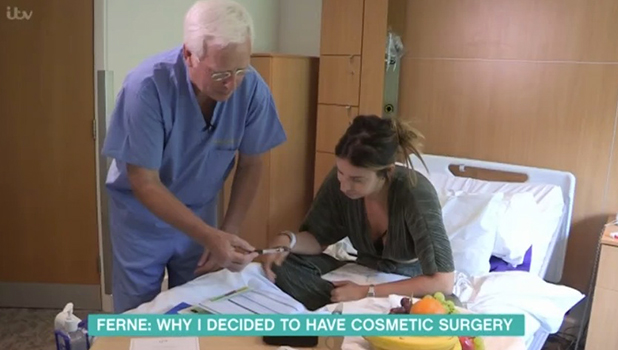 Ferne spoke to her surgeon, Professor James Frame, during the video, who told her: "You have a little incision made inside your nose on both sides, free up skin off the nose, instruments which lever the tissue away. It takes about four to six weeks to heal."
We then saw Ferne arriving at the hospital with her mum. Being being brought to the theatre, she said: "There's always that bit in your mind where you think, 'Am I doing the right thing?'" Her mum told her: "I think you are, I think you made up your mind."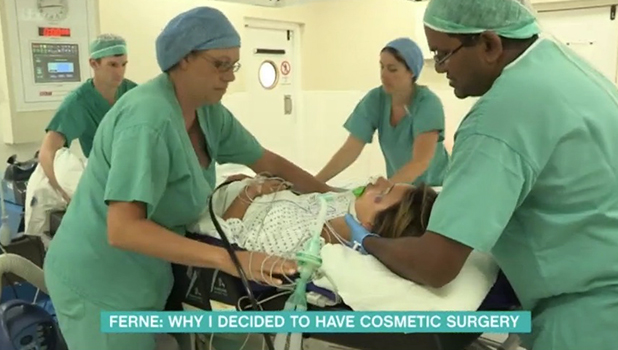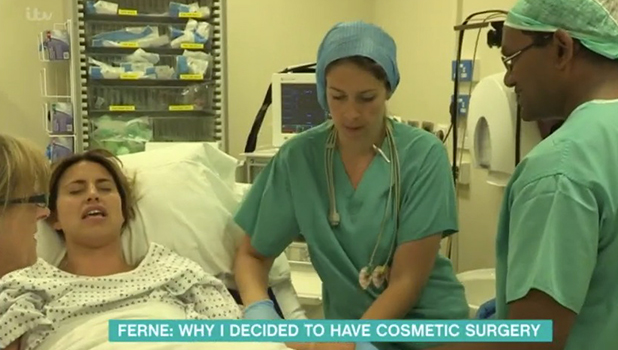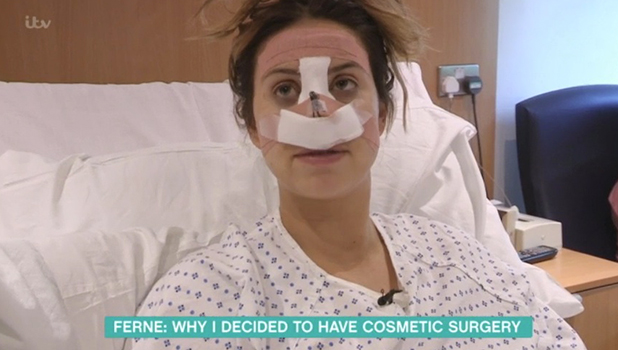 While in the
I'm A Celebrity
jungle in December,
Ferne spoke out about disliking her nose
, telling the campers: "I know it's really shallow and you should love everything about yourself, but I would love to change my nose. People have always made comments about it, I feel like it takes over my face, I can see it when I look down. I'm just unhappy with it. I'm grateful with what I've been given and try to make the best but that's the one thing I'd like to change."
This Morning
airs from 10.30am on ITV.