Celebrity Big Brother's Renee Graziano and Chloe Khan have had a blazing argument. Well, we all knew it was coming, right?
It's been brewing for days and it finally erupted in scenes yet to be aired, after
Aubrey O'Day was punished for talking about nominations
and saying the housemates should rally together to get Chloe, Lewis Bloor, Stephen Bear and Marnie Simpson out.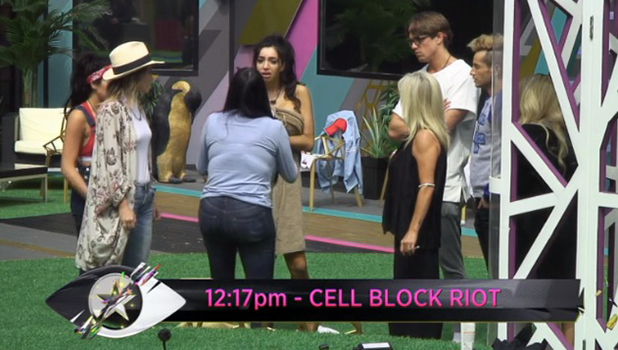 Going outside to where Aubrey was in jail, Chloe wanted an explanation from Aubrey as to what they'd all done so wrong, prompting Renee to shout: "None of us like your behaviour!"
"You try to put your authority down by making people scared of you," replied Chloe. "You have a lot of insecurities and as long as you have girls in your ass, licking your ass, you feel fine. But when they step away, you hate it."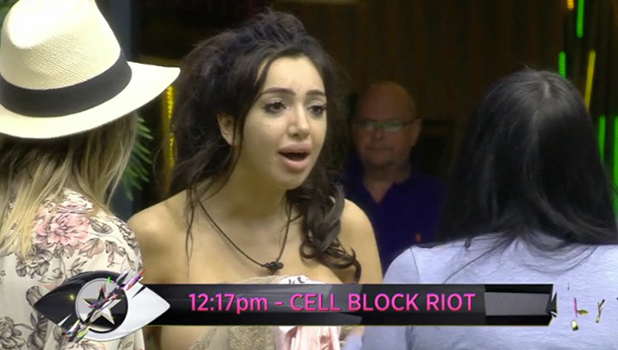 Renee shot back: "You've been up my ass since we walked through the door! You want to remain tight with someone, you don't let them be knocked down. When a person is sitting there and keep going at them, you get up and walk away!"
But Chloe said Renee was just interfering, saying: "Everyone is happy in their own lives and all you do is talk about people! Is it because I got with Bear?"
"I don't give a f**k about Bear!" shouted Renee, who fancied Bear at the start of the show but is now, well, not such a fan.
"You obviously do."
"It's not about him," said Renee. "It's about me and you, not about Bear. The problem started when you started encouraging his conversations."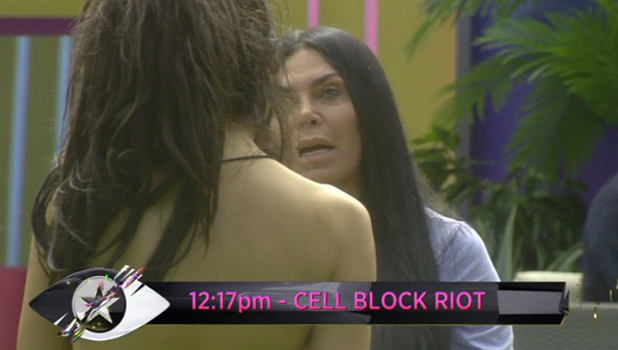 We already knew there was no love lost between Renee and Chloe, and Renee even nominated Chloe to take her place in facing the eviction tonight. (She was able to do that as part of the shopping budget task this week.)
Chloe faces Bear, James Whale and Marnie in the eviction.
Chloe, Bear, Lewis and Marnie have angered the housemates in recent days
with behaviour including a drunken night, knocking over plants in the garden, Chloe pole dancing topless, Lewis walking around naked, and cake being thrown in the bedroom as housemates tried to sleep.
CBB
airs 9pm on Channel 5.