Celebrity Big Brother's Frankie Grande threatened to strike last night over Marnie Simpson, Lewis Bloor, Chloe Khan and Stephen Bear's behaviour so we're a bit surprised to see he's now been HUGGING divisive Bear.
How did that happen!?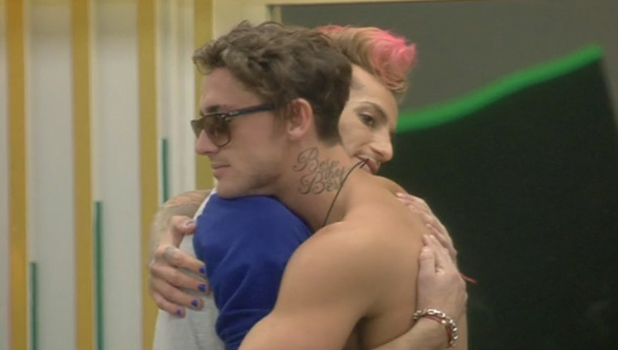 To recap:
Marnie, Lewis, Chloe and Bear – nicknamed The Rat Pack by Sam Fox – angered a group of housemates
by partying loudly and engaging in antics including Chloe doing a topless pole dance and chucking cake around the bedroom.
But the next morning Bear managed to get back in Frankie's good books by making him a good ol' cuppa and getting a cuddle.
"At least we're back to getting on as happy families again," said Bear. "Got a bit frosty didn't it?" He then started to sing about being best friends, prompting Frankie to say: "That's a step too far Bear! We're on our way to being best friends."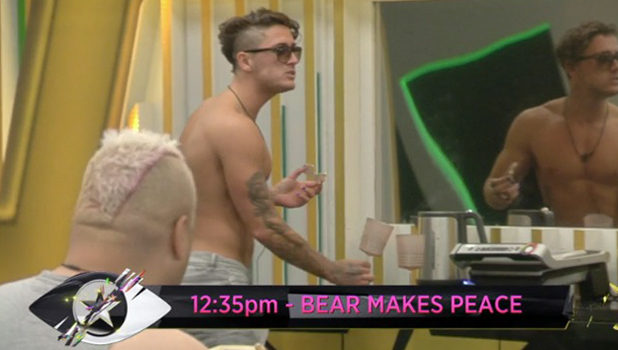 Bear commented: "Things can always be sorted out over a cup of tea, a little chit chat, a bit of banter and a cuddle. I think I should go for president."
After making an Earl Grey for Frankie, he got a cuddle.
"There are times when I love you and can't get enough of you," said Frankie, leaving unsaid the part which is being driven crazy by Bear's antics!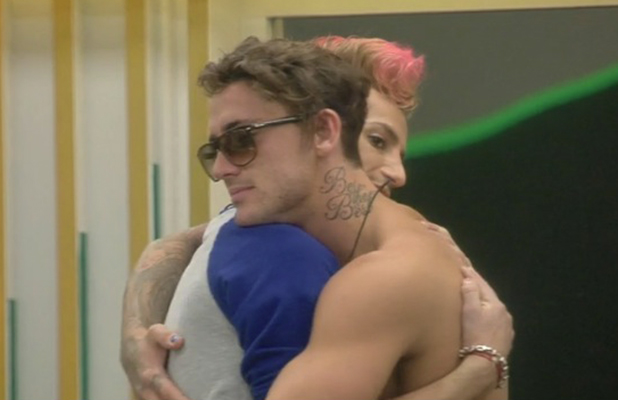 Bear, Lewis, Marnie and Chloe angered the housemates on Wednesday night (10 August) with a boozy, raucous evening that saw two steamy showers, Chloe's topless dancing, Marnie flashing a boob and Lewis walking around naked. They also caused noise in the bedroom when the housemates were trying to sleep and Chloe threw cake everywhere.
It led Frankie, James Whale, Sam Fox, Ricky Norwood, Katie Waissel and Aubrey O'Day to tell Big Brother in the Diary Room they were close to quitting over The Rat Pack.
"We can't go on like this…we all want to leave," said James. "There are four protagonists and they have over stepped the line tonight. This could be the first strike in the history of Big Brother and I'm very right wing!"
CBB
continues 9pm on Channel 5.