Marnie Simpson can't understand why she's getting the cold shoulder from some Celebrity Big Brother housemates following THAT drama last night.
You've probably heard by now it was a pretty controversial episode featuring a naked
Lewis Bloor, Marnie flashing her boobs, two steamy showers and topless pole dancing from Chloe Khan,
not to mention Chloe chucking cake around the bedroom and Bear disrupting the housemates' sleep.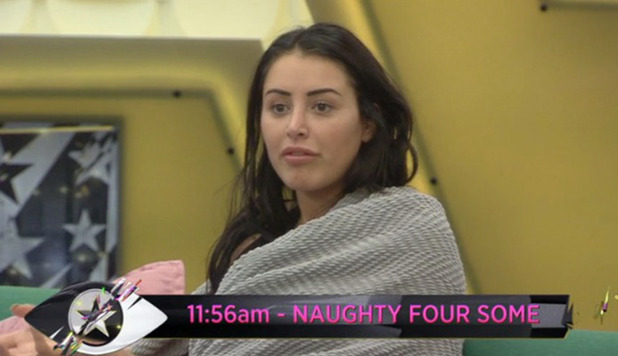 It got so bad that
six housemates stormed off to the Diary Room
and threatened to strike or even quit if the behaviour of the Rat Pack wasn't sorted.
The next morning, there's still tension…
In an exclusive clip on
Big Brother's Bit On The Side
, Marnie tells Bear, Chloe and Lewis: "I feel so uncomfortable 'cause everything is awkward. It's just really weird. I walk into a room and feel everyone hates us. I don't know why."
Marnie goes on to say she doesn't think the group did anything wrong and brands their antics as "fun" and inoffensive.
"It was us having our fun outside away from people," she says. "We weren't doing anything wrong there. It's other people looking at us, commenting on it. That's them getting involved. I can't be treated like this just for having a bit of fun. It's a joke."
Bear feels the same way, claiming he's being "victimized" by housemates
, including Ricky Norwood and Sam Fox, giving him the silent treatment following their strike threat. James Whale, another striker, tells Bear they're all beyond caring and won't put up with it.
"I'm not being funny you guys," says Bear. "You need to grow up. We didn't do anything wrong. I come in and you're slagging us off. It's not on, mate, let's have it fair. We were having a good time. It's embarrassing, it really is. A bit of cake on a zebra. How is that bad?"
The housemates who threatened to strike were Sam, Ricky, James, Frankie Grande, Aubrey O'Day and Katie Waissel.
Meanwhile,
Marnie and Bear face eviction this week against James
and an as-yet-to-be named fourth person.
Renee Graziano was initially nominated but won the chance to save herself
and choose someone else in a task which will air tonight.
CBB
continues 9pm on Channel 5.