Chloe Khan has SHOCKED Celebrity Big Brother viewers by pole dancing topless during a boozy night in the house.
Encouraged by Marnie Simpson, Lewis Bloor and Stephen Bear, the former
X Factor
contestant whipped off her top and bra to gyrate on the metal pole in the garden.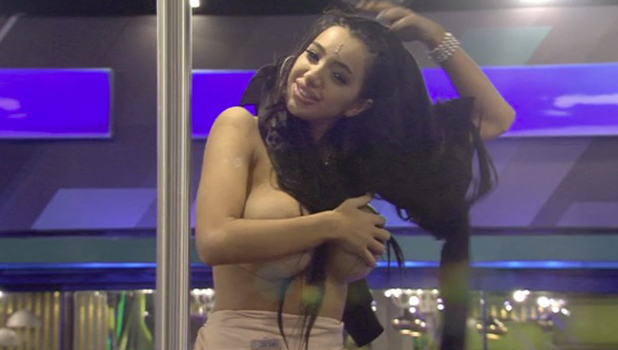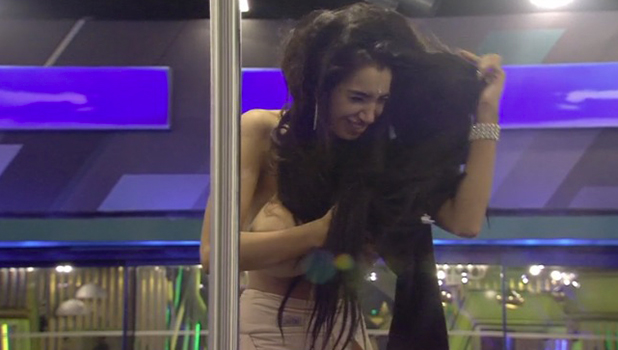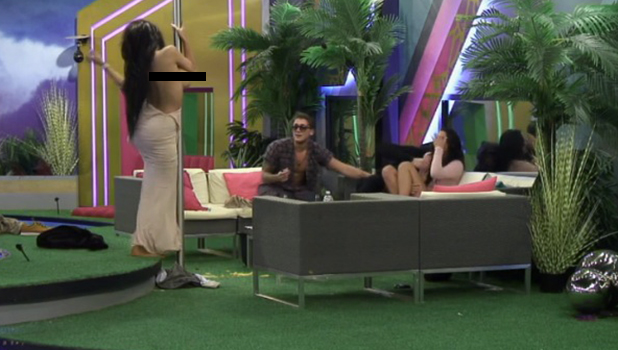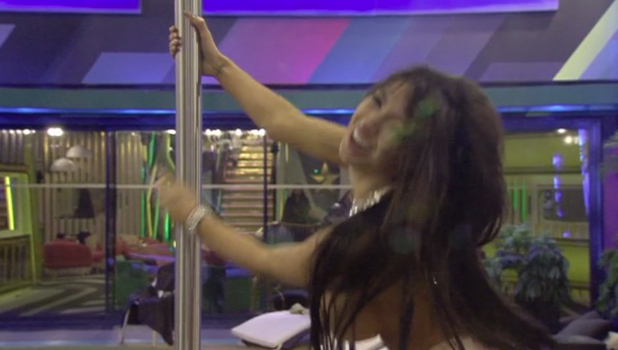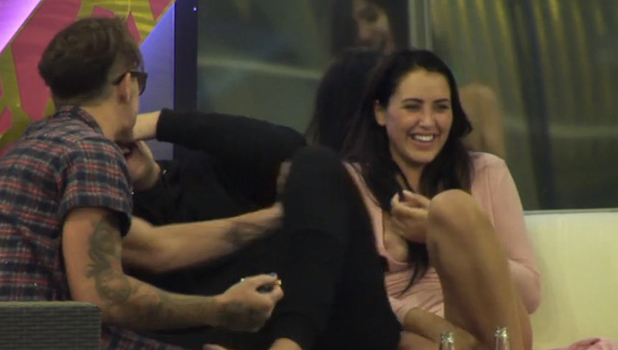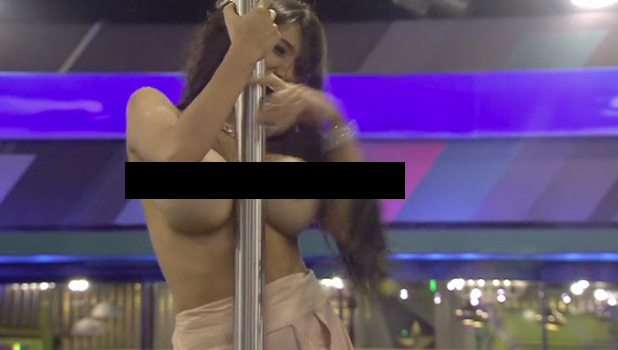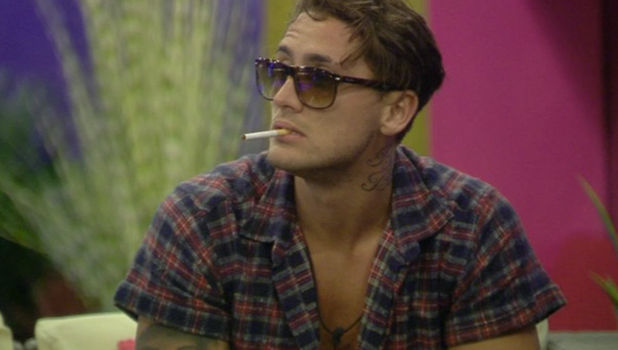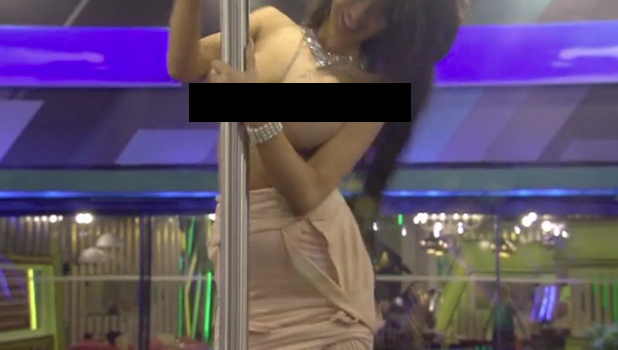 While the trio hooted and hollered at her to continue, the other housemates, who were all indoors, looked on in shock and annoyance.
"That bitch is naked on the pole right now!" shouted Aubrey O'Day, while Heavy D commented: "She has her t*ts out. Is this what it's come to?!"
Fans at home, including ex-
TOWIE
star Maria Fowler, also expressed a myriad of views, many saying it was a step too far and Chloe had done herself no favours when it comes to trying to change public perception of her.
Some fans also pointed out that Chloe's actions came right after she got upset at being called a "prostitute" by Renee Graziano, although Renee told Chloe she never said that and Chloe must have misheard.
Others called the scenes
Catching up on #CBB really think Chloe has let herself down, started the show changed my perception of her but now she's proved ppl right

— Maria Fowler (@MariaFowler) August 10, 2016
She riding the pole topless and get upset when she's referred to as a prostitute! Chloe, please check yourself! #CBB #CBBUK

— Terron (@TeeVanity) August 11, 2016
'Im going into BB to show im not the typical girl who gets her boobs out partying' Urm chloe? #CBB

— #TeamRicky (@flawlesslesterr) August 10, 2016
does chloe not even care that her daughter is most likely watching and seeing this disgusting behaviour? the u.k. farrah abraham. #CBB

— M (@wtvmollie) August 11, 2016
Chloe had so much potential to be a great housemate, I'm disappointed in her #cbb

— Brook (@spun_sugar1) August 11, 2016
Bear, Marnie, Chloe and Lewis are so disgusting #CBB

— #savemeech (@DavonneBB18) August 11, 2016
However, other viewers were firmly on Team Chloe, Marnie, Lewis and Bear, saying they bring excitement to this summer's series.
Marnie, Bear, Chloe & Lewis are the reason that this season is good...the rest of them could leave and we wouldn't notice lol #CBB

— Trini Danii (@_DaniiBella) August 11, 2016
Marnie, bear, Chloe and Lewis look like their having the best time idc the rest are so boring #cbb

— kelsey (@Kelsey_TMUK) August 11, 2016
Love how much fun Chloe, Marnie, Bear and Lewis are having. I adore Frankie as well. Absolutely hate everyone else. #CBB

— Molly (@MxllyBarnes) August 10, 2016
All Marnie Bear Lewis and Chloe were doing was having fun! It could be worse, Why is the rest of the house so boring?! #CBB

— Grace (@GraceGlam) August 10, 2016
After the pole dance, Bear and Marnie ended up knocking down several trees in the garden and rolling all over the place, before taking their party to the bedroom. As housemates including Heavy D and Renee tried to sleep,
Chloe threw cake around, while Bear whispered dramatically and fake sneezed.
It led Heavy to boiling point as he told them to have some respect and be quiet. For another six -
Katie Waissel, James Whale, Ricky Norwood, Aubrey, Frankie Grande and Sam
- it was just too much, so they went to the Diary Room and told Big Brother they wanted to leave and would be going on strike unless the behaviour was sorted.
Of course, it's not the first time Chloe's had housemates and viewers talking: there was that whole
did she or didn't she have sex with Bear in the toilets issue
(they denied it) and that
bouncy massage the other night...
We can only imagine what is next...
CBB
continues 9pm on Channel 5.