Chloe Ferry has defended co-star Marnie Simpson's full frontal nudity on Celebrity Big Brother, saying it happens all the time on Geordie Shore.
More than 30 complaints were filed with Ofcom this week after Marnie and house beau Lewis Bloor flashed EVERYTHING for the cameras while taking a shower together.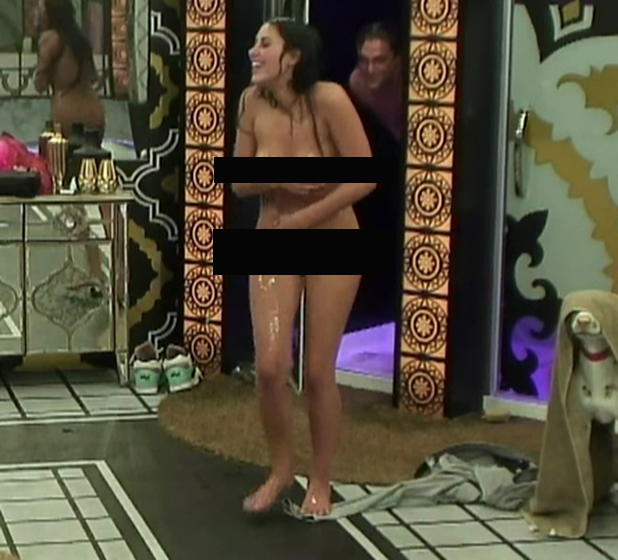 But Chloe doesn't see what the fuss is about.
Speaking to
Daily Star
, the star said: "I walk around on
Geordie Shore
with my t*ts out all the time! Marnie is my best mate and if she wants to take her clothes off she will!
"If you haven't seen
Geordie Shore
you haven't lived, and you shouldn't be surprised. We all like to get naked. I'm surprised it took her so long to get her clothes off, she is pretty open normally so I'm sure you will see a lot more of it."
Not everyone feels that way, however, with Ofcom saying 34 complaints about the nudity had been registered with them by the day after the episode aired.
Many viewers were also vocal on Twitter, questioning if the naked footage of Marnie and Lewis ahead of their steamy shower was really necessary.
Did we need to see Marnie and Lewis naked? No #CBB

— Vicky (@VickyEarls) August 8, 2016
WHAT have my's just seen #CBB didn't even blur out marnie & Lewis naked! FML .. I mean I'm scarred

— Lauryn Goodman (@LaurynGoodman) August 8, 2016
I can't believe their aired that AND showed Lewis and Marnie completely naked

— tilly (@_ronweasleys) August 8, 2016
Think it's so gross how big brother show marnie and lewis completely naked on TV and don't even blurr their parts out

— eli g (@elliegrafton3) August 8, 2016
Why would they show us Lewis and Marnie fully naked like wtf? #CBB

— Glenn Rhee (@ProtectorGlenn) August 8, 2016
how are they allowed to show them completely naked on #cbb? really didn't want to see marnie and lewis

— Lucy (@lucyhowellsxo) August 8, 2016
Marnie, meanwhile, described the shower as one of the most romantic moments of her life while chatting to Big Brother in the Diary Room.
"I just had the most romantic shower in my life! I would never do anything more than shower with him and kiss him," she said. "I've never had a boy treat me how he treats me! I feel so lucky. He is just perfect. I don't ever want to leave this house!"
Lewis, meanwhile, said: "Nothing happened, I was horny, but nothing happened."
CBB
airs 9pm on Channel 5.