Olivia Buckland has hit out for the FINAL time against accusations she uses Photoshop to slim her waist.
The gorgeous former sales exec, 22, posted a defiant message to Twitter on Thursday (4 August) saying once again she does NOT alter her pictures and this is the last time she would address the claims.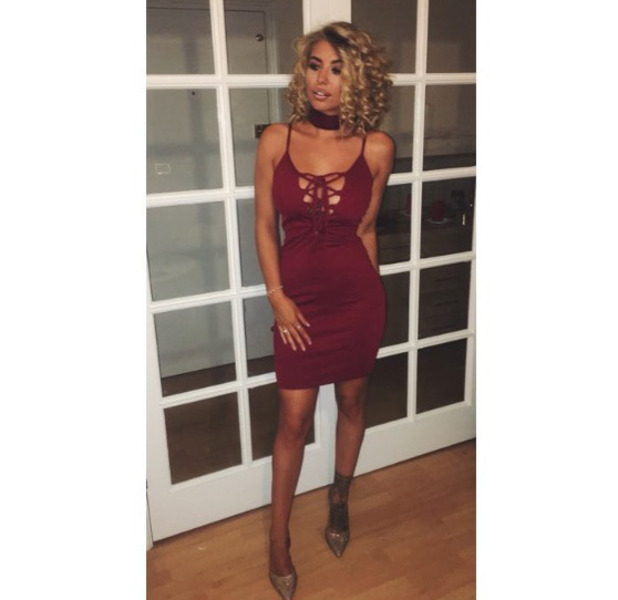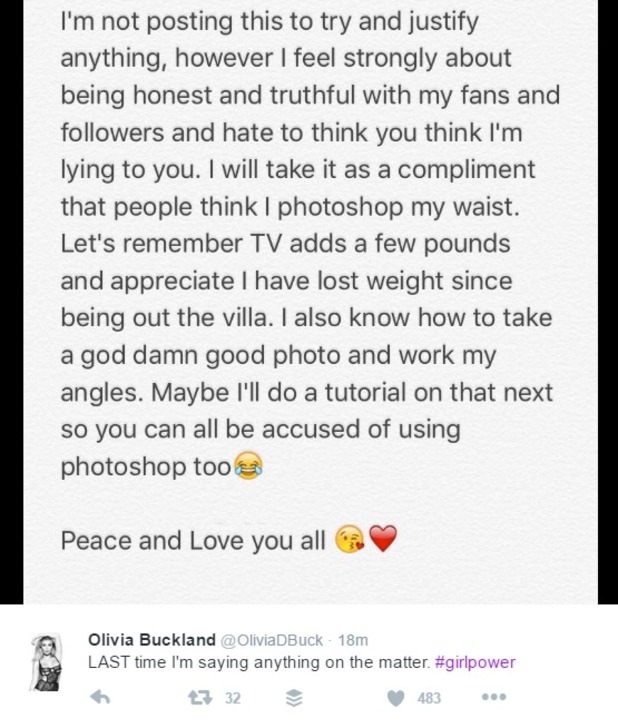 "I'm not posting this to try and justify anything," she wrote, "however I feel strongly about being honest and truthful with my fans and followers and hate to think you think I'm lying to you.
"I will take it as a compliment that people think I Photoshop my waist .Let's remember TV adds a few pounds and appreciate I have lost weight since being out of the villa. I also know how to take a god damn good photo and work my angles, Maybe I'll do a tutorial on that next so you can all be accused of using Photoshop too."
Plenty of fans commented on Olivia's post, complimenting her figure and saying it was sad she had to keep defending herself against the same accusation.
@OliviaDBuck you don't need to prove anything to anyone rock that body gurllll slayy

— Sarah (@Zara542) August 4, 2016
@OliviaDBuck you didn't even have to do this, makes me sad you felt you had to!! you're stunning honestly, love uuuuu

— (@nicolexhamilton) August 4, 2016
@OliviaDBuck well my lovely, you look amazing, don't let them get you down after all they just want what you have

— Paul (@Paulicious23) August 4, 2016
@OliviaDBuck Well said it's such a shame you have had to write a post to defend yourself. All I can think of is jealousy on their part

— sue trayford (@sulargo) August 4, 2016
@OliviaDBuck you look amazing Liv, don't let it get to you. Let it go over your head, there is always gonna be someone hating on you. x

— chelle (@xlil_chellex) August 4, 2016
Olivia recently spoke to
Reveal
about her fabulous figure, telling us: "I was going to gym about 4-5 times a week before
Love Island
, but I didn't use the gym when we were out there. Instead, I used the pool to swim and kept my body in shape. I'll get back to the gym again, where I'll do weights and hardly any cardio. Weights can tone up or build muscle, whereas cardio can just make you look skinny, and I'd rather look curvy.
"Diet-wise, I eat good things during the week – a typical day is rice cakes with peanut butter for breakfast, a tuna salad for lunch, then chicken and sweet potato for dinner. I'll snack on nuts and fruit. At the weekend though, I eat what the hell I want, and loads of it!"