Vicky Pattison has admitted once having to surreptitiously delete pictures from an ex-boyfriend's phone showing her in nothing but her underwear.
The former
Geordie Shore
star confessed on Scarlett Moffatt's
Capital North East Breakfast radio show
she had to go to extreme measures to gain access to her ex's phone to get rid of the incriminating photos after their separation.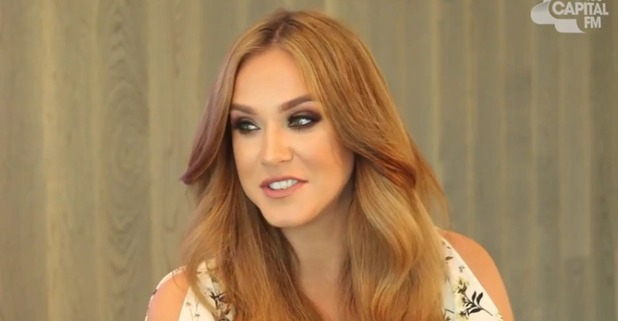 It all started when Scarlett asked Vicky for advice on behalf of her friend Sarah, who had split from a guy and then realised she had naughty photos on his phone.
Vicky's instant reaction? Have him mugged.
Er, maybe not!
Vicky explained she'd been in that situation before, saying: "I'll be honest. I've broke up with someone before and they've had like sort of pictures of me in me bra and knickers, that weren't that flattering, do you know what I mean? We've all done it, we've all been there. Don't judge. Anyone who says they haven't is a liar!"
The 28-year-old went on to say she "panicked" and called a friend for advice, who suggested she pretend she wanted to get back with the ex then, when he left the room, break the phone, hence deleting the evidence!
Bit extreme?
"I panicked and me and my mate sat down and they were like, 'You're just going to have to go round, you're just gonna have to, you're going to have to pretend you're interested in getting back with him. You're going to have to proper, like, schmooze him up, and then when he goes to the toilet, you're just going to have to break his phone!'" explained Vicky, saying password protection made it too hard to gain access to a phone the normal way.
But Vicky decided to try a different tactic which involved no broken phones...
"I went round and said to him, 'Oh I wanna send myself loads of nice pictures of when we were together.' So he fell for it hook, line and sinker. Deleted, gone and I was out the door in time for
EastEnders!
"So it was brilliant, but I mean if you can't do that - the old, like, you distract him on a night out or get someone to distract him then steal his phone… That is extreme! But listen desperate times call for desperate measures, the first one is obviously better.
"If you can avoid theft always avoid theft! But this is a matter of bra and knickers here! Not messing around."
Tune in to Capital North East Breakfast with Bodg, Matt & Scarlett, weekdays from 6am
Watch Vicky chat to Scarlett below: