CBB: James Whale and Stephen Bear had their housemates and fans divided, following their food fight on last night's episode of the show (1 August).
Bear, Heavy D and Lewis Bloor had been taunting James in the kitchen. Bear and Heavy D were dancing and singing around James, while touching him and refused to stop when he had asked them too.
He then threw coffee all over Bear, and Bear retaliated by pouring sugar and water over James. While some housemates thought Bear was in the wrong for getting his own back on someone older, others nominated James, as they believed he had started the row...
James had been asking Lewis Bloor whether he had made any coffee, when Bear and Heavy D decided to wind him up. They rubbed his head and shoulders while dancing round him, prompting James to tell them to stop several times.
Holding his hands up, he said: "Guys... guys. Let me tell you, that's it right. That's nice and funny, but don't touch again. You can look, but don't touch. Alright?"
He added: "I know you love me, but just take it easy."
Bear then ribbed James and said: "He's very touchy in the mornings old James, very touchy."
Lewis gave James some advice and told him: "The more you let it wind you up, the more you're going to get it."
The boys did it once more and began to laugh, and in response James decided to pour a bag of coffee over Bear's head. He told him: "That really is terrible. I am so sorry."
Bear retaliated by pouring a bag of sugar over James, followed by a pot of water, and hit back: "I'm so sorry." James then declared that was "the end" of things.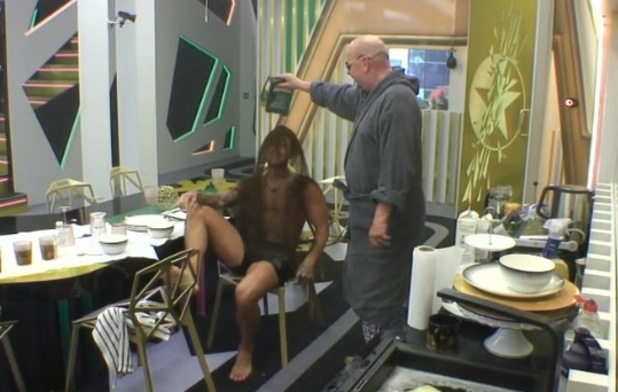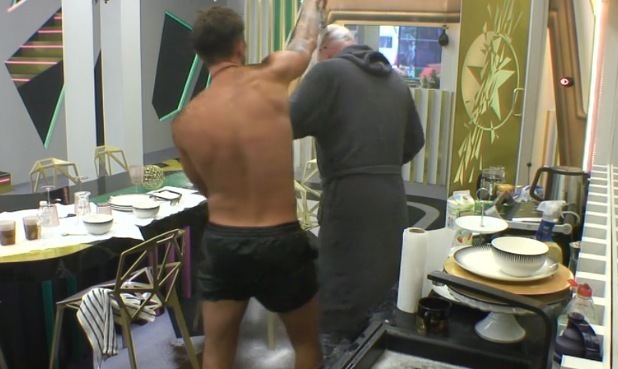 Frankie Grande was unimpressed to see the coffee and sugar wasted, and explaining what had gone on, James told the other housemates: "They are playing a game. The three louts decided that they would pick on me...
"It's my fault because, well it's not really my fault, but they decided to wind me up, so I just poured the ground coffee all over Bear because he annoyed me."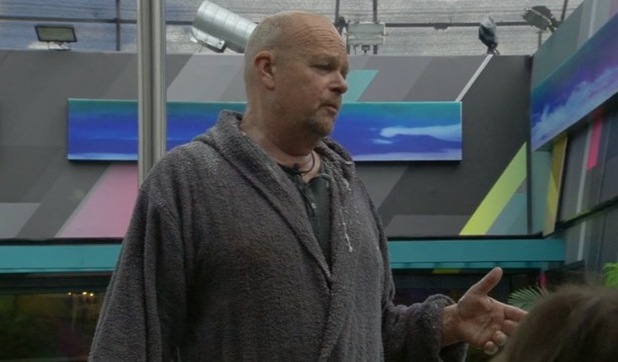 Katie Waissel didn't agree with Bear's actions and said: "If someone did that to my dad, I would be upset." Biggins agreed, while Ricky Norwood said: "I don't understand, I really don't understand right now."
Chloe Khan, meanwhile, nominated James, telling Big Brother that he was the one "who had started it."
It seems like the incident had the whole of Twitter divided too. Some viewers accused Bear and Heavy D of 'bullying' James and suggested Bear was in the wrong to retaliate, as James is an older man.
Others, meanwhile, disagreed and took Bear's side. They claimed that James shouldn't have 'blamed the boys for things getting out of hand', as he had poured the coffee over Bear first...
Team James
I don't like using the word bully because it's a strong word but Lewis, Bear and Heavy D were bullying James right there! #CBB

— Phillip Mc Gonigle (@PhillipMcG93) August 1, 2016
Who else thinks James Whale was in the right on #CBB

— Gerry Bennison (@AlresfordBear) August 2, 2016
What James did to bear was brilliant bear is like a little annoying child that needed to be put in his place #cbb #CBB2016

— Tara (@Tarastewpid) August 2, 2016
#CBB James asked Bear, Heavy D and Louis to stop. They continued. I am on James side for this one

— Kelly McCone (@kmccone) August 1, 2016
Bit unfair everyone nominating James over pouring coffee over Bear... If I was James I would of done a lot more! #CBB

—(@VANESSAREEEE) August 1, 2016
I dislike bear anyway, but what he did to James is Really out of order, he's older so he should have respect #cbb

— Carly Goldsmith (@CarlyGXx) August 1, 2016
Team Bear
can someone explain how it's bullying when james put the coffee on Bear first??can no one take a joke nowadayssss #CBB

— tana (@deliriumftari) August 1, 2016
So it's ok for James to pour coffee all over bear but he can't do it back??? Why is it different for old people #CBB

— Emzz (@EmmaCarter123) August 1, 2016
Why's James acting like the victim. Didn't he pour the coffee all over Bear first #cbb

— karis burgess (@KarisNembhard) August 1, 2016
so James blamed everything on the boys yet he poured the coffee over Bear first? two faced #CBB

— Steph (@number1fangirlx) August 2, 2016
eh the only reason bear poured the stuff on james is cos james poured it on him first..they were singing to him! james def started it #cbb

— hannah lynch (@haly_x) August 1, 2016
Follow us on Twitter @RevealMag for all your celeb, fashion and beauty news!
Fancy winning some GREAT prizes? Check out Reveal Competitions here!