Celebrity Big Brother: Charlotte Crosby reacts to Marnie Simpson flashing her boobs at her fellow housemate Saira Khan.
Marnie had fallen out of favour with fans, as she exposed her assets in front of Saira's face as part of a game of truth or dare.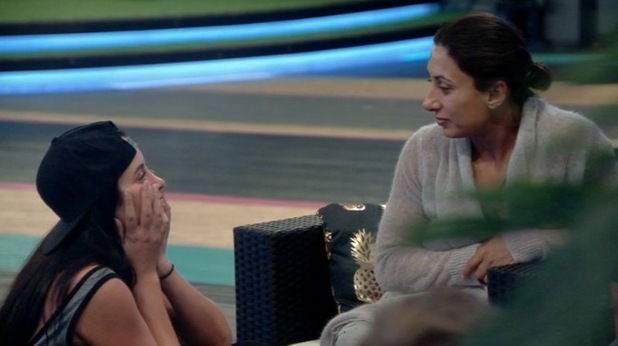 Marnie had been dared by Lewis and Bear to go up to Saira and apologise for clashing with her earlier in the evening.
Marnie had checked to see if Saira was ok, after she was left upset from an argument she had with Heavy D, Stephen Bear and Lewis Bloor about how she is coming across in the house. However, their conversation led to Marnie and Saira falling out - as Saira had told Marnie she feels like she becomes a 'different person' once she has a drink.
The boys dared Marnie to go up to Saira and say sorry, but then ask her if she was jealous of her because 'Marnie had better boobs.' Marnie then lifted up her top to bare her chest in Saira's face.
Saira chose not to react, but James Whale told Marnie that her actions had been "unnecessary." Taking to Twitter, many viewers criticised the
Geordie Shore
star for being "disrespectful" and some had accused her of 'bullying' Saira.
Her former co-star Charlotte, meanwhile, tweeted in defence of Marnie and assured fans she would be feeling remorseful.
Charlotte tweeted: "Aw Marns wish you hadn't done that. I honestly think that @MarnieGShore was just caught up in the game and a little bit drunk. She's defo not a bully. Tomorrows ep I'm more then certain we will see her apologise when she realises."
Marnie's Twitter account also spoke out on her behalf and tweeted in response to her critics: "Just a note to everyone sending abusive tweets to this account answer one question... Have you never done anything stupid when drunk?"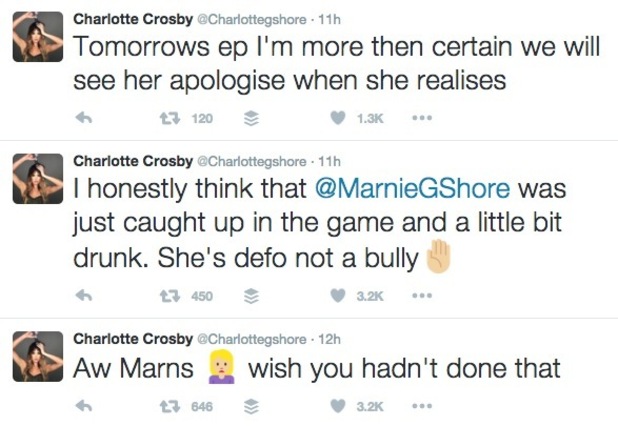 Former
Big Brother
star, Aisleyne Horgan-Wallace, meanwhile, claimed Marnie had gone from "hero to zero" for her actions.
Many had complimented Marnie on hitting back at Saira for accusing her of changing once she'd had alcohol, but later changed their opinion of the 24-year-old for carrying out the dare she had been given by the boys.
Marnie just went from hero to zero all in one show #cringe #cbb

— AISLEYNE (@Aisleyne1) July 31, 2016
Marnie had tried to clear the air with Saira, after realising she had been left upset by the boys' claims that she had been 'patronising' with people in the house.
"I think it was blown massively out of proportion," Marnie told Saira. "I don't want you to think in anyway that people were talking about you because it wasn't like that. I know that things were brought up, but we are still trying to get to know each other."
She then said: "I get mixed signals from you, but that's part of getting to know someone. I don't know what you think of us... You are lovely, and I haven't got any problems with you at all. You're a lovely woman, I would never want to be rude to you or disrespect you because you are someone's mum. I just don't want you to feel like everyone is talking about you because they're not..."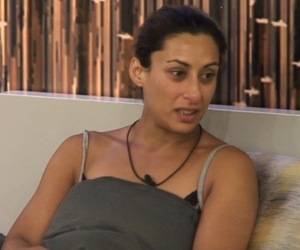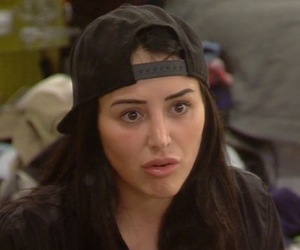 Saira responded: "I don't care if they are Marnie, I'm a big old girl. I've lived life, I don't give a f**k. Talk about me, but I ain't going to change."
When Marnie told Saira she hoped that she was "alright", Saira said: "I appreciate you coming in here, but the thing with you Marnie, I find that when you've got a drink, you're a different person to when you haven't got a drink."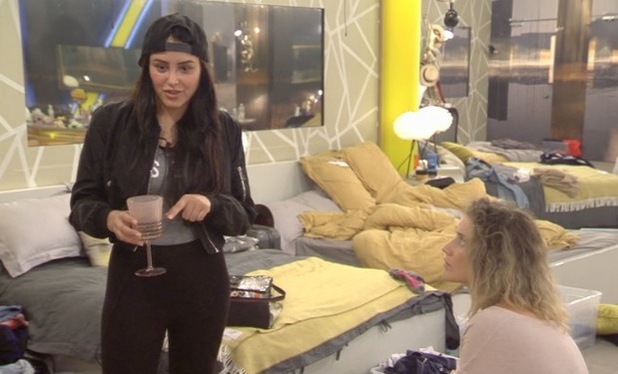 Her comment angered Marnie and she pointed out that she'd hardly had anything to drink. She then hit back: "I would wake up tomorrow morning and tell you exactly what I just told you there. Me coming in here and talking to you, trying to be sympathetic and see how you feel, you've completely turned that around and threw it in my face by saying that.
"You're trying to imply that I'm only doing that because I've had a drink," Marnie said. "And that's not true at all."
CBB airs nightly on Channel 5.
Follow us on Twitter @RevealMag for all your celeb, fashion and beauty news!
Fancy winning some GREAT prizes? Check out Reveal Competitions here!