Former TOWIE star Ferne McCann has told us she hates the term "beach ready" when it comes to getting in shape for summer.
We're always pining after a holiday in the sunshine, but the actual thought of stripping down to just a two piece can often be pretty daunting, right? Catching up with Ferne, it's clear that our celebs have the same bikini worries we do, and she tells us why she hates girls setting themselves a standard when it comes to the beach...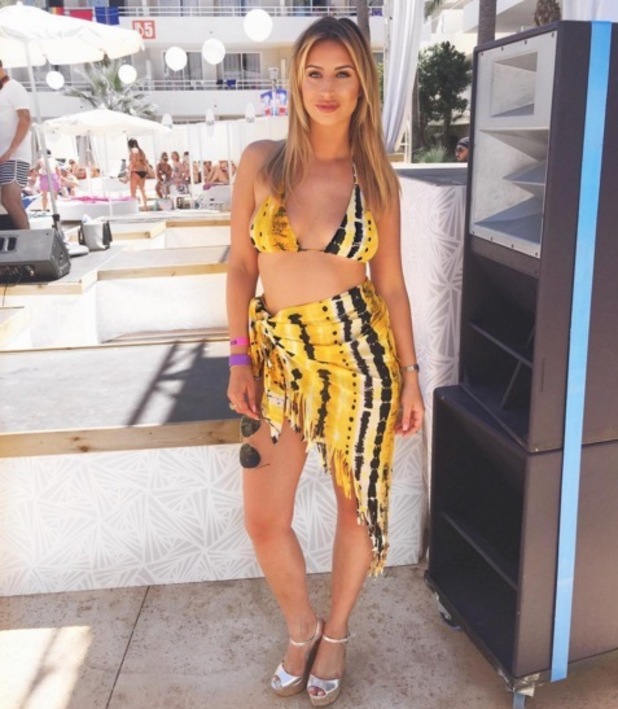 Summer comes around and we're all desperately heading to the gym in a bid to tone ourselves up before jetting off and topping up our tans. Ferne, admits she too is no exception, and a break overseas always provides her with an incentive to get into shape.
However, she told us that she thinks there is too much pressure put on women when it comes to donning a bikini. And she would know, after all, Ferne has been filmed in her bikini countless times during her time on
TOWIE
(
she left the reality show in February earlier this year
).
"I hate that expression 'beach ready'," she said. "What is beach ready? It's all relative to that person. [Summer] is definitely an incentive for me to get my ar*e in gear and feel confident within myself and feel, toned, sexy and body confident in a bikini… but it's totally exposing as a woman to get into a bikini whether you're in the public eye or not."
Ferne continued: "Putting on a bikini, rocking a sarong or a kaftan, you're like, 'Woah. I'm pretty much naked right now with just my private bits covered up.' It is scary. I think you want to feel good, don't you? You don't want to feel out of shape, but I think there's so much pressure.
"My weight fluctuates all the time, but I would say that I am relatively healthy and I fuel my body with good stuff."
"We all come in different shapes and sizes, the female figure should be celebrated more," she claimed. "And it shouldn't just focus on what beach body ready should be like. It should be a whole different variety, all different shapes and sizes and if they feel confident, then that's beach body ready."
She does have a point, doesn't she?
When it comes to whipping herself into shape, Ferne admits she hates the gym (we hear ya sister...). Instead, she much prefers getting outdoors, playing sports and working out with friends.
"I'm a gym-goer, but I can't stand the gym," she revealed. "I absolutely despise it. I love the outdoors. I'm an adventure kind of girl and I always have been since I was a kid. I'm into boxing, I really like that, and I used to play netball… team sports."
"If I am going to a gym, it is with a friend or a personal trainer. I just feel like it's quite daunting and quite scary [at the gym], not that anyone is ever looking at you, but it feels like everybody is watching what you're doing. If you go with a friend that just completely goes away."
It's no surprise then that Ferne has teamed up with go ahead! for their latest Summer Buddy Project. Ferne explained: "It's to encourage people to buddy up when you're working out and exercising and the benefits of that. Me and personal trainer Bradley [Simmons] got together and it was so much fun… obviously it helped that he's rather good looking too. He's very easy on the eye!
Ferne and Bradley have filmed a series of exercises that you can do with a friend anytime and anywhere.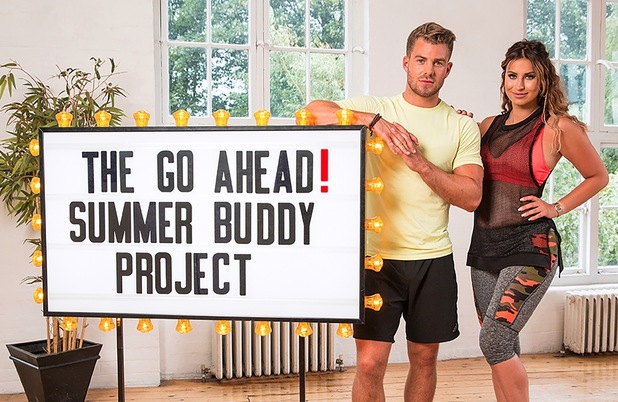 For more information on the Summer Buddy Project or to get involved you can visit @goahead on Twitter or visit go ahead! on Facebook.
Check out what Ferne and Bradley have been getting up to below:Follow us on Twitter @RevealMag for all your celeb, fashion and beauty news!Fancy winning some GREAT prizes? Check out Reveal Competitions here!