We are LOVING this brand new picture of the Outnumbered kids reuniting and looking rather different to how we remember them.
Well, to be fair, Jake looks pretty much the same but siblings Ben and Karen have definitely changed a bit over the years!
As if these are the Outnumbered kids... pic.twitter.com/818a404ojb

— Gogglebox (@GoggleboxQuotes) 24 July 2016
The photo surfaced on a Twitter account called @goggleboxquotes alongside the caption: "As if these are the Outnumbered kids…"
They really are!
Plenty of fans were quick to described the trio as "unrecognizable" from their
Outnumbered
days but others pointed out it's been two years since the show ended and it's pretty inevitable that people will look a bit different!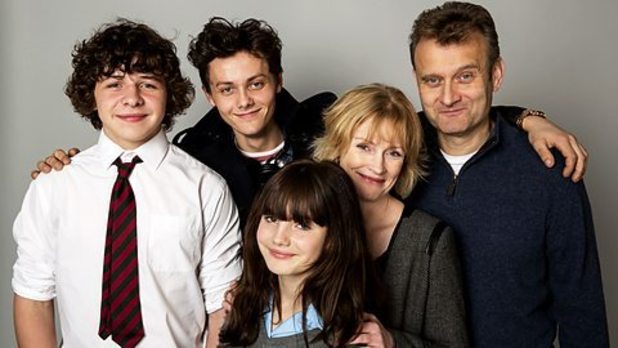 Tyger Drew-Honey (Jake) is now 20, while Daniel Roche (Ben) is 16 and Ramona Marquez (Karen) is 15 years old. She was only six when the series began.
Comedy series
Outnumbered
started on BBC back in 2007 and ran across five series with three Christmas specials. It followed the lives of Pete (Hugh Dennis) and Sue (Claire Skinner) Brockman and their three young children in London.
Since then we've all been
desperate
for a new series or even a one-off special, so it's no surprise the picture of the
Outnumbered
kids reunited has given everyone the feels.
Tyger later tweeted: "No idea that the pic of me, Dan and Ramona yesterday would go basically viral!"
BRB. We're off to binge watch
Outnumbered
on Netflix...
Here's how Twitter reacted!
1. Wow, we're old.
The children from Outnumbered don't look like children anymore. I feel old.

— Amy Laws (@Amy_Laws) 25 July 2016

2. Everyone ages, duh, what's the big deal?
Why are people shocked at the outnumbered kids appearance? Surely it would be weirder if they still looked the same...

— Dai C. Thomas (@DCT_music) 25 July 2016
People acting like the kids from Outnumbered were just meant to stay the same age forever rather than get older

— Ted Powell (@Westhamted) 25 July 2016

3. Um, they look the same...
cannae be the only one who thinks the #outnumbered kids look pretty much the same, except for karen. she looks so different i feel old!

— Katie (@katiemherron) 25 July 2016

4. Ah, let's just remember how awesome Outnumbered was!
That picture of the outnumbered cast now has made me wanna rewatch all of the episodes

— Emily Kenyon (@emilykenyonxo) 25 July 2016
Seeing all these pics of the Outnumbered kids grown up is reminding me how much I loved it I'm gonna spend my day binge watching the series

— ails (@ailishcarroll) 25 July 2016

5. Two years? Give us a decade
I can't wait to see what the kids from Outnumbered will look like 10 years from now. Just wish I could find something to help the time pass.

— Lazy (@LazyPrime) 25 July 2016

6. Er, what's Outnumbered?
I'm that one person in the UK who's never seen an episode of Outnumbered... #outnumbered #whut #truestory

— Ells (@EleMayhew) 25 July 2016
I must be the only person who has never seen or heard about the tv programme Outnumbered

— Perry (@FalconPez) 25 July 2016
That "what the kids from Outnumbered look like now will make you feel old" meme made me feel old cos I had to google wtf Outnumbered was

— ewan (@ewaniverse) 25 July 2016

7. You've all got the wrong picture
Want to feel old? These are what the kids from #Outnumbered look like today: pic.twitter.com/Tu2tjLeCAD

— Jack Tindale (@JackTindale) 25 July 2016
Want to feel old? These are the #outnumbered kids today: pic.twitter.com/s84mjoBCvV

— Gareth Cowlin (@garethcowlin) 25 July 2016
Do you want to feel old? This is what the kids from Outnumbered look like now. pic.twitter.com/RmH46Qa33z

— ORB (@rhysbart) 24 July 2016
You'll never guess what the kids from Outnumbered look like now. How old do you feel? pic.twitter.com/d4Cn9BWjME

— Matty (@Matty___96) 24 July 2016
OMG this is what the #Outnumbered kids look like now pic.twitter.com/ZTHOk01Ype

— Michael Hogan (@michaelhogan) 25 July 2016