TOWIE's Bobby Cole Norris is hoping to raise awareness of dog attacks after the death of his beloved puppy Beau.
The Essex star made the devastating decision to put Beau to sleep after the pooch sustained serious injuries when he was attacked by a larger dog while walking in the park.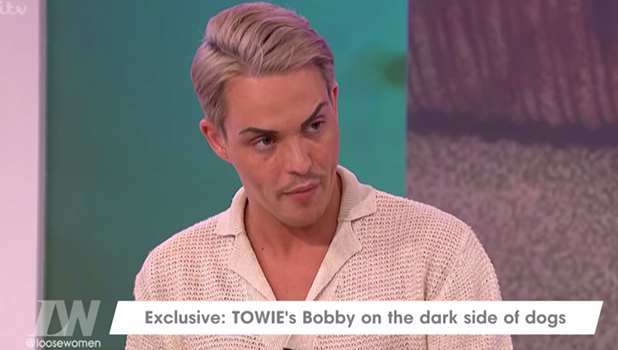 Bobby appeared on ITV's
Loose Women
on Friday (22 July) for an emotional interview in which he recalled what happened and called for more awareness of dog on dog attacks.
'It was a normal day. Nothing was different about this day. We went on his favourite walk and got to a tree. Through a gap in the hedge, a big dog on a very long lead came over. I don't really like big dogs anyway, I'm a bit scared of them, so I shouted to the owner, 'Could you pull your dog back?'
"At that time still, very much nothing had happened. It was a split second. It's so cliché but it's like a film. Time just stopped. I just saw him bet Beau in his mouth and he shook him. In defence of the big dog, I think he thought Beau was a toy or a rabbit because the way he shook him was very much how you would see a dog play with a toy."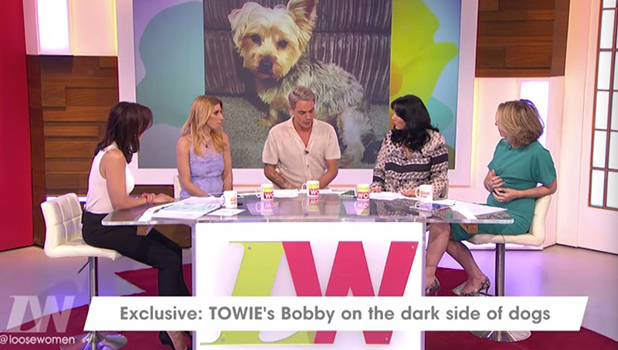 Bobby said the owner had two dogs on a split lead.
"Because Beau was in the dog's mouth and it was so quick, the yelp, the dog eventually dropped him…" continued Bobby.
"I took a few steps to the side because I was scared the dog would come back and get me or Beau. I needed those few seconds. I think I had a panic attack, I kind of doubled over, trying to breathe."
Bobby said his first priority was to get Beau help so he took the pup to a vet where he was told the prognosis wasn't good.
"They were doing observations but unfortunately the extent of the damage… we had to make the decision," he said. "The kindest thing for Beau. For me, he had been through such a traumatic afternoon that I would have been selfish to try to put him through anything else. It would have been for the wrong reasons.
"The shocking thing was the vet saying its not an isolated case and it happens quite regularly. "
Watch Bobby discuss Beau's loss and his ideas for more awareness below: