When we saw Love Island's Alex Bowen and Olivia Buckland were chatting with fans on Periscope, we HAD to jump in!
The totally smitten couple, who
finished second on this year's show
, spent more than half an hour answering fans' questions and generally looking ridiculously happy as they lounged on the sofa in Olivia's flat.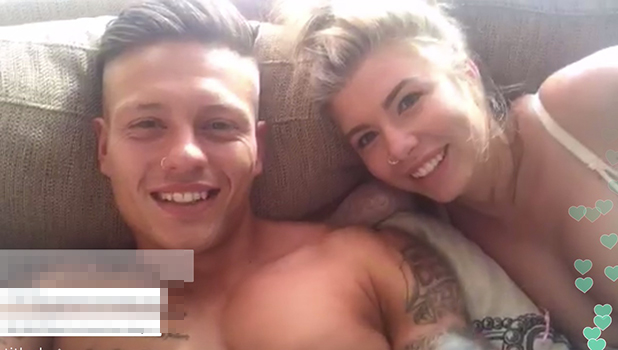 Relationship goals, anyone?!
If you missed it, fear not! As we've whittled down the 56 most interesting things we learned from their chat. Enjoy!
1.
Olivia wouldn't join
TOWIE
: "I don't think I'm right for it."
2.
Alex needs to catch up on
Game Of Thrones
because he's only up to series four. It's the only TV show he really watches.
3.
Neither of them would do
Celebrity Big Brother
. "I could never cope in there," says Olivia.
4.
Olivia's nipple piercings hurt but it was worse for Alex watching.
5.
Alex is a total film buff who says: "All I do is watch films! I know every film in the world!"
6.
Alex reckons he won't go back to scaffolding now.
7.
Olivia got 4As, 2Bs and 5Cs in her GCSEs and has 4 A-Levels. "I'm actually not stupid," she says. Alex got all Cs in his GCSEs.
8.
Alex is definitely getting more tattoos including a design on his other hand and his chest.
9.
The
Love Island
villa in Majorca is the "middle of nowhere."
10.
Fellow islander Liana Isadora Van Riel gets annoyed if you pronounce her name with the wrong emphasis! They both say she's a "nice girl."
11.
Alex is an only child.
12.
Alex likes Malin but "backs Terry 100 per cent" in all that drama.
13.
Olivia says being locked in the hideaway with Kady was "horrendous."
14.
They both name Oliver as their least favourite islander.
15.
Alex reckons Terry got a bad edit: "You see 45 minutes of a show we have to live 24 hours a day. They portrayed Terry in a bad way when he was the one who brought us all together. It's bulls**t [he is a gameplayer]."
16.
Nathan is the funniest person the villa
17.
Olivia's favourite tattoo of Alex's is the design on his hand.
18.
Alex thinks Troy is a "sweet geezer."
19.
Alex already knows what baby names he likes: Kai for a boy and Renesmee for a girl.
20.
They have no plans to move in together yet. "We're taking it slow," says Alex, "and living together is a big thing." Olivia points out technically they've already lived together!
21.
They probably will get matching tattoos.
22.
Alex is backing Alex Cannon to win
Celebrity Big Brother
.
23.
Alex is getting a Mercedes A Class AMG.
24.
Alex's tattoos are either to do with music or random.
25.
Olivia's secret talents include singing and hula hooping, while Alex can dance.
26.
Alex thinks Olivia is a "sassy, feisty, edgy little f**ker."
27.
They were watching the
Scream
TV series on Netflix while on Periscope at Olivia's flat in Essex.
28.
Alex says he fancied Olivia immediately and after 24 hours with her realised "she's the girl version of me. We get on and bring out each other's silliness and weirdness."
29.
Olivia says things aren't awkward with Rachel and they get on well.
30.
Alex won't break Olivia's heart.
31.
If they did live together, Olivia isn't sure Alex would keep the place clean. He disagrees.
32.
They are "too young" to think about kids.
33.
Alex's favourite islander is Terry, while Olivia's is Nathan and Cara.
34.
Olivia and Malin haven't spoken much since the show as they've both been busy.
35.
Alex thinks Sophie is a "nice girl but she handled some of the situations she was in pretty s**t but that's just my opinion."
36.
Alex's favourite song right now is 50 Cent and Chris Brown's 'I'm The Man'.
37.
Olivia takes longer to get ready. "I'm in and out done," says Alex.
38.
They quite like the nickname suggestion Ablivia.
39.
Alex's tattoos are done by Ally Barnet from Wolverhampton.
40.
Olivia's first tattoo was at 18, while Alex's was at 15.
41.
Alex's favourite metaphor of Adam's was the Haribo egg one.
42.
Olivia's not a fan of Zara: "I don't think a lot of Zara, to be honest. Obviously."
43.
Alex's birthday is on Saturday.
44.
They haven't watched all the
Love Island
episodes back to back and won't do it. Alex says it would make them miss the villa.
45.
They've been to Nando's twice since coming home.
46.
Alex doesn't follow football anymore and doesn't have a favourite team.
47.
If they had won, they'd have used the £50,000 prize money to go travelling.
48.
You get no money for coming second.
49.
Alex prefers independent brands to big ones like Armani. And he would never shop in Reiss.
50.
They would both do the show again.
51.
Olivia advises those auditioning for next year's show to be themselves.
52.
They didn't get annoyed living with each 24/7 in the villa.
53.
Alex had to wear bronzer at times on the show but doesn't wear make-up in real life.
54.
Alex thinks Adam genuinely did fancy Katie but it just "fizzled out."
55.
Their tans are all real, not fake!
56.
The show isn't staged. "Everything is real on
Love Island
," says Olivia. "Nothing is set up."
Ah, how we miss
Love Island
!
But you can get your fix of Alex and Olivia in this week's
Reveal
magazine, as they've done their very first photoshoot and interview as a couple with us!