Love Island's Emma-Jane Woodhams and Sophie Gradon may have disagreed on a few things in the villa but one thing they DO agree on is how Zara Holland's dethronement as Miss Great Britain was handled.
If you remember, the
20-year-old was stripped of her title after having sex with Alex Bowen
in the hideaway. The organisers announced the news publicly before Zara was told by producers.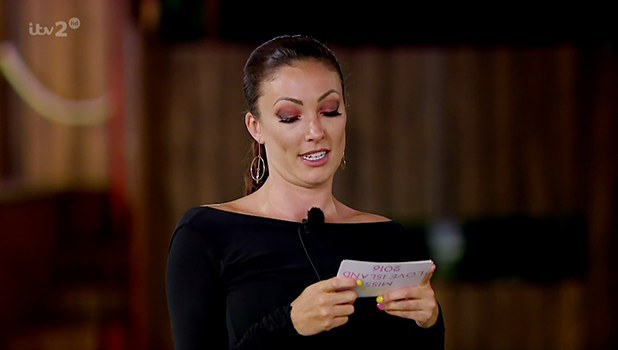 She then quit the show after her mother fell ill, so
producers staged a Miss Love Island 2016 competition
, which saw Sophie – a former Miss Great Britain herself – give a
passionate speech in defence of Zara and equality.
"Life shouldn't be about judging one another," said Sophie. "Say, for example, judging a young woman for enjoying herself. A young woman who hasn't harmed anyone, but a woman who has faced a torrent of judgmental and close-minded opinions since leaving Love Island.
"As an ex-Miss Newcastle and Miss Great Britain, I can say it's time people move forward from their old-fashioned thinking and accept the simple fact that women like to have sex."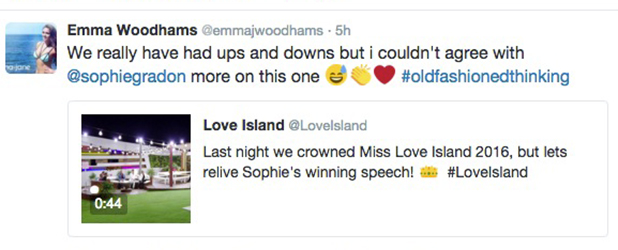 Emma wasn't in the villa at the time the Miss Love Island 2016 competition was held, but she's been catching up on old episodes, which prompted her to tweet: "We really have had ups and downs but i couldn't agree with @sophiegradon more on this one. #oldfashionedthinking."
Emma entered the villa as Tom Powell's ex-girlfriend
, which obviously had the potential for major awkwardness considering he is now dating Sophie. But actually,
Emma and Sophie got on really well at first,
much to the surprise of everyone – including Tom!
But the friendship didn't last:
Sophie thought Emma was game playing and trying to ruin Tom's experience
, which led to a massive row between them and plenty of words exchanged.
Sophie later told us: "I think she's playing a game in the sense that she came in to try and f*** things up for Tom. From what I've seen and heard now that I've come out - which is that she was obviously in there to get a reaction out of Tom and maybe make him jealous - I think she just came in to cause trouble."
Emma later tweeted at Sophie: "Ooh please give it a rest girl its boring now."