Terry Walsh is the latest Love Island star to defend Caroline Flack from criticism following this week's finale.
The television host was accused of being
flirtatious with Alex Bowen during his interview with Olivia Buckland
, while some viewers have suggested she should be replaced for the third series.
Love Island
stars, however, totally disagree.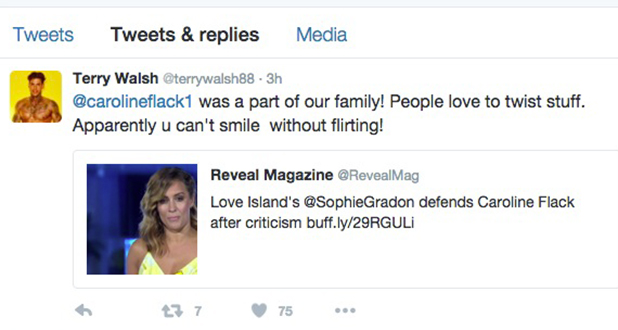 After reading
Reveal.co.uk's article about Sophie Gradon's defence of Caroline
, Terry added: "Caroline Flack was a part of our family! People love to twist stuff. Apparently u can't smile without flirting."
Fellow islander Sophie Gradon had tweeted: "I love Caroline Flack #CutFlackSomeSlack."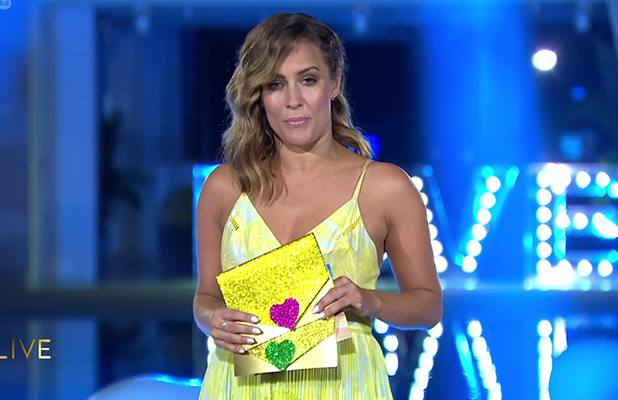 Winners
Nathan Massey and Cara de la Hoyde, meanwhile, also passionately defended Caroline
when we caught up with them yesterday.
"She's like an older sister to me," said Nathan. "There was no sexual chemistry with anyone else, we were brothers and sisters. That was the same with Caroline. It's absolute b******t. She's a darling of a woman and I totally disagree."
Cara added: "[Caroline] is Love Island. You can't have Love Island without Caroline. What are they going to do?"
Caroline's only comment so far has been to publicly thank Nathan and Cara, tweeting: "Thank you @NathanMassey_ and @Miss_Delahoyde ...I was ignoring all the silly comments, but you two are [heart emoji]."