Love Island fans: Remember we said we have a shed load of questions that had been left unanswered? Do they ever change the bedsheets? Where does their supply of condoms come from? Well, Olivia Buckland has now answered them *all* for us. Oh, we love her.
Like we said before, we may have been over thinking things a little, but curiosity got the better of us and
we couldn't help but wonder how that dreamy villa functions
. After all, the islanders are shacked up there for six weeks, so naturally we want to know how they got their food shopping, whether they did their own washing and how they managed to always look on fleek...
Luckily for us, when Olivia rocked up to
Reveal HQ
with her beau Alex Bowen, she was more than happy to fill us all in.
You can thank us (her) later...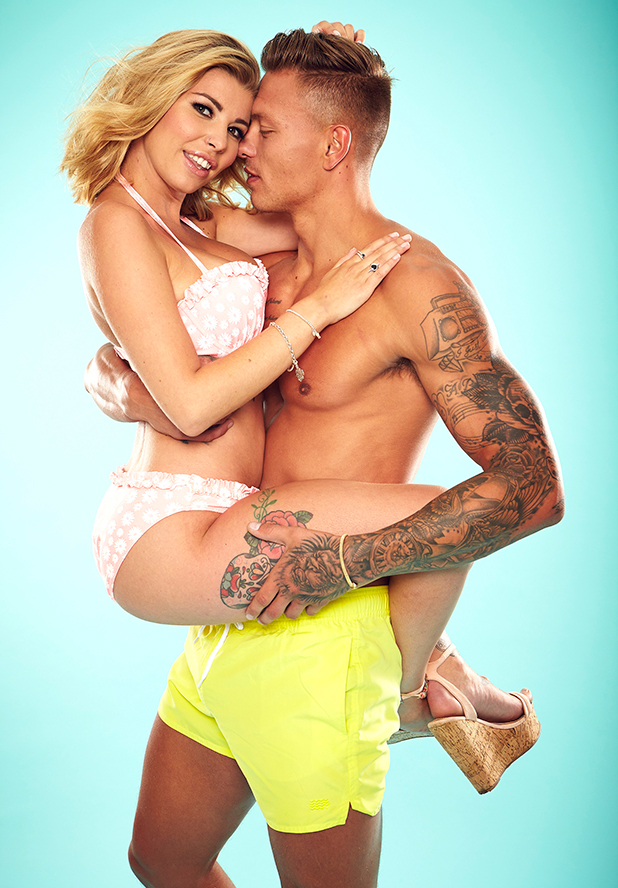 Who cooks the dinner?
We'd get our lunch and dinner from a caterer but we had to make breakfast and for me it was cereal! Or toast, something easy.
What happens with the food shopping?
We never did the shopping, that was someone else's job but we'd always ask for things. We asked for Marmite one hundred times, that was really in demand! We'd always request things like chocolate and crisps – naughty things.
Do the islanders ever drink anything other than wine?
Honestly, when we weren't drinking wine we were just drinking water. It was so hot and we didn't really drink that much even though it looks like we did. I was drunk a couple of times but there wasn't that much alcohol.
Do they do their own washing and ironing?
No, we didn't do our washing or ironing. That went off somewhere and came back through the little magic door that we had. I did change my own bed, though!
Do they ever wash the bed sheets?
We did no washing. How lazy are we? Where the kitchen is there's a little door and we used to call it Narnia or The Magic Door because your food used to come from there, you'd give away your dirty washing and get it back all clean and laundered.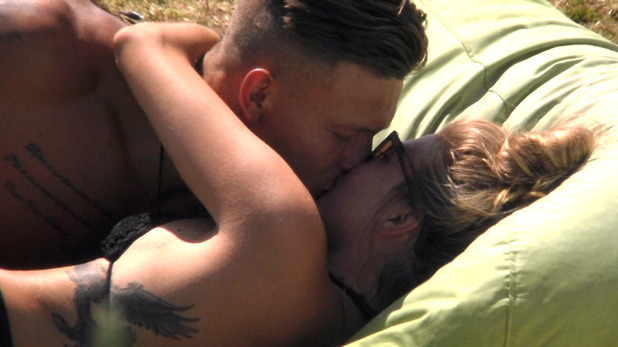 Do they have an unlimited supply of condoms?
Yeah. They were everywhere and everyone took one home as a little memory. I remember walking into the bathroom the first time we got there and there was this basket full of condoms. I thought, "Ah, so that's what we're getting up to then!" [laughs].
What's the protocol with cigarettes?
We got 20 a day even though it looks like we were smoking more. We got a packet each, we didn't get rationed but again, they came through the magic door.
How much luggage can the islanders bring with them?
I took around 38 kilos – but we didn't really have a limit because we were there for six weeks. You don't want to wear the same outfit twice, you just don't want to be caught on camera wearing the same thing!
How did Terry have his hair cut?
I cut his hair! And then Alex cut Terry's hair! I don't even do hair but he was just getting so annoyed. We got taken out a couple of times for haircuts. We'd be driven there – the girls had one haircut for the final and the boys got two. But Terry just got so restless with it we ended up chopping it off.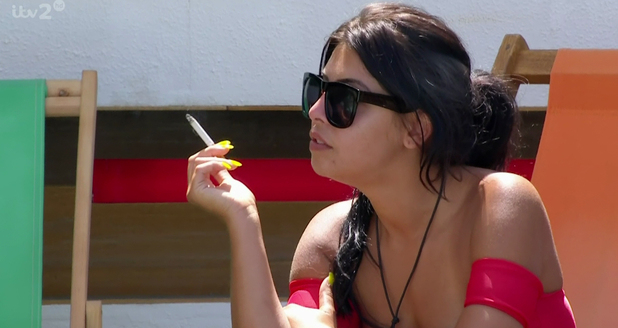 How are the girls' nails always on fleek?
Most of the girls had acrylics before they went in but we did also go out and get them done about twice. They were the only times, other than dates, that you really went out and they weren't filmed.
How many straighteners/hairdryers are provided for the girls to use?
We had two pairs of straighteners, two curlers and two hairdryers which were so heavy so we never even bothered drying our hair.
What's the deal with shampoo and conditioner?
I took shampoo and conditioner and they gave us some, too. I don't know what the boys were doing with it but it would just go really fast! That'd come through the door and we'd all share.
How much suncream did the villa get through?
Lots! It came through the door but we always had to request oil and we got through so much more of that tanning!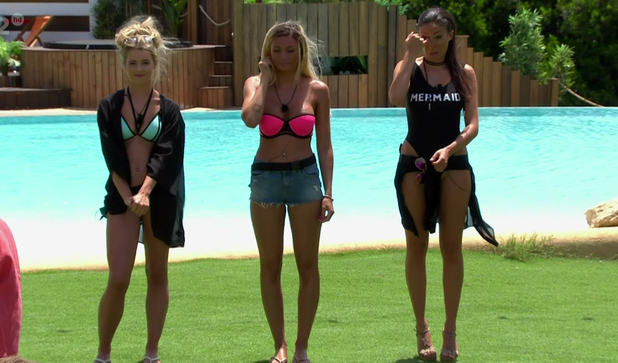 Do the islanders ever use the pool?
We did! We had cool lilos and pool toys, these amazing inflatable swans, it was so fun. It was so hot and we were always in there but we probably looked like drowned rats in the pool which is why they might not have showed you it!
Did the islanders ever phone or text each other?
We had these special phones this year and they created a new thing called Islander Chat. Our phones had a camera and Islander Chat, and Islander Chat was controlled by the producers which I think is where the responses to the messages went. You could send messages to each other but we didn't use the chat that much because you're with everyone anyway.
How did you vote in the EU referendum? Were you told the EU result?
No! Someone came in and told us that we were out. I can't remember who told us but it was one of the new Islanders. Tina was very annoyed that we were out, I didn't really follow it so I don't have much of an opinion.
Were the boys told about the Euros?
No, they didn't know and it's funny because the boys were not as bad as Cara. Cara wanted to know everything – she loves it.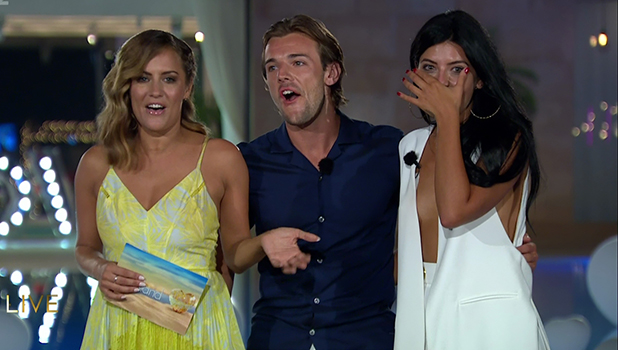 Are Caroline's visits always so fleeting?
They were quick. She'd come in quick, drop a bombshell which was usually bad but she wouldn't stay there long at all.
What happens when an islander left? Did they hang around for a bit or were they bundled on a plane straight away?
We had a wrap party til 3am after the final and the next day we did interviews and then we were on a plane! I didn't see what happened to the others that left first because I didn't go through any of that. I haven't actually spoken to Malin that much and we haven't had a chance to catch up.
Can islanders choose not to film if they're ill?
No, it's constant. There were times when I didn't want to get out of bed but you get told, "Olivia, can you please get out of bed."
Is there anywhere to hide away?
No. There is nowhere to go. Most of us went to the bottom of the garden if you wanted a little bit of peace and quiet but that would last for around ten minutes before another islander came over and asked what you were doing.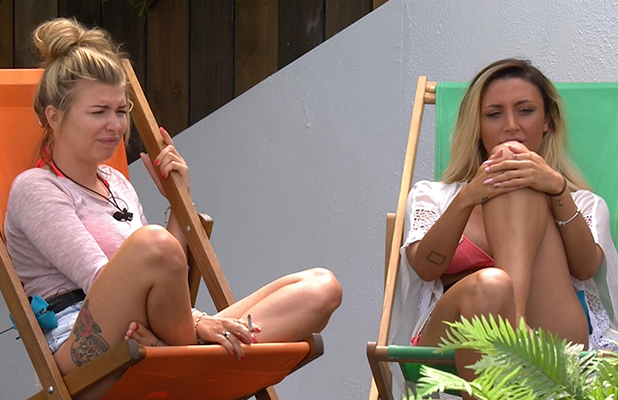 Are there cameramen or are the cameras hidden like in BB?
They are hidden. I completely forgot, I didn't even realise, it's like Big Brother! That's why I forgot about make-up sometimes but I don't mind if I don't wear it.
Is there a psychologist on call? Or anyone you could talk to?
They had certain people that were there if you needed them, yeah. No one really needed to talk anything through though.
Were you allowed to leave when you weren't being filmed?
We were allowed to leave for appointments and that but if we ever left it would just be the girls and we weren't allowed to talk about anything inside the villa because obviously the producers wanted everything to be said on camera, no one wants to miss anything. The public want to see what we're talking about so we were told off if we had a gossip outside! We had to keep it under wraps.
Are the islanders prompted on what to say?
No,
Love Island
is so real. That's what we want people to know – everything we say comes from us and nothing was scripted and nothing was pre-recorded. It was all off our own backs and all the words and feelings were extremely real.
Pick up Reveal magazine in shops now for more sizzling photos from our exclusive shoot and the full interview with Alex and Olivia.