Love Island's Terry Walsh has claimed "so much has gone unseen" when it comes to ex-girlfriend Malin Andersson.
The
carpenter, 28, was eliminated from the villa on Friday night (8 July) alongside Emma-Jane Woodhams
, and is now catching up on everything that's been happening in the outside world… a lot of which is to do with ex Malin.
He was
official with Malin when she was voted out of the villa
. While she thought they were still girlfriend and boyfriend, he
moved on with Emma, and they had sex.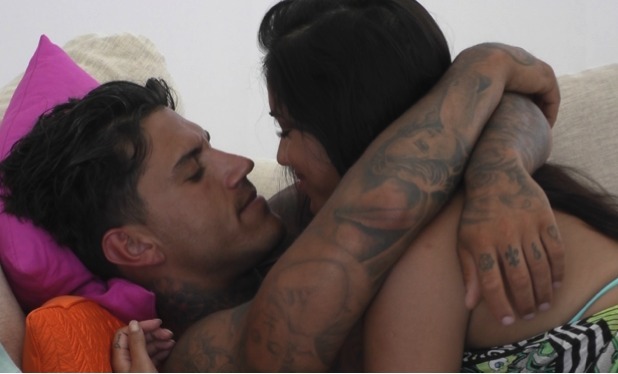 Now out of the house and able to speak for himself, Terry tweeted about the situation and, er, got Malin's name wrong! Autocorrect?
"So much has gone unseen. Me and Marlin spoke the following day she left and I told her I was staying and it was still a test for me," he wrote.
"Unfortunately I failed due to me not wanting to be with Marlin. Why would I stay in a relationship I don't want to be in? Be real.
"I was with her 3 weeks not 3 years. End of chat."
He added: "*Malin"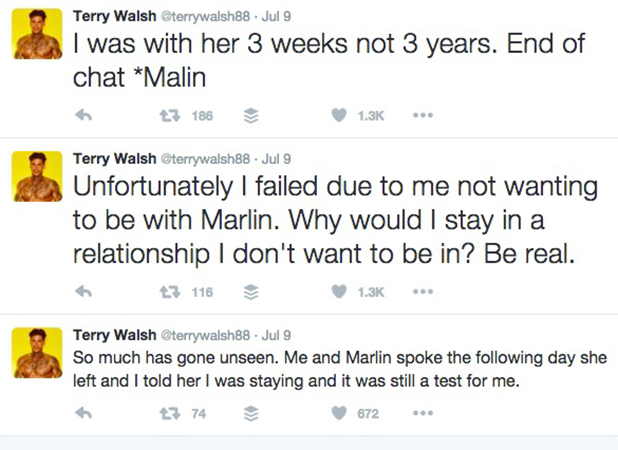 Make-up artist
Malin, 23, had previously suggested she and Terry had a conversation off camera
following her elimination, saying they'd spoken via video message.
She told
The Sun
: "When I left, I was put in lock down for a day and that is when I was told he wasn't leaving. I was allowed to video message him but that wasn't shown and he sent me one.
"He said to me 'I'm not here for the girls, I'm here for you. I'm here to enjoy the experience with the lads now, I'm looking forward to spending my time with you on the outside so just wait for me.'
"He's completely gone back on that word."
Malin returned to the show after her exit to confront Terry about what happened with Emma
. She accused him of cheating on her, while he hit back saying he'd never promised he would wait for her.
"I said it was a test for me didn't I?" said Terry. "I didn't say to you I was 100% going to be with you."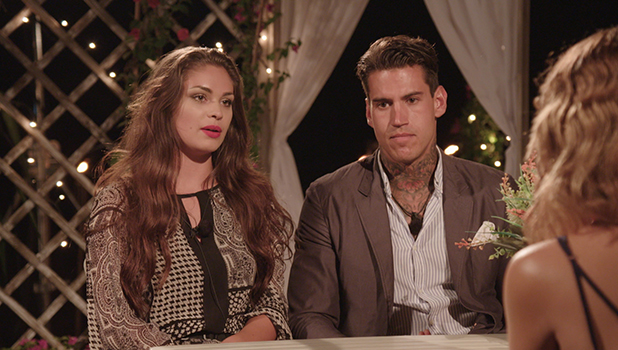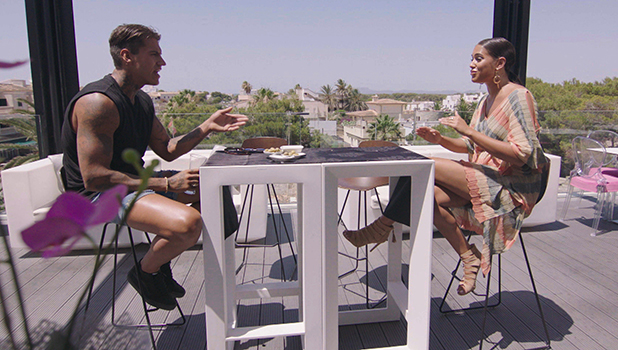 Terry and Emma were eliminated on Friday alongside Adam Jukes and Lauren Whiteside
, just three days shy of the final in which one coupel will scoop the £50,000 prize.
Speaking to
Reveal
after the results, Terry said he wasn't surprised to be leaving, suggesting the situation with Malin had harmed his chances of winning.
"I'm being honest, I prepared myself to go last night. I understand what happened between me and Malin has probably left a bad taste in people's mouths," he told us.
"Unfortunately I haven't really had a good opportunity to explain my side of the story and I'm aware that Malin is doing this and that on Twitter which is fair enough but you know I've got my own reasons. I'm not a bad person you know and I want to explain properly. I understand that a lot of what I said might not have been aired anyway. I don't know what's been shown of it but I'm not a bad person."
Love Island
's final airs tonight at 9pm on ITV2.