Love Island's Katie Salmon has denied Sophie Gradon's claim they colluded off mic to couple up as part of a game plan.
The glamour model, 20, was told about
Sophie's post on Instagram
when her brother Dean and friend Lauren entered the villa on Sunday night (9 July) as part of a treat for islanders allowing them contact with their loved ones ahead of the finale.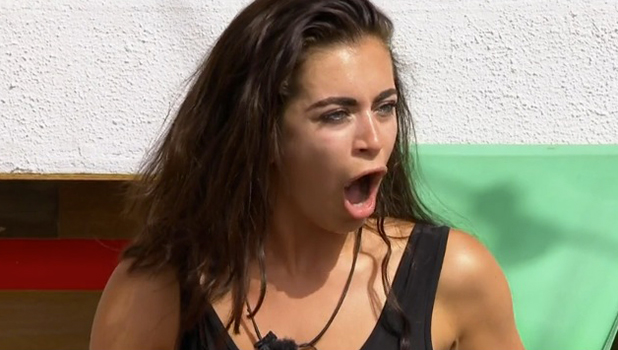 Dean told Katie: "This whole Sophie thing, I don't like her. She's put a big post up on Twitter saying that you were part of the game and spoke about it off mic. No one believes her. Everyone think she's a f**king liar."
Katie looked shocked as she listened to Dean, while Lauren chimed in to say: "Stay clear of her."
"She just played the game the whole time," added Dean. "Evil with Tom. But honest to God, Katie, everybody is on your side. You've been the most genuine, real girl. You come across as the most real, probably, in here."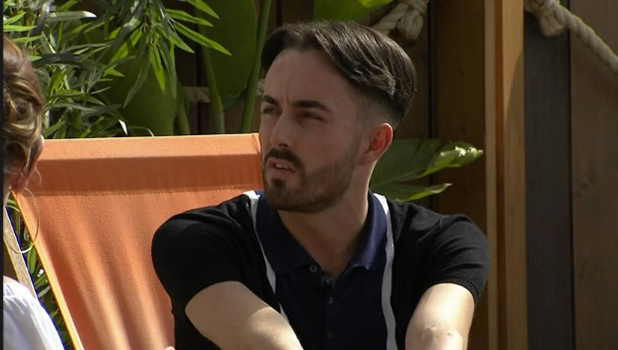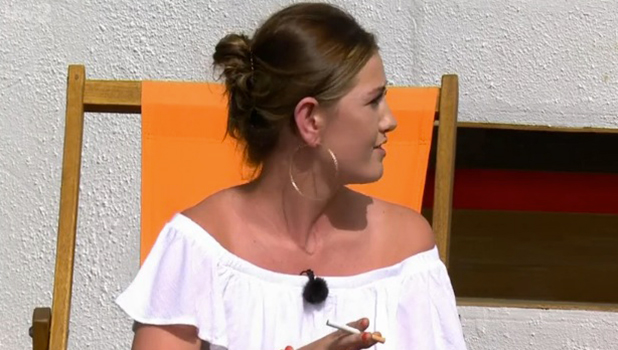 Sophie, 30, had posted a lengthy note to Instagram last week, after she
chose to leave the villa in order to salvage her romance with Tom Powell, 24,
which she feared may be on the rocks after she kissed Katie, 20.
Part of the comment read: "Katie knew I was playing the game to win for me and Tom, when I left, she thought she had lost her chance to win so turned it on me and played victim. She was in on it too as we chatted off mic (in the pool) about it and I told her I was always going to be with Tom.
"You can't have feelings for someone after two f**king days, get real."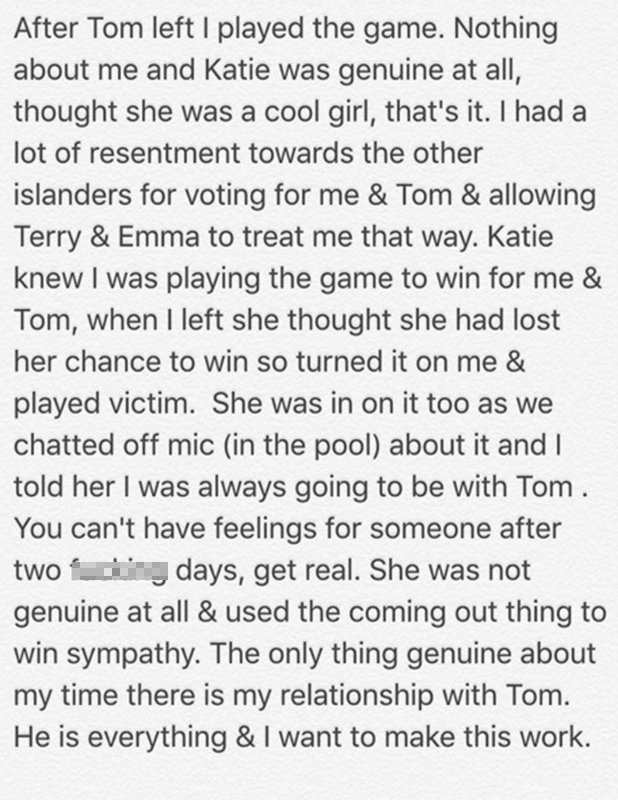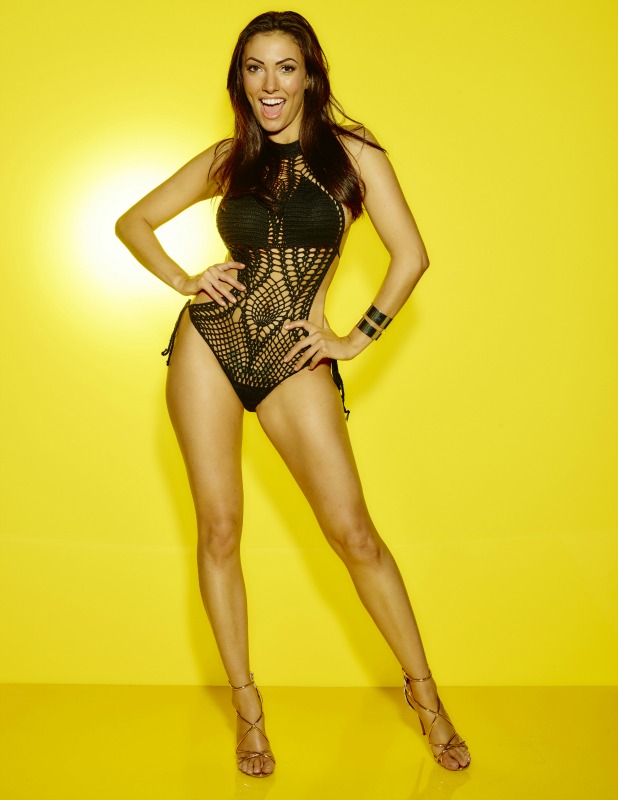 A source told
Reveal
: "The islanders are told when they arrive at the villa that there are cameras everywhere but obviously, when they're in the pool, they have to take their microphones off. There are microphones dotted around the pool that can pick up conversation but it's possible, if islanders are whispering, for them to have a discreet conversation that goes under the radar."
When Katie arrived at the villa,
Sophie's boyfriend Tom had just been eliminated
. Sparks appeared to fly between Katie and Sophie, leading to a kiss during their champagne date and a coupling at the next recoupling.
But then
Sophie did a U-Turn on the relationship, telling Katie she loved Tom and didn't want to jeopardise it.
Her change of heart came after the islanders played a game in which tweets from viewers were read to them,
one of which unfavourably compared Sophie to Terry Walsh
, who ditched eliminated girlfriend Malin Andersson for new islander Emma-Jane Woodhams.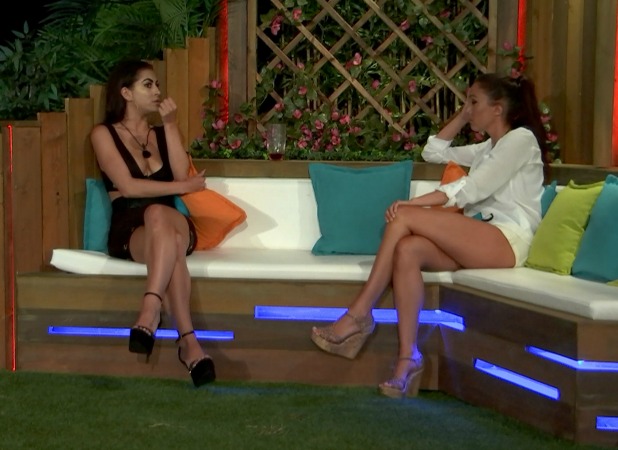 Katie later told Sophie: "I'm going to be brutally honest, I feel mugged off. I wanted to partner up with someone and for the feeling to be mutual and you agreed with that... You could have been honest with me from the start. If you were in love with him, you wouldn't have feelings for someone else."
But Sophie replied: "Who said I had feelings for someone else? [We had a connection] but purely on a sexual attraction level. I've apologised and you said it was fine and now you're coming at me. I said we'd do this recoupling as friends. I said we'd be friends and it would be chilled and there'd be no pressure."
Katie denied she'd said as friends.
After leaving the villa
, Sophie told Reveal: "When Katie came in, I did see an opportunity to take it to the end with her. It would never have been anything more than friends. I think Katie was in on it with me, she wanted to get to the end, and then I realised day by day that I didn't feel right being there. I left so Katie could enjoy the rest of her time and so I could come home and speak to Tom.
"I had said to Katie, which I don't think was actually shown, so it's probably going to be her word against mine, that I was always going to see Tom on the outside and that I wanted a chilled out, no pressure coupling up. I seemed to give Katie an inch and she took a mile. I think she over exaggerated when she was shouting at me, completely over exaggerated to the other islanders that I kissed her – it was just a peck on the lips. It was nothing."
Love Island
's final airs 9pm on ITV2.