Love Island's Kady McDermott has said she's "really positive" about the future with Scott Thomas.
As the final looms on Monday night, the islanders have been reflecting on their experience in the villa, which, for some, means falling hard, and leaving Majorca with a girlfriend or boyfriend.
Kady, 20, will be leaving with boyfriend Scott, after they
made it official earlier this week thanks to a super cute gesture by Scott
, 27, made even cuter thanks to
Love Island
's decision to play piano music from
Love Actually
in the background!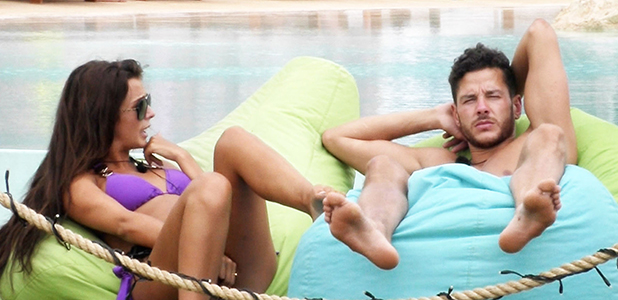 Speaking to the girls in scenes to air on Friday night (8 July), Kady says: "At first, I just didn't want us to kill each other. He's a party boy and I'm a party girl, so I don't want us to go out and argue.
"I think we're going to be alright, I'm really positive about it and he's really positive about it."
Scott is indeed positive, telling the guys in the other room that he's been "obsessed" with Kady from start to finish throughout the show.
"For me, I can't have a girl who's letting me do whatever I want. I need someone to keep me on my toes. You can see how whipped I am! I'm just drawn to her all the time. I've been obsessed with the girl from start to finish."
Ah! We're SO hoping these guys make it!
They celebrated making it official earlier this week when Scott asked the boys to help him arrange a romantic gesture. They
spelled out the words 'Be My GF?' in towels around the pool
and then, while Scott waited poolside surrounded by candles, the boys went up to the bedroom and pulled the curtains so Kady could look down.
Of course, she said YES!
"I now have a boyfriend!" said Kady afterwards. "I swear to god, I've never had anyone do something so thoughtful and so sweet for me before," said Kady. "People can buy you stuff, but that was so sweet. We had such a rollercoaster; I don't regret any of it. Not all couples would have got through what we've been through. It shows we are strong and we do like each other."
Not even last night's lie detector challenge could rock the boat, even after Scott was found to be lying when asked about whether or not he and Kady would stay together, and whether he liked her more than any other girl over the past six years.
"I know by the way I'm feeling and the way I am that she must be the girl that I like the most," he said after the test. "I've not even come close to feeling like this about a girl in a long time."
Love Island
airs 9pm on ITV2.