Scotty T has been busy planning a date with Love Island's Zara Holland... but will she accept?!
The
Geordie Shore
star made it clear this week he had his eye on Zara after tweeting a rather crude compliment for the former Miss Great Britain star.
He said on 6 July: "Let's just clear up this Zara Holland issue… I would blast her on TV or behind closed doors. Case closed X I can love on all channels."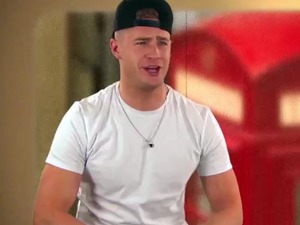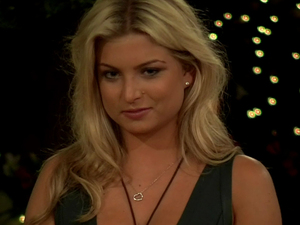 And referring to the fact she was dethroned as Miss GB for having sex on
Love Island
, he replied: "Couldn't give a f**k what anyone does on TV. I had my a*se licked on TV. But where is my Lorraine interview?"
Scotty also sent her two kissing emojis.
Now, he's started planning an actual date… though she hasn't replied to any of his tweets publicly yet! Perhaps she sent him a DM?!
Scotty asked fans: "Where you think I should take @zaraholland11 when we go on a date? Cheeky Nandos? Or what X."
He followed that up with: "F**k me my followers are more f**ked than me Where you wanna go babe @zaraholland11 X."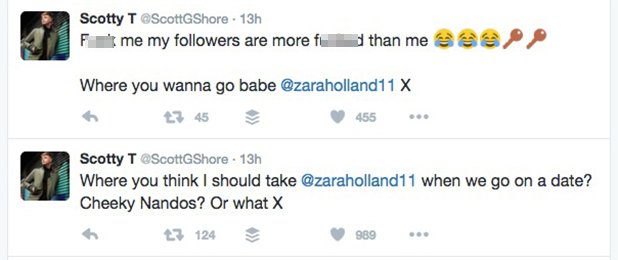 Zara simply tweeted out: "A lot of notifications this morning... I wonder why."
Giving us all a lesson in playing it cool there, Zara!
Scotty's tweets to Zara came after he highlighted what he believed was in a difference in how the
Geordie Shore
cast are treated to Zara's experience after
Love Island
. She had appeared on
Lorraine
after to reveal her "regret" at sleeping with Alex Bowen.
He had earlier tweeted: "So on Geordie Shore.. When the cast first had sex on TV it was demonised. But do it on ITV2 and you get invited onto Lorraine. Seems legit."