Sophie Gradon has QUIT Love Island.
After
threatening to walk earlier this week in order to be with boyfriend Tom Powell
on the outside, the 30-year-old went through with her plans on Wednesday evening (6 July), packing her bags and leaving the villa, much to the shock of the islanders.
Her decision to leave came after a very tense 24-hours with Katie Salmon, however Sophie seemed instantly relieved once she had made her decision to walk.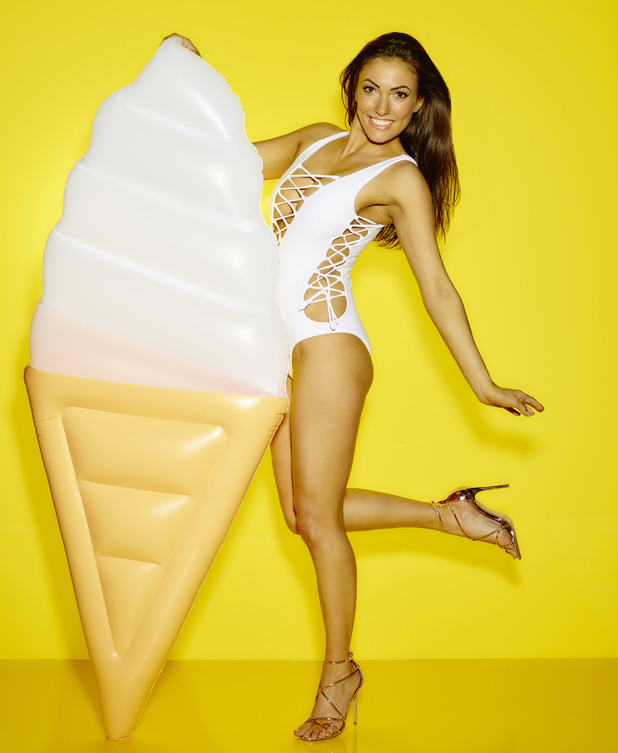 She told Katie and her fellow islanders: "I'm going home, I'm happy. I've been feeling like this for a while. My time is done."
Earlier, Sophie had been seen crying in the beach hut, saying: "I've had enough, I literally can't take anymore. I just want to go and get away from it all.
Sophie first threatened to leave on Tuesday evening
, after hearing an unflattering tweet written by a viewer that compared her to island lothario Terry Walsh. He
ditched eliminated girlfriend Malin Andersson and hooked up with Emma-Jane Woodham
. The tweet suggested what Sophie was doing to Tom was very similar.
Fitness trainer
Tom, 24, was eliminated last week but the next day
, glamour model Katie Salmon, 20, arrived at the villa and immediately took a shine to Sophie. It appeared to be a mutual attraction and
they went on a champagne-fuelled dinner date
which ended with a kiss.
Sophie then agreed to couple Katie at the latest recoupling.
But after the tweet was read, she did a U-Turn.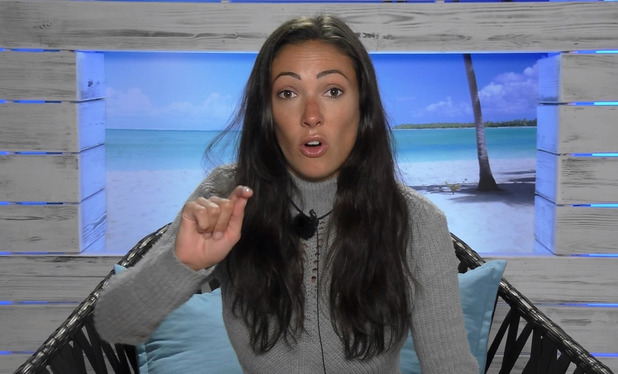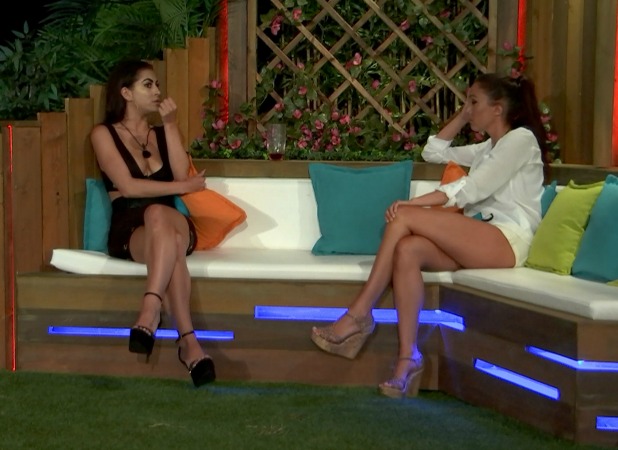 A worried
Sophie said if viewers thought she was as bad as Terry then what must Tom think
? She told the islanders she needed to leave to be with him and save their relationship.
"I cannot do this, it's just too much of a mind-f***. It's not worth it. It's not worth losing Tom over. I can't lose Tom, I can't," she said on Tuesday's show.
"I need to be real and I miss Tom," she said. "Every day I've missed him. It's not fair on Katie; I have immense feelings for someone else that aren't just going to go in the next week. She's genuinely attracted, she's made that perfectly clear and I'm just not ready for that."
"It's not fair to couple up with someone who's potentially interested in taking things further," she added. "I don't want to do something that I regret and ruin my relationship with Tom. I want him."
Sophie did eventually decide to stay at the villa that day, but
told Katie she needed to cool things off with her so as not to jeopardise her romance with Tom
. Katie was, understandably, c
onfused and upset and accused Sophie of "f**king with [her] feelings."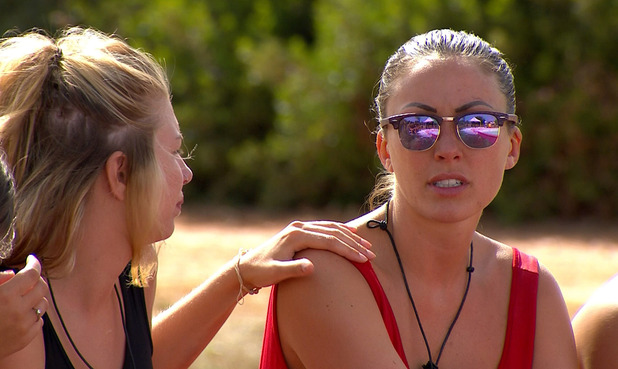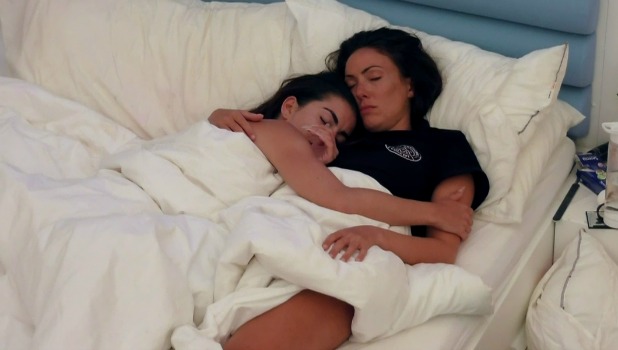 In scenes that aired on Wednesday night, Katie said: "I'm going to be brutally honest, I feel mugged off. I wanted to partner up with someone and for the feeling to be mutual and you agreed with that. When those tweets come out you were like 'I love Tom and I want to be with Tom', I was like 'Woah'.
"I didn't expect that and I felt like it was a slap in the face. You could have been honest with me from the start. If you were in love with him, you wouldn't have feelings for someone else."
Katie added: "How can you be with someone and then kiss someone? I'm not tolerating this game, it's f**king with people's heads. I'm not being mugged off for my sexuality, if it was a man I wouldn't take it, I'm not taking it from a woman. Don't mug me off when I've plucked up the courage to come out for the first time in my life like that to everyone in the world."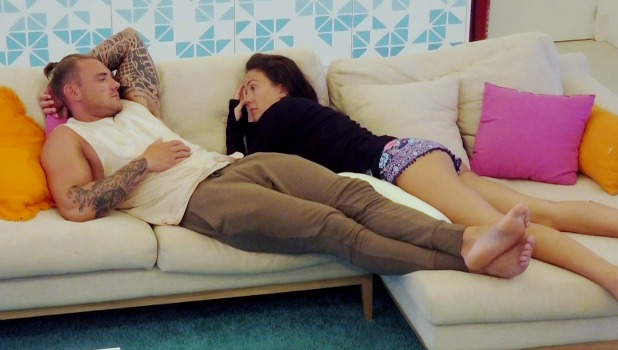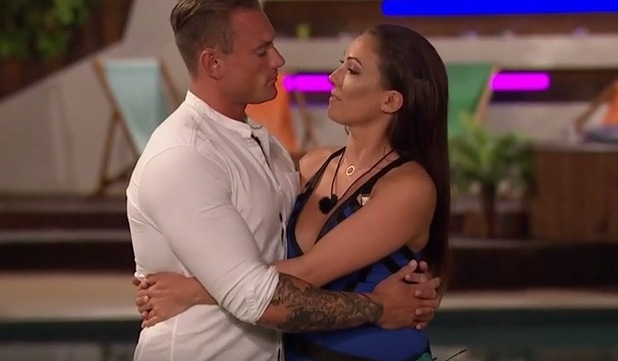 Ahead of quitting the villa, Sophie had said she knew Tom may have already dumped her but she needed to find out one way or the other.
"Tom could have completely f**ked me off by now, but I need to know that," she told Tina Stinnes. "If I leave here and Tom says 'It's done', then fair enough. But leaving here will be worth it, just to see him and to know what's going on in his head. I don't want to be here with these people, with this agg."
On the outside, it's been a bit of a whirlwind for Tom as well, who went from having a girlfriend he'd declared love to, to watching her kiss someone else on TV. He initially tweeted: "I'm a loyal guy and will 100% remain loyal until she's unfaithful... #CountingTheMinutes."
He then followed that up with: "Done."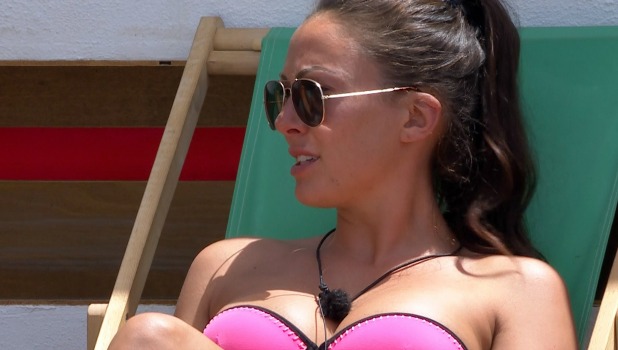 Then, in an interview with
The Mirror
, he suggested he and Sophie would remain a couple until they were able to speak, saying: "As far as I know me and Sophie are still together. I know it's a long shot - as she said she was a 'lone wolf' and all that s**t and she's kissed another bird - but I'm not a bad guy so I don't want to be made out to be the bad guy.
"Until she is out and I can say 'you cheated on me' or whatever, we're together."
But watching Tuesday night's show, when Sophie threatened to quit, he seemed skeptical of her intentions, telling followers he didn't think she would ever quit, and retweeting users who said she would have walked if she truly loved him.
Love Island
airs 9pm on ITV2.