Love Island's Sophie Gradon has said she definitely wants to make things work with Tom and has hit back at those comparing her to her co-star Terry Walsh.
Fans will know that Sophie has QUIT the villa, after a tweet comparing her to Terry, made her have second thoughts about being on the show.
Sophie had been in an official couple with Tom, but they were separated when Tom was voted out of the villa. A few days later,
Sophie teased she was "single"
and appeared to strike up a new romance with Katie Salmon. She learned in a task where the islanders got to see tweets posted about them, that some viewers had hit out at her for treating Tom in the same way Terry had treated his ex-girlfriend Malin Andersson...
Terry came under fire for publicly dumping Malin on TV, just days after her exit, and going on to strike up a not-so-subtle new romance with Emma-Jane Woodham.
During the villa's tweet task,
one had likened Sophie to Terry, suggesting she has now done the exact same to boyfriend Tom
- by kissing and recoupling with Katie.
It clearly played on Sophie's mind and she admits hearing the tweet, sparked her decision to leave. So much so, that
she cooled off things with Katie
and has since packed her bags.
Speaking to
Reveal
after her exit, Sophie slammed claims she had acted like Terry, telling us: "I'm definitely no Terry. I want to be 100 percent loyal to Tom."
She said that Terry's revelation,
that Tom had claimed he was faking her feelings towards her did hurt her
, had made her question things, but it wasn't enough to make her stray. Some may point out that she did kiss Katie, but
Sophie has played down the kiss as a peck
and assured us it was purely friendship between the pair.
Sophie explained: "Don't get me wrong, initially after Tom left, I heard that he had said some things to the boys about not having any feelings for me, that he was faking it and I was immensely hurt by that. At first I took it as, 'No he's just being a lad.' But it did make me think and I want to ask him about that.
"I'm not going to do a Terry on him. There's far too many feelings there between me and him. It's still an open book with me and Tom – in my eyes we are still in a relationship and I've got to go home and reconcile with him as soon as possible.
"I had said to Katie, which I don't think was actually shown, so it's probably going to be her word against mine, that I was always going to see Tom on the outside and that I wanted a chilled out, no pressure coupling up... she completely exaggerated to the other islanders that I kissed her - it was just a peck on the lips. It was nothing."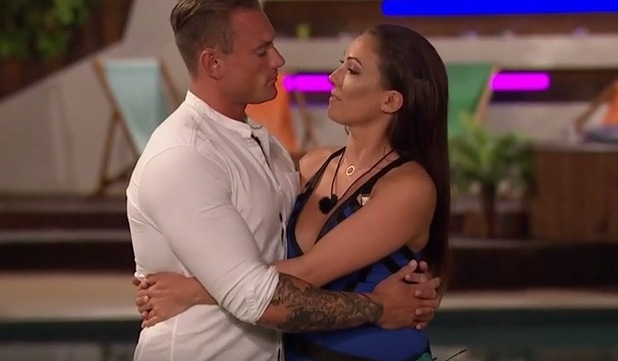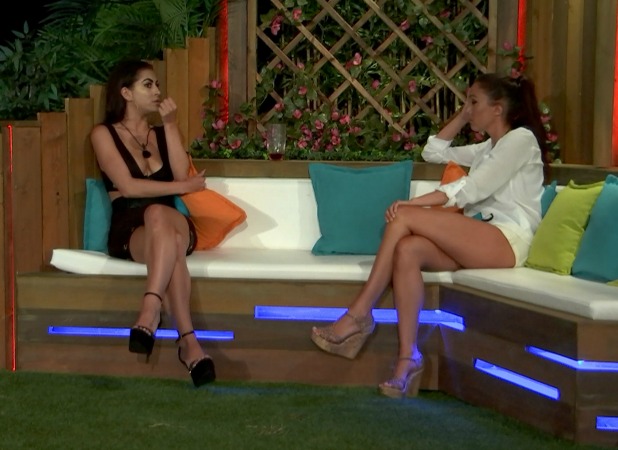 Sophie admitted to us that she hasn't yet spoken to Tom, but she has heard about his tweets since he left the villa.
Tom had claimed he was "done" with his relationship with Sophie,
after her peck with Katie, and later
accused her of being a "game player."
He questioned Sophie's motives to leave, implying if she really loved him (like she had admitted), she would have left much earlier.
Sophie, meanwhile, isn't holding Tom's tweets against him. She said: "Tom is a very reactive person, he probably would have just reacted to what he has seen – I went on a date with Katie. That is very typical Tom, but I'm sure it's nothing that we can't work through."
She did, however, admit that she is nervous about seeing him again.
"I'm sh*tting myself a little bit because I don't really know what's going to go down. We've got things to speak about it, he's probably got questions he wants to ask me, and I've got questions I want to ask him too," she claimed.
Positive that the pair can make it work on the outside away from
Love Island
, Sophie added: "I have been tested to the max with Tom. Nothing surprises me. He's very quick to react, he's got an ego on him that he likes to protect.
"I'm quite mature and open-minded, and I can appreciate that he would have seen things he might not have liked. You've just got to work at it and we'll just take things one step at a time. As long as we're honest and open with each other, I don't see why it can't work out."
Sophie told us she has "no regrets" about leaving
Love Island
so close to the final.
She said: "I literally couldn't take any more stress than I have already gone through. I was just ready to leave. I felt like I had come to the end of my journey. Obviously, I'd had a bit of agg in there and I literally couldn't take any more."
Love Island airs nightly on ITV2.
Follow us on Twitter @RevealMag for all your celeb, fashion and beauty news!
Fancy winning some GREAT prizes? Check out Reveal Competitions here!