Taylor Swift and Tom Hiddleston have made it official by posing together for a lovey dovey Instagram photo.
It used to be changing your Facebook status that screamed "I'm in a couple!" but now it's allowing a smitten picture of you both to be uploaded to social media.
Which is just what happened this week when Taylor's friend Brittany LaManna shared a picture to her Instagram account showing Taylor nuzzling into Tom while sitting on his knee.
Also in the photo is Blake Lively and husband Ryan Reynolds.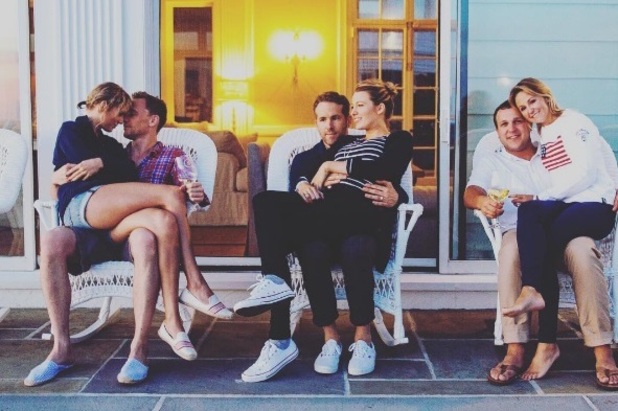 Tom and Taylor's romance appears to be going at super speed! It feels like only yesterday they were pictured kissing outside her Rhode Island home (it was actually mid-June), then they were in England meeting Tom's family, then getting all romantic in Rome.
Over the weekend, they were back in the States where Tom was snapped wearing an "I [heart] TS" t-shirt while frolicking with Taylor and her squad in the ocean at her annual 4th July party.
As you'd expect, this loved up display has been a big talking point on Twitter, with some praising it, others describing it as nauseating, and many pointing out Ryan looks like he'd rather be anywhere else in the world than posing for a couples' photo!
Here's how the internet reacted:
Bleh, put it away
do i really want to see taylor swift sitting on tom no i do not

— hannah (@preciouszarry) July 6, 2016
Forget about Brexit. We need a #Twexit: no more Tom and Taylor pics because I LOVE HIM but can't unsee any of this tomfoolery.

— Lucy Mapstone (@LucyMaps) July 6, 2016
Taylor Swift and Tom Hiddleston make me wanna throw up. Literally. They're gross. I wonder who we'll see in her 4th of July party next year.

— Brooklyn bred (@truthguruisbad) July 6, 2016

SO CUTE!
Taylor & Tom are so cute

— Zakiyah (@pwincessa97) July 6, 2016
why are Taylor & Tom so cute like ):

— kaley (@kalpeniche) July 6, 2016
More Taylor Swift and Tom Hiddleston pics #relationshipgoals

— Charlotte Whiting (@misscharlotte10) July 5, 2016

Has Tom lost his chance to be James Bond?
Now that Tom Hiddleston has worn a t-shirt that says 'I Taylor Swift' he is immediately out of the running to play #Bond right?

— Becky Stone (@_BeckyStone_) July 6, 2016
If this fake Taylor Swift and Tom Hiddleston romance has taught us anything, it's that @idriselba is the only choice to play James Bond

— Valerie (@ValerieGauvain) July 6, 2016

Is it all a big joke on us?
(How much longer do we have to wait for Taylor Swift and Tom Hiddleston to reveal their relationship is a hoax??)

— Brodi Lucas (@brodilucas) July 6, 2016
When you know how fake Taylor Swift and Tom Hiddleston are but you signed a non disclosure agreement pic.twitter.com/BAqcD2wcbI

— Jillian (@GalaxyGaleas) July 5, 2016
Honestly I think Taylor/Tom is 10000000% fake and for publicity lol

— Heda Hummel-Anderson (@cefalexforte) July 5, 2016

Poor Ryan...
@paulthomasbell Ryan Reynolds looks how we all feel. #awkward

— Michelle Arnott (@mishka_mushka) July 6, 2016
@frnkgrms dunno about non-awkward, you see Ryan Reynolds' face? He looks like he wants to jump off the end of Brighton Pier.

— Lets Play Bamboozled (@bloatyhead) July 6, 2016
And this is why I love @VancityReynolds his face just says it all....#vomit pic.twitter.com/cBONKsgwwo

— MissNads (@MissNadiaNaz) July 6, 2016