Love Island star Troy Frith has hit out at former islander Oliver Maxwell Fernandez, after it was said he warned the villa away from him.
Troy and Oliver had entered the villa together and were given just a day to impress the girls. The girls then chose which of them they wanted to stay on the show,
with all seven picking Troy.
Just before leaving, Troy muttered: "I'm not going to put myself out there if I don't feel it. He will." And then went on to tell some of the girls: "The second another girl comes in he's attracted to, done." He added: "I think the islanders need to keep a close watch on Troy and his games because he's smart playing them and one by one, he'll play the girls and cause a big problem."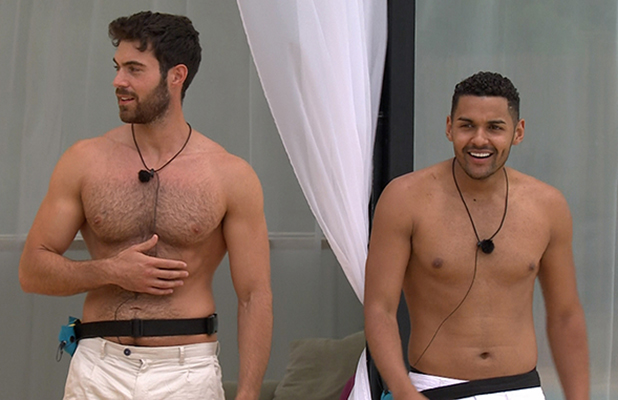 Oliver's warning got relayed back to Tina who had struck up a bit of a romance with Troy
, and she confronted Troy over Oliver's claims she had been the "easy option."
Troy hit back and insisted that hadn't been the case and speaking to
Reveal
after his
Love Island
exit, he told us Oliver's parting words had changed his opinion of him.
Troy revealed: "I was p*ssed off about that, I think h's a w*nker. He's not my cup of tea. I felt sorry for Oliver because nobody chose him to stay in, it was a bit of a white wash. They chose me and I thought he was a really nice guy, but when they said that, I had no time for him. I think he's a w*nker and an ar*ehole."
He explained that Oliver's warning had put him in a "tricky" position, as some of his co-stars began to treat him differently.
Troy said: "It did [put me at a disadvantage] because I felt like some people were giving me the cold shoulder. They were a little bit wary of me, not just Tina, everybody. Tina thought I had a game plan, it put me in a bit of a tricky situation.
"I'm not the sort of person to run around trying to scream that I'm not fake and I'm real, so it was a bit of a bad day for me. He done what he needed to do, but I don't like the geezer."
Looking back at his time in the villa now, Troy admitted he only had one regret: "I shouldn't have let Oliver get to me as much."
Oliver, meanwhile, has addressed his comments about Troy, and
denied ever saying Tina had been the "easy option" for his co-star.
When the girls had been discussing his comments on the show, Oliver tweeted: "So who heard me say troy said tina was "the easy option"? #hmmm #idontthinkso #bullsh*t."
He added: "My opinions on camera are causing havoc #leaveit #LoveIsland #itsonlyacommercial #brownhairdontcare."
Oliver also told one follower: "It wasn't said to help me or to hurt him. They will like him on his own merit, regardless of what any *sore* loser says...."
He then brushed off his original comments about Troy, telling another Love Island fan: "He is a nice guy you know, just said some silly comments out loud."
Troy is now headed home back to the UK, after the villa's latest re-coupling. Tina had chosen to couple with Adam Maxted, leaving Troy and newcomer Adam J without a partner. In a shock twist, the islanders were told that
a new girl, Lauren, would decide which boy to couple up with after dating them both
, and the guy she doesn't chose would be dumped.
Admitting he wasn't that interested in Lauren, Troy added: "She wasn't my type, but I would have made her my type. I got to the level in there where I just wanted someone to have a laugh with. She wasn't ideally my type looks wise, but I still would have tried."
Although, he did admit: "I felt like my time was up in there."
Love Island airs nightly on ITV2.
Follow us on Twitter @RevealMag for all your celeb, fashion and beauty news!
Fancy winning some GREAT prizes? Check out Reveal Competitions here!