Love Island's Terry Walsh has told ex-girlfriend Malin Andersson her exit from the show was the "best thing" to happen to him, adding: "You're a f**king joke."
Make-up artist
Malin returned to the show in scenes aired on Monday night (4 July) to confront Terry
on how he could forget about her so quickly and have sex with Emma-Jane Woodham.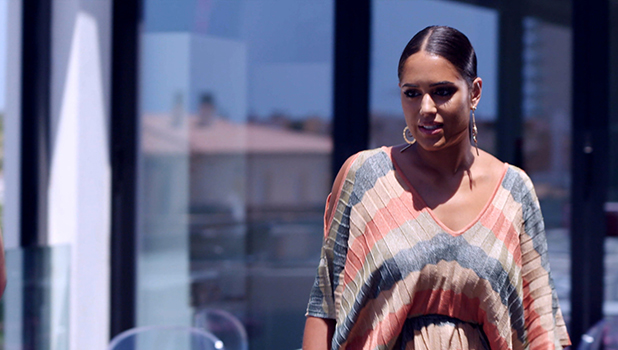 Malin and Terry had been an official couple
– girlfriend and boyfriend – before she was eliminated.
He had vowed to leave with her, before deciding to stay
. Then he
told the islanders he didn't miss Malin, wanted to dump her before she left
, and fancied newbie Emma.
He
had sex with Emma in controversial scenes
last week.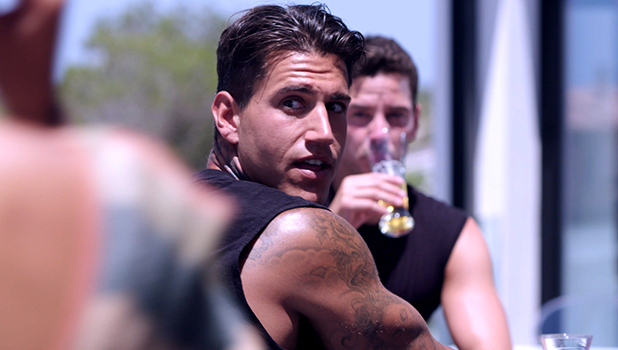 So when
Malin interrupted Terry's day out of the villa with Scott Thomas
, she had plenty to say… but Terry didn't seem too eager to listen or show any remorse.
"I didn't say to you I was 100% going to be with you," Terry told Malin, but she countered by saying they were a couple and she supported him when she left the villa, only to hear and see everything he'd been doing.
"You're muggy as f***. I can see everything," said Malin, after Terry suggested rows started by her and her possessiveness had driven them apart and, after she left, he realised they wouldn't have a future together.
"You cheated on me in there," added Malin. "You've cheated on me and made me look like a mug and disrespected me completely."
"Terry, we were together in that villa. I left that villa as a couple with you; we were official in there," she said. "You were my boyfriend. I came out of there supporting you. I know you didn't come out, but I thought 'I'm going to support him, he's having a good experience with the lads'. Then a day later you're hooked up. You were wanting to come out of there with me!?"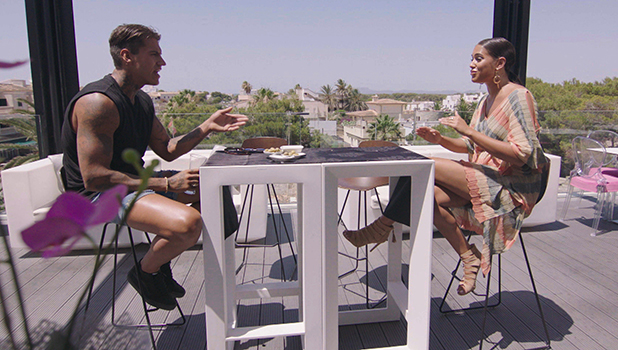 "I spoke to the boys and at the end of the day; it was still my time in there. I can't just walk like everyone else," he responded. "Analysing stuff on the two days I was on my own, it weren't gonna go anywhere. You know what you was like, you was creating rows."
The conversation then became heated as
Terry lashed out at Malin
, saying her elimination had been "the best thing that's happened to me in there really."
Wow!
Malin fired back with: "Really? That's good, because [Emma's] mugging you off mate. She's playing a massive game."
"You said you were going to dump me a few days before?" she said. "You said 'I was gonna dump her anyway'. No you were not. You led me on the whole time we were in there; you were playing a massive game Terry. Everyone can see it. Your little girl Emma's playing a game too. You're muggy as f**k. I can see everything."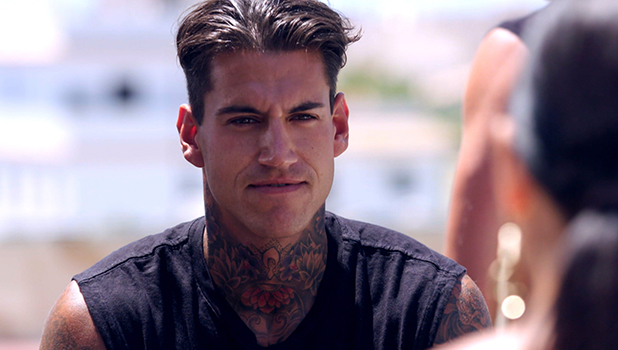 Terry, however, refused to budge, telling Malin whatever Emma was doing, he's enjoying it: "It's been swell. It's been a good time. I've had no pressure and no arguments."
He then called Malin an "idiot" and said she was "mugging [him] off" when she said there was no pressure in this conversation, she just wanted closure and answers about why Terry did what he did with Emma.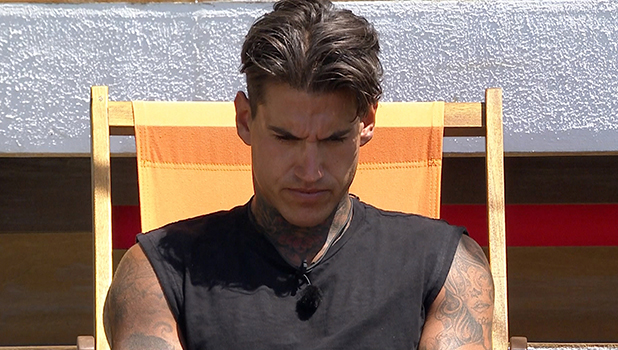 Malin responded: "You mugged me off. I've been the biggest mug, you mugged me off completely. The whole of England has seen it and it is funny how much support I've got. You're going to be very shocked when you come out of here."
But Terry refused to be drawn into a conversation about the outside world, dismissively asking Malin: "Is there anything else you want to say because you can't deal with me not wanting to be with you?"
Addressing Terry's claims to the islanders that Malin had "chipped away" at him during their time together, Malin replied to say: "You cheated on me. I did not chip away at you at all. You're a complete mug. You have no respect. You strung me along completely. As soon as I was out you were like 'next girl'. You just want to win the show. That's what everyone thinks."
"Why didn't you tell me before you left?" she added. "How can you just go from feeling one way to another? Anyway, it's done now. I just wanted to tell you. You're gonna have a big shock when you leave there."
But Terry hit back to say he couldn't care less what anybody thinks, adding: "Do you really think I want that money that bad? Go away from me, you're a f***ing joke, you know that?"
Wow….
Oh, and as Terry walked off, Malin shouted after him: "Do I get my sunglasses back?"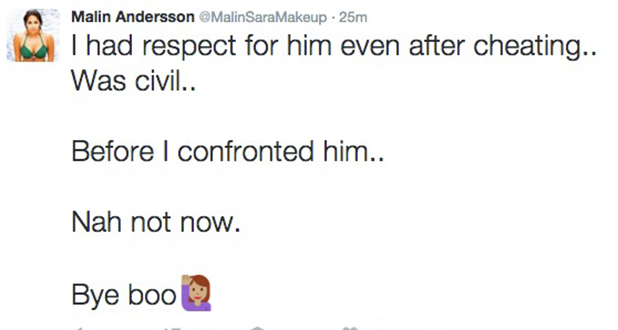 Back in the villa, Tel told the islanders he was seething and needed some alone time.
He branded Malin "spiteful" and said she was just bitter to see him enjoying time with Emma
. He told the boys: "What you going to gain from coming here? I couldn't pick up the phone, I couldn't ring you up. I was honest; I said it weren't going to work. She didn't like hearing it."
But he did add: "I accept it weren't the right way to go about things but it was out of my hands."
Malin, meanwhile, tweeted: "I had respect for him even after cheating… Was civil. Before I confronted him… Nah not now. Bye boo."
Love Island
continues 9pm on ITV2.