Love Island's Malin Andersson has said she's lost all respect for ex-boyfriend Terry Walsh after their confrontation.
The
make-up artist will return to the ITV2 show tonight to tackle Tel over why he forgot about her and slept with islander Emma-Jane Woodham
, describing him as "cheating" and "disrespectful."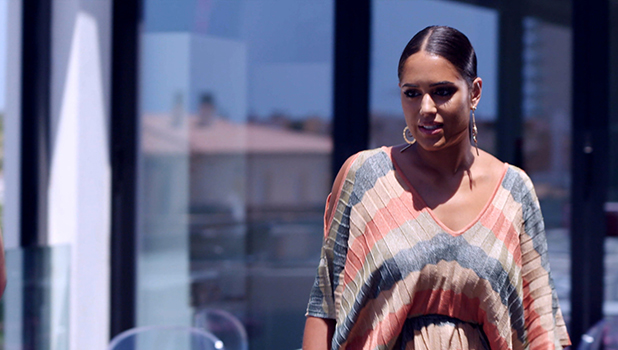 We'll find out on Monday night's episode what exactly happens, but judging from Malin's tweet, it isn't an amicable meeting…
She told fans: "I had respect for him even after cheating… Was civil. Before I confronted him… Nah not now. Bye boo."
Eek.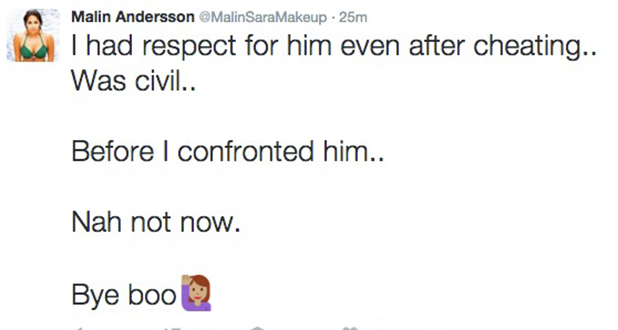 We've already had a glimpse at what happens between them, as we know Malin blasts Tel for ignoring the fact he had a girlfriend and going after Emma.
"You cheated on me in there," she tells him. "You've cheated on me and made me look like a mug and disrespected me completely."
"You said you were going to dump me a few days before?" she added. "You said 'I was gonna dump her anyway'. No you were not. You led me on the whole time we were in there; you were playing a massive game Terry. Everyone can see it. Your little girl Emma's playing a game too. You're muggy as f**k. I can see everything."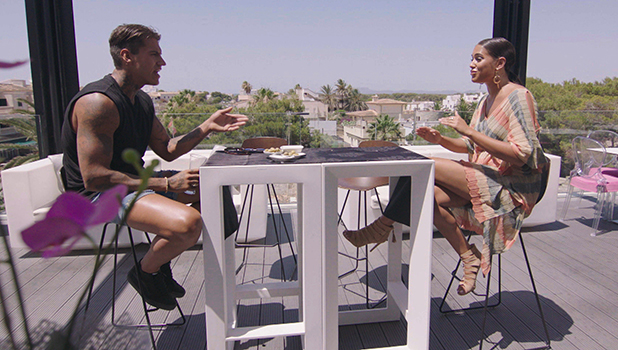 Tel, meanwhile, insists he had never promised Malin he would wait for her, saying: "I said it was a test for me didn't I? I didn't say to you I was 100% going to be with you."
He also claims that Malin's exit gave him time to think and he realised their romance had no future. "Analysing stuff on the two days I was on my own, it weren't gonna go anywhere. You know what you was like, you was creating rows."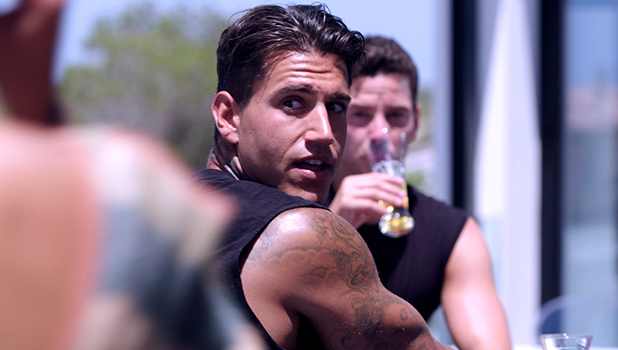 Terry later told the guys Malin had been "spiteful" and was "bitter" that he enjoyed spending time with Emma over her
. He also said he couldn't have spoken to Malin about his feelings as the islanders aren't allowed contact with the outside world.
"What you going to gain from coming here?" he asks the boys, after Malin leaves. "I couldn't pick up the phone, I couldn't ring you up. I was honest; I said it weren't going to work. She didn't like hearing it, she's bitter about Emma. She was just throwing loads of stuff at me.
"I told her I was having a better time with Emma than I did with her. She started getting nasty so I thought 'I'm not going to sit here and take your s**t'. I accept it weren't the right way to go about things but it was out of my hands."
Love Island
continues 9pm on ITV2.