There has been SO MUCH DRAMA in this series of Love Island, right?. From islanders being removed, to surprise hook ups, heated rows and cheating allegations, it's been one fiery season so far!
Here are 15 shocking moments that we've all been talking about: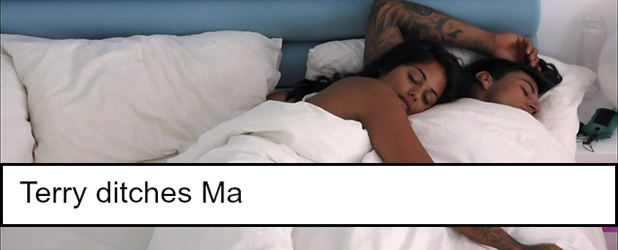 When
Malin was eliminated in a shock public vote
, loyal boyfriend
Tel vowed to leave the island with her
, saying he couldn't possibly stay at the villa alone. Then he decided to stay. Then said he didn't miss her. Then claimed he wanted to dump her. Then
coupled up with newbie Emma
. It was possibly the quickest anyone has ever moved on from a relationship… and poor Ma was left watching it all from home, wondering what on earth had happened to change his mind in just a few days.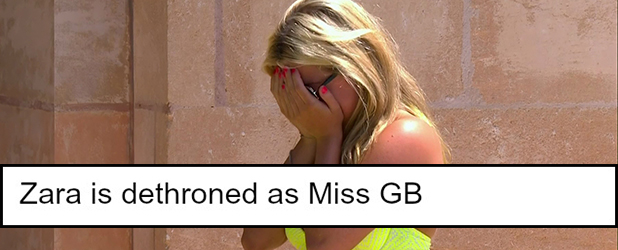 Love Island
is a show about romance featuring sexy young things so it's pretty obvious sex will and does occur. But who knew
Zara's decision to sleep with Alex would cause so much furore
? She admitted to regretting it the next day, saying it was out of character… but the worst was still to come when
Miss Great Britain organisers publicly stripped her of the title
, saying they couldn't promote her as a positive role model. Zara was the last to know as the islanders have no contact with the outside world. So it was left to producers to break the news to a weeping, devastated Zara, who said she'd worked so hard for the title only to lose it because of a stupid mistake.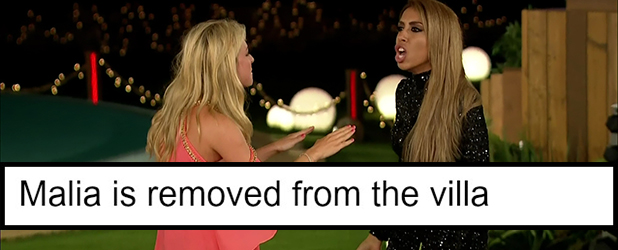 Malia probably wins the award for the shortest time spent on the show, after she was
removed from the villa by security just hours after making her debut.
Things had been tense between her and Kady after Malia chose Scott to join her on a date. Scott and Kady fell out when he returned from the date and didn't make "eye contact" with her, and while Kady had tried to make Malia feel like there were no hard feelings, she ended up spilling her wine all down Malia's leg and getting shoved by the newcomer. Malia was convinced Kady had spilt her wine on purpose, accusing her of "trying to make a show" and calling her a "desperate b*tch." When she reached out to push Kady away from her face, security stepped in and it was bye bye Malia. On her exit she said: "I completely regret it."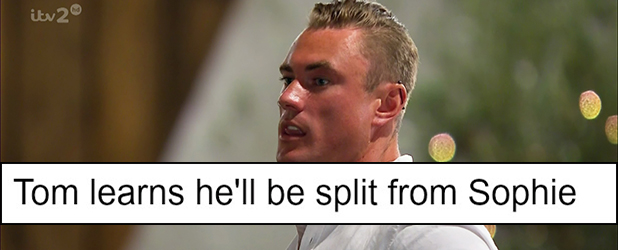 When
Tom and Sophie were voted as one of the weakest couples in the villa alongside Adam and Liana
, it seemed obvious to the islanders one couple would be going home in the latest public vote. But in a shock twist for them, it was one person from EACH couple who got the boot, meaning Tom and Sophie would be separated. Tom looked genuinely stunned when Caroline Flack dropped the bombshell, and then wept when his name was announced and he had to leave Sophie behind.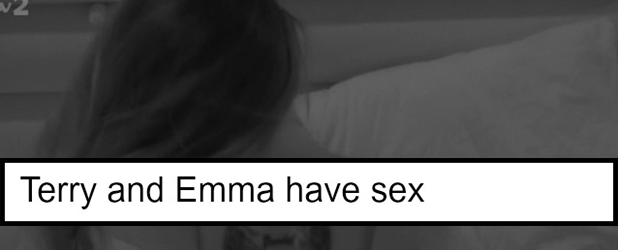 We kind of figured Tel and Emma would get it on from the minute she arrived. And we were right. What we
didn't
expect, however, was just how steamy it would get! While other couples do the deed under the duvet, Emma flung hers off and, to quote Sophie, "rode Terry like a Bucking Bronco" in full view of everyone.
Emma's ex Tom called it the "biggest, slaggiest way you could have sex"
and added: "Do you want to be a porn star?"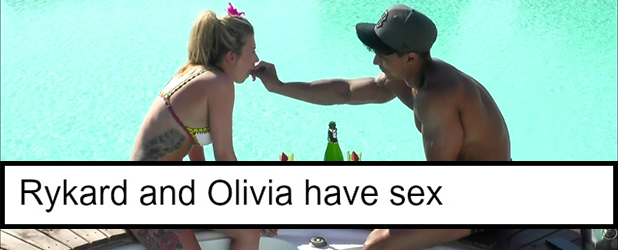 It's safe to say nobody saw this coming. Rykard and Olivia had been coupled up, so were forced to share a bed together and ruling out any romance, the pair insisted they were purely just friends. So much so, that Rykard had even set his sights on Rachel. Still, that didn't stop
him and Olivia from getting it on, though, and fans saw the pair have sex in the bed next to a sleeping Rachel,
the day after she and Rykard enjoyed an overnight date in the hideaway. Awkward, much?! Olivia told Rykard she would "f**king kill" him if he spilled the beans, and their little secret sent Twitter into overdrive!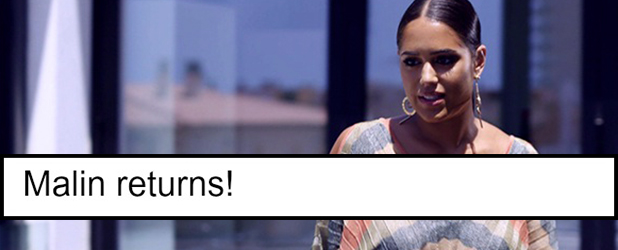 Don't mess with Malin! After watching boyfriend Terry forget about her and have sex with Emma, she made a dramatic return to the show to confront Tel about how he could have moved on so fast. She told him he'd cheated on her and disrespected her, but Tel said Malin was just being spiteful and was bitter he preferred Emma to her. It was all v. dramatic and Malin later told Twitter followers all she'd wanted was an apology but she never got one.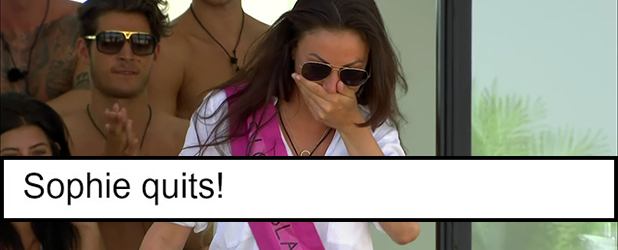 Sophie was left solo in the villa when boyfriend Tom was eliminated. As he left, he said he loved her and would wait on the outside. But just a few days later, she'd kissed Katie and coupled up with her! Then came a challenge which revealed a member of the public thought Sophie was as bad as Tel, who ditched Malin for Emma. Sophie vowed to leave immediately, cooling things with Katie so as not to jeopardise her relationship with Tom. Then she changed her mind and stayed. Then she actually did quit, saying goodbye just a few days before the finale.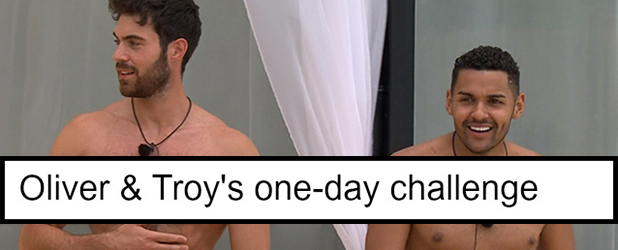 Having won a place at the villa, booked time off work and packed their bags, no doubt Oliver and Troy were looking forward to some sun, fun and romance. Unfortunately for
Oliver, that wasn't the case, as he was sent home just a day after arriving
. In a twist, the boys had just 24 hours to secure a place in the villa, with the islanders having to choose one to remain and one to dump. Ollie was eliminated because
Troy had a blossoming bond with Tina
and nobody wanted to destroy a potential romance… but as he left, he
warned everyone that Troy may be faking
, which sparked plenty of discussion among the house and a good deal of wariness towards Troy.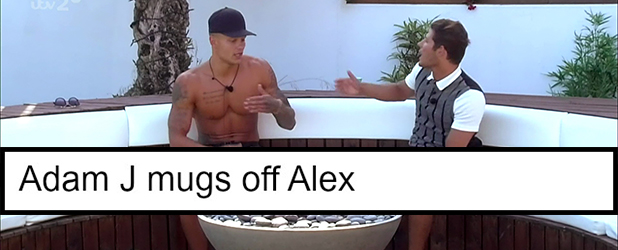 When Adam J was chosen to join the villa after auditioning alongside three other guys, it seemed like he would fit in well. But he made the grave mistake of disrespecting the boys! Adam J had to choose three islanders to take on a date and, as only two were single – Tina and Sophie - he had to take someone who was in a romance as well. He chose
Olivia, telling her partner Alex he just wanted to pump her for info on Tina
, his chosen girl. Er, not quite true! He hit on Olivia during the date, quizzed her on whether she found him attractive, and openly admitted to liking her. Alex was NOT happy when he found out,
accusing Adam J of disrespecting him and wrecking a possible friendship.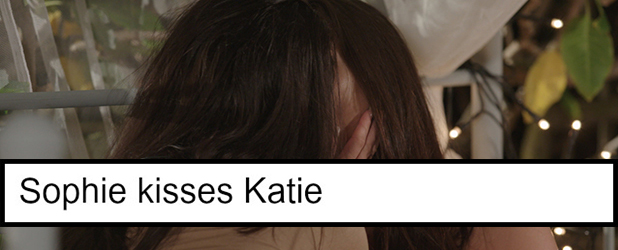 Sophie's boyfriend
Tom left the villa on a Thursday
, by Friday she was flirting with newcomer Katie, and by Sunday she was kissing her under the stars during a champagne-fuelled dinner, prompting Tom to declare: "Done." Just like what happened with Terry and Ma, Sophie was left alone in the villa when Tom was eliminated. He vowed to wait for her outside and said he loved her. But bisexual
Sophie quickly moved on with bisexual glamour model Katie
, who revealed to the islanders Sophie is totally her type. All Tom could do was watch from home as his girlfriend began a romance with someone else…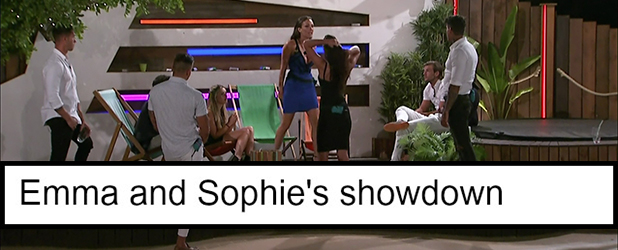 When
Sophie's boyfriend Tom was dumped from the villa, she remarked that Emma's game plan was now screwed
. (Emma being Tom's ex.) Of course, word got back to Emma, who stormed over to have it out with Sophie. Emma said she'd been nothing but friendly and had no game plan, while Sophie accused Emma of wanting to mess up Tom's time on the show. It all got heated and the islanders stepped in at one stage to keep Sophie and Emma, who was backed up by Terry, apart. Emma called Sophie "nasty" while Sophie said she'd been naïve befriending Emma, and was shocked Emma had slept with Terry despite vowing never to have sex on TV.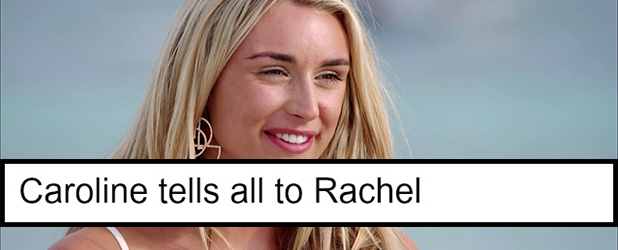 There was no way something that major was staying under wraps, right? Shortly after coupling up, Rachel and Rykard were separated when their islanders voted to keep Rykard in the villa and ditch Rachel from the show. As if being sent home wasn't enough to get her head round,
Caroline then told Rachel on her exit that Rykard and Olivia had got up to no good behind her back
. Ouch. Not surprisingly, Rachel was shocked. She told Caroline she felt "betrayed" by her man and admitted she didn't think Rykard would have been "that boy." Cue *that* awkward chat where Rachel asked her beau: "Why did you have sex with another girl in bed next to me?"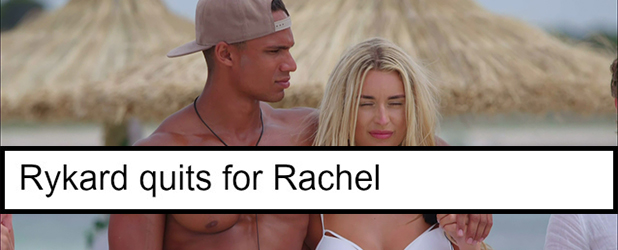 He may have landed himself in hot, hot water for having sex with Olivia, but Rykard's decision to quit Love Island and head home with Rachel was enough for him to turn it all around. He decided to go after Rachel had been voted out, admitting he didn't see any point to being on the show without her. Leaving the villa won him brownie points with Rachel, who had begun to question whether Rykard had genuinely liked her or not. She told him: "The fact that you left, it does mean quite a lot. If you had stayed in there, then I probably would have never wanted to see you again." FYI, they're now official. So we're guessing all is now forgiven and forgotten...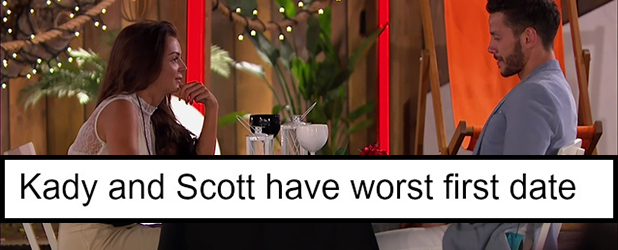 It had all been going so well for Scott and Kady.
Scott instantly fancied her and even broke off his romance with Zara to give himself and Kady a chance at coupling up
. The pair hit it off, so it wasn't a surprise when Kady chose Scott to join her for a dinner date... but he completely blew it. Completely. We're not sure what was the cherry on the cake from Scott telling Kady he only fancied her because of "cabin fever", or the part where he accused her of being a "serial dater" and said he wished he had stayed with Zara instead. Way to make a girl feel special, eh?!
Love Island
continues 9pm on ITV2.