Love Island's Sophie Gradon and Katie Salmon have gone on a date, and the female islanders are NOT happy with how the men have been reacting.
The guys have made it clear they love the idea of former
Miss Great Britain Sophie and glamour model Katie coupling up
, after Katie arrived on Friday night and declared she's bisexual and attracted to Sophie.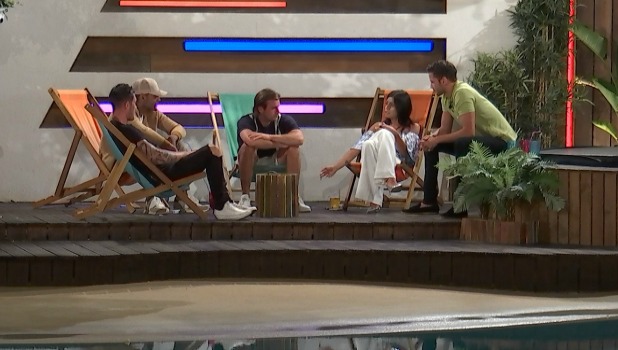 That excitement reaches a high tonight when
Katie picks Sophie for a date.
But the island girls aren't impressed.
Cara de la Hoyde said: "The boys are annoying me a little bit because they keep going on about it. It's wound me up so much because it's so normal."
"I'll be honest, I've been a bit offended by you boys tonight," she later added. "All of you. How much you've gone on about the two girls going out, and I know it's stressed Sophie and Katie out a bit. After tonight, we all draw a line. You've all gone on about it."
Kady McDermott agreed, saying she was "fuming" with partner Scott Thomas. "When Katie first told us she was bisexual - I was 20 seconds behind him, by the time he got to the stairs he'd already told Nathan, Terry and Alex."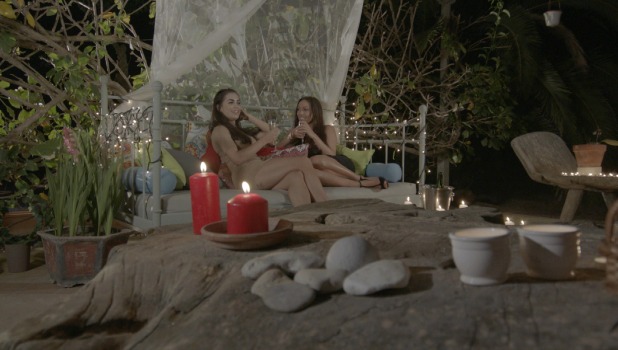 While Sophie and Katie were enjoying their date - champagne under the stars - the other girls decided to gather the men together and tell them they're putting pressure on Sophie and Katie to get together.
"No one should put pressure on them though, just because they're two girls people shouldn't be getting over excited," said Kady.
But Scott replied: "What are you trying to say? I'll get excited as much as I want."
"You're 28, have you not been around gay people before?" retorted Kady. "It's pathetic, it's not real life porn, it's people's relationships."
But Scott retaliated by saying: "I'm excited about it because I'm happy for them both. It's exciting. I don't know who you think you're talking to like a child. I'm 28 and you're trying to tell me how to behave? Do I speak to you like a child? How dare you think you can talk to me like that."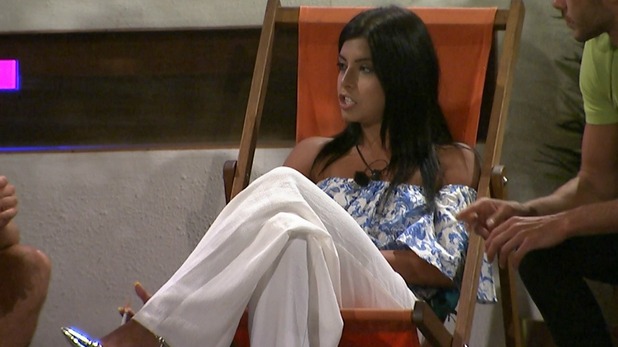 Nathan Massey, meanwhile, described Sophie and Katie's date as a "big deal", much to girlfriend Cara's annoyance. "It's not a big deal, Nathan. The fact that people are making such a big deal about it is offensive to me."
Scott then said it was all positive excitement for them, which Cara agreed was true, but she reiterated the girls should be left alone. "I know you haven't said nothing wrong or rude, none of you have," said Cara. "But tomorrow, don't put pressure on it. That's all it is."
We'll find out how Sophie and Katie's date goes tonight.
Katie arrived at the villa on Friday night alongside recruitment consultant Adam Jukes. Each had to audition for their place in the villa against three other people. To help them settle in, both Katie and Adam J were allowed to choose three people to take on a date.
Katie chose Sophie, Alex Bowen and Adam Maxted
, while
Adam J chose Sophie, Olivia Buckland and Tina Stinnes.
Love Island
continues 9pm on ITV2.