Love Island newcomer Adam Jukes isn't winning any popularity points with the island men, after he hit on Olivia Buckland despite vowing to Alex Bowen he wasn't interested in her.
Oh dear...
Recruitment consultant
Adam J arrived at the villa on Friday night
, after auditioning alongside three other men. The island girls chose him to stay, while the
island boys gave glamour model Katie Salmon permanent status.
Both Adam J and Katie were then allowed to invite three people out on a date to get to know them better. Adam J opted for Sophie Gradon, Tina Stinnes and Olivia.
During his date with Sophie, they both established a friendship, and the boys thought that's what he wanted from Olivia as well, especially after Adam J asked Alex's permission to take Olivia on a date and assured him he just wanted info on how to graft Tina.
But that wasn't quite true...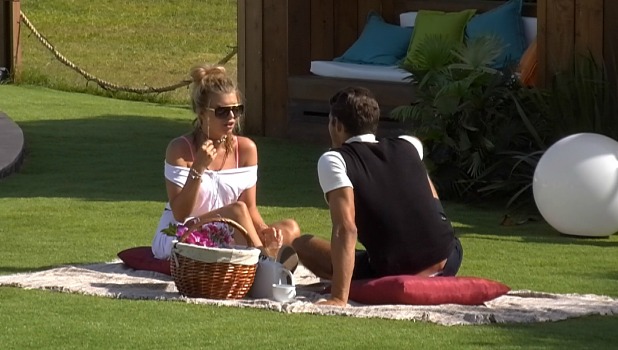 Adam J made it clear to Olivia during the date that he liked her. Olivia was surprised, as she'd thought Adam J wanted Tina, and replied: "I'm really happy with Alex. I think you've got a cracking personality, but I'm pretty deep with Alex. At this current point in time, Alex and I are pretty strong and I don't think there are any cracks in our relationship."
"I respect that, but I don't mind ruffling feathers," replied Adam J, adding: "You can see that because I asked Alex if I could take you out."
Olivia pointed out Adam J had told Alex he only wanted to talk about Tina, not hit on her. But Adam J didn't back down, telling her: "I'm grafting because we're getting on. We do get on – I find you attractive, you find me attractive. That's not something you'd close off."
A rather unhappy Olivia later said she found the whole situation "quite two-faced" and told Alex everything that had happened.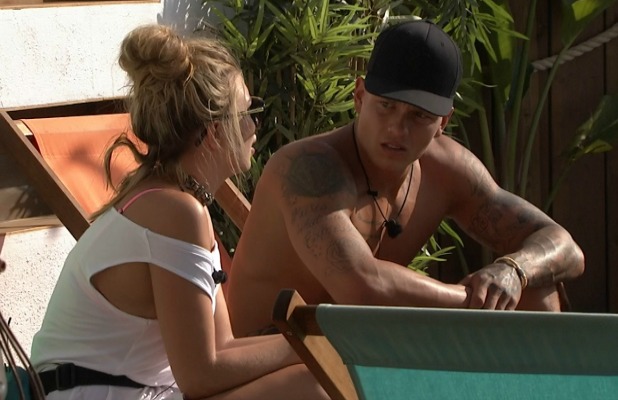 "He said he finds me attractive and he gets on with me really well. I said I'm not gonna stray, I've got all my eggs in one basket," Olivia told Alex.
"I said 'I think you're a good looking boy, I get on with you really well but it's a friends thing'. I said 'You told Alex you wanted to take me on a date because you wanted to talk about Tina'. He said 'Yeah, it weren't just that. I wanted to get to know you as well'. I said you should have said that to Alex."
As you can imagine, Alex wasn't happy and demanded Adam J tell him whether or not he fancied Olivia. Adam J quite honestly answered: "Looks wise she's not exactly what I'd go for, but it's tough coming in – I've got to keep my options open."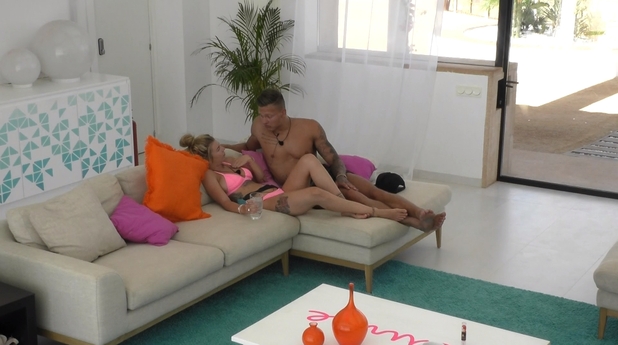 Alex responded by warning Adam J he needed to "respect the boys" of the house.
"You come up to a boy and you say 'Look, I fancy Olivia'. You weren't honest were you? If you'd had the balls to say 'I fancy her, I want to take her out on a date', sweet. But you said to me 'I want to crack on with Tina, Olivia's mates with Tina, I want to get information out of her'. That's muggy mate," said Alex.
"I'm up front mate, I tell everyone how it is. At the end of the day mate, you've gone about it a s**t way. Me and you ain't got to be mates, we can just be in here together. I ain't a fake person. I ain't gonna get along with you. You're probably a decent geezer, but you've handled it s**t like."
But Adam J insisted that he HAD talked to Alex about the situation.
Alex definitely did NOT agree.
"How was you big enough to talk to me?" said Alex. "You said you wanted to take Tina out. If you'd have said you wanted to take [Olivia] out on a date, I'd have been sweet. But you ain't had the b******s to say that. I'd have been sweet, because she's going to pick me anyway. F**k it, we're done mate."
Love Island
continues 9pm on ITV2.