Love Island: Sophie Gradon and Emma-Jane Woodham are BIG fans of each other.
Yup, you would never have expected it, but Sophie and Emma have built up quite the friendship. So much so, that the girls couldn't resist gushing over each other while enjoying champagne in the hot tub together.
Sophie even said: "Emma is my favourite girl in the house, without a doubt."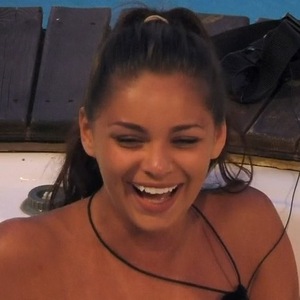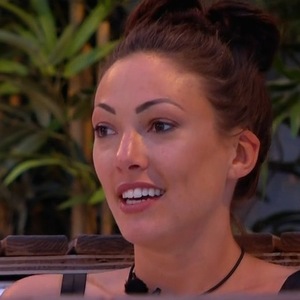 Fans never predicted Emma and Sophie becoming BFFs, purely because Emma arrived at Tom Powell's ex and Sophie had been dating him. Tom and Sophie coupled up on the first day in the villa and had made their relationship official.
When
Emma then arrived as a latecomer on the show, Tom was visibly shocked
, but Sophie was left pleasantly surprised after hitting it off with the 19-year-old. Instead of cat fights galore, the girls realised they actually got on pretty well and now it seems they have a genuine new found friendship - much to Tom's annoyance.
He accused Sophie of spending more time with Emma than she has with him, and growing tension between the pair led to
Sophie recently calling off her romance with Tom.
In last night's episode of
Love Island
, fans watched
Emma and Sophie's relationship blossom onscreen
. The girls had won a prize of champagne in the hot tub together, after winning the latest villa task that saw the girls attempting to build flat pack furniture.
They had to put together a bed while being given instructions on how to do so over the phone by the boys. Sophie and Emma decided to ditch the boys, however, and work together to build their bed.
Taking time to reflect on their friendship after winning the task, Sophie said to Emma: "Who would have thought, right, that I'd be sat in a jacuzzi with Tom's ex... getting on? And we do get on!"
She then joked: "I was speaking to Tom before and I was like, 'Emma and I might get the hideaway.' He was like, 'Don't. Please don't. I would never speak to you again. I would walk.'"
Sophie added: "When you walked through the door, the first thing I thought was, 'F**k me, she is stunning.' And then you reassured me and you seemed so genuine. I couldn't have had a better ex walk in. I genuinely feel like I've totally clicked with you."
Emma agreed and told her new pal: "I think it's that perfect combination of personalities. I don't think there is many new and ex girlfriends that could have that sort of friendship."
She added in the beach hut: "I'm so glad we do get one. I genuinely love the girl. She is wicked. She's just like me."
Viewers then saw a naked Tom pressing his bum up against the window at the girls while they were in the hot tub. Sophie then laughed: "Tom's got like the funniest little legs"
- prompting the girls to indirectly joke about his (ahem) manhood.
We bet he loved hearing that from his ex and his current on/off flame!
Emma replied to Sophie: "I thought you were going to say his little something else. He's got the funniest little.... legs."
Sophie said: "Can you imagine? He'd walk."
Tom, meanwhile, was seeking some advice from his fellow islanders on his relationship with Sophie. He has made it pretty clear he wants to try and win Sophie back after their break up.
She, however, has asked for some space and told Tom she wanted him to sleep downstairs
rather than share a bed with her. For Sophie, it was a test to see if Tom would respect her wishes and when he did, she confessed she was beginning to like the new Tom.
The others, though, were not impressed. Nathan told Tom he thought it was "wrong" that Sophie was making him sleep downstairs, while Kady questioned what was next for the pair.
She said: "I honestly think that she wanted her space and you've been chilled, you've been giving her space, but what now?"
Tom confessed he had "no idea" and that the last few days in the villa with Sophie had "drained him."
Nathan advised Tom to keep acting the way he has been, because he thinks Tom is coming across as a "true gent."
In the beach hut, Tom admitted he was feeling very confused about where he stands with Sophie. He said: "I have no idea where everything is at with me and Sophie, one minute we're cwtching on the sofa and holding hands and sh*t, and the next minute, she's saying we are best friends. I'm like, 'What?!'"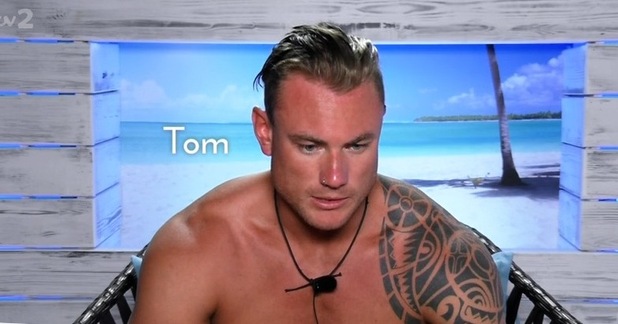 Although, he is about to find out that his hopes of the pair getting back together have been dashed for now.
Last night, after re-coupling,
the islanders were told to vote for the two couples they think are the weakest
. Those chosen would then face the public vote, and viewers will decide one person from each couple to stay in the villa, and one person from each to leave.
It was revealed that Adam and Liana and Tom and Sophie will be facing the next dumping - meaning Tom and Sophie are inevitably going to be split up. What will that mean for the pair?!
Caroline Flack returns to the villa in tonight's episode to deliver the result.
Love Island continues tonight on ITV2.
Follow us on Twitter @RevealMag for all your celeb, fashion and beauty news!
Fancy winning some GREAT prizes? Check out Reveal Competitions here!