Love Island newcomer Oliver Maxwell Fernandez has only just arrived at the villa but already he's set his sights on Sophie Gradon.
Look away, Tom!
Sophie is now single after splitting from partner Tom Powell
this week, and already newbie Oliver is putting the moves on her. Well, he only has ONE day to secure his place in the villa!
Model
Oliver, 25, and salesman Troy Frith, 23, arrive in the villa on Tuesday night
, and have just 24 hours to woo the ladies enough that they're allowed to stay as one is getting dumped almost as soon as arriving!
Oliver and Troy are both allowed to take three ladies on dates, and Oliver makes a beeline for Sophie… and sparks fly!
"I do feel we connect," he tells Sophie. "I don't know if you do, or if it's just me. I'm not the sort of guy to throw myself into a situation and be like 'I really like you', because that's not me. It would be stupid for me to say that, but I do feel we have a connection. I don't with anyone else, at all."
But what will Tom think?!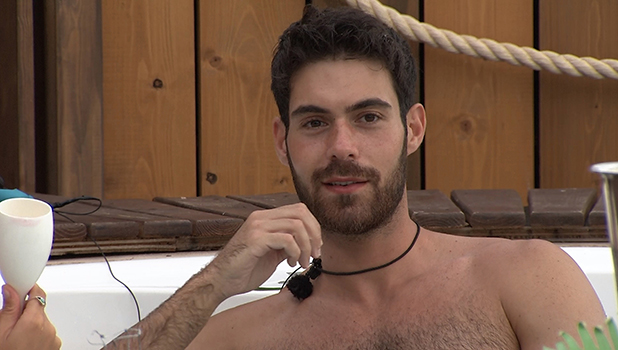 Well, Oliver decides to defuse any possible awkwardness by approaching Tom directly and telling him he likes Sophie.
He tells Tom: "I think we get on pretty well you and I. The first thing you said was about how things were with you [and Sophie]. The last thing I wanted to do is come in and f**k it up. The last thing I expected was to get on with someone like Sophie.
"I feel like there's been a bit of a vibe between you and I today."
But Tom insists he's okay for Sophie and Oliver to pursue any feelings they may have, insisting that Oliver is "overthinking things".
"I think you're overthinking things, honestly," says Tom. "I said to Sophie, if she wants to go for one of you two then she can. We've broke up. Don't get me wrong, the door isn't closed between me and her, I'm still working at things. People have got to do what they've got to do in here.
"If you like someone, there's no point beating around the bush."
But is Tom really okay with it? Later on, he admits to Sophie he wants her back and he'll fight to prove that she's the most important thing in the world to him...
Love Island
airs 9pm on ITV2.