Malin Andersson admitted she'd be "distraught" if Terry Walsh met someone else on Love Island… in an interview done just before the arrival of Emma-Jane Woodham.
Make-up artist
Malin and Tel were the first couple to make it official this series,
but they were separated last week when
Malin was eliminated in the latest public vote.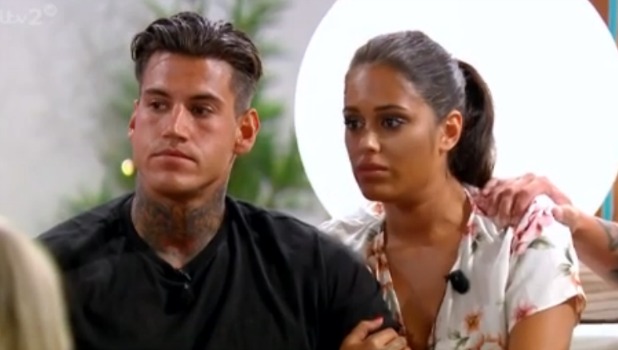 Tel had vowed to leave with her, but
eventually stayed at the villa to complete his experience
… unfortunately for Malin, he's
since admitted he doesn't actually miss her and quite fancies newbie Emma.
Emma, who is Tom Powell's ex, invited Terry on a date during Monday night's (27 June), where it was clear they both liked each other.
In an interview with the new issue of
Reveal
magazine, out now, done before Emma's arrival, Malin had said she'd be "devastated" if Terry hooked up with anyone else.
"I'll be glued to the screen every night keeping my eye on him," she told us.
"I'd be devastated if we hooked up with anyone, because we are together .We decided we were going to be boyfriend and girlfriend inside and outside the villa. We have strong feelings for each other so I can't see him doing anything. If he does, I won't speak to him again. Our whole relationship would have been a lie."
Malin, 23, added: "If Terry doesn't hook up with someone else? We'll meet each other's families and we've also planned to go on holiday."
After Malin's exit, Terry told the boys: "When I met Ma, the spark was amazing. But as time went on, she was just chipping and chipping and chipping and chipping. I said up there, 'Babe, you're pushing me away'. I went to bed that night and in my head I was like, when I wake up I have to break up with her. I don't know how I going to do it but I can't continue like this, it's killing me.
"I just want to be happy with someone. I want to move forward, not move back into my past."
Then,
Tom's ex, Emma, 19, arrived at the villa and it was clear sparks were flying between her and Terry
, whom she described as her type: tall, dark and tattooed.
During their romantic cycling at sunset date, Terry told Emma: "It's weird. It's been a quick turnaround with me and Malin. She is a lovely girl, but I just don't think we're right for each other. It's nice coming here with you as a breath of fresh air and a clean start."
Malin responded by tweeting: "So I'm single... I'll let you all know how I feel tomorrow and my version on things. Heads gonna explode."
Love Island
continues 9pm on ITV2.