Kerry Katona and daughter Molly have hit back at 'trolling', after photos of them enjoying a rollercoaster ride at a theme park fuelled nasty remarks on social media.
Mother-of-five Kerry appeared on today's
Loose Women
to reveal how Molly, 14, had been trolled after the "unflattering" pictures appeared online.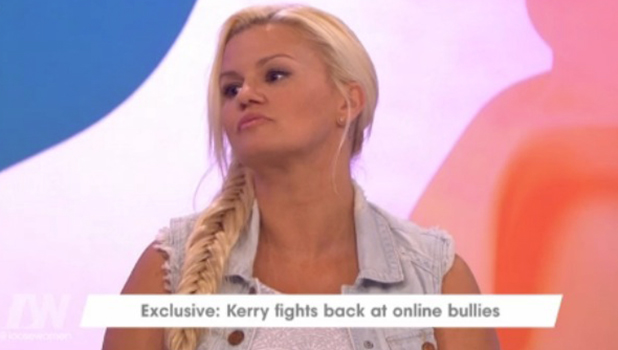 "It was the most unflattering picture of my daughter. My daughter is absolutely beautiful but they really highlighted this picture and I could see straightaway what would happen: it would revolve around her weight," she said.
Kerry said she'd spotted the photographers while she was at the theme park but hadn't let them spoil her day. However, when the images were published, she decided to bring them to Molly's attention.
"I showed it to Molly straightaway. I'm really open and honest with my children. The first thing she said was, 'Look at all my chins'. I said, 'Baby, you're beautiful.' My Molly is a strong, independent woman, very strong willed. She's like myself and we poke fun at ourselves. Then it escalated on social media."
Kerry said she'd never advise her children to avoid social media, but did tell Molly not to respond to any cruel jibes. "She's very quick witted and likes to gob off herself back to those giving her abuse. But I said, 'Molly, block them, ignore them and don't retaliate.' Molly wasn't upset."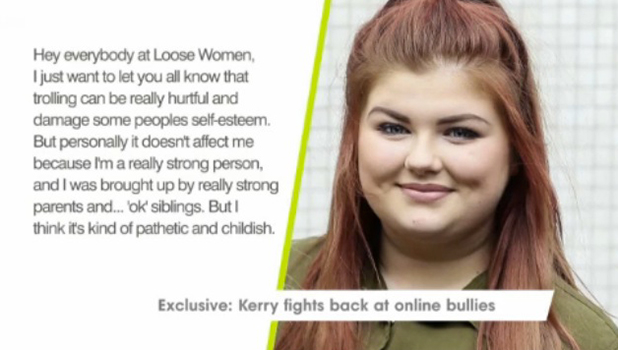 The Atomic Kitten star said: "Molly and [my second eldest daughter] Lily were born into this industry and don't really know any different. Whether Molly was in the limelight or not, what I'm here to discuss is trolling. Unfortunately, it made headlines… no, fortunately! Because I'm grateful about it as it goes to show what low life people are out there."
Kerry said the negativity wouldn't make her avoid public places with her children, saying: "It makes them self aware of what's going on in the world and makes them stronger."
As for banning social media, she said: "If it will happen in social media, it happens in schools, at events, it happens wherever they are going to go, and It's running away form the problem. I know my children and I think it makes them a stronger person, stronger character, and shows them how not to treat people. I always tell my children, if you have nothing nice to say, say nothing at all."
Molly wasn't on the show but did record a message for viewers. "I just want to let you all know that trolling can be really hurtful and damage some people's self-esteem," she said. "But personally it doesn't affect me because I'm a really strong person, and I was brought up by really strong parents… and 'okay' siblings."
"But I think it's kind of pathetic and childish," she added.
Watch Kerry below: