Love Island's Olivia Buckland is not a happy bunny this evening after it is revealed that her BFF Malin Andersson has blabbed about her sleeping with Rykard Jenkins.
Following
her dalliance under the covers with Rykard, Olivi
a confided with Malin about what had happened...and she immediately told her boyfriend Terry Walsh and Nathan Massey.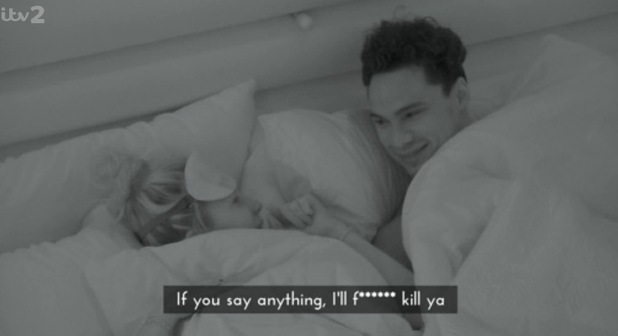 In scenes which will air this evening, a furious Olivia brands Malin "not cool" after discovering she had spilled her secret.
"I'm annoyed with Malin," she rages. "That's trust. I told Cara and Ma about Ry before anyone knew and I said, 'Please don't tell anyone, you've got to keep it between us' and she went and told Tel and Nathan.
"That's not cool man; don't tell people things I've told you not to tell people. I know I'm really close to Tel and Nath, but it's not her place. I'll be careful with my mouth now."
Later, Olivia confronts Malin while taking things through with her and Cara. Attempting to get out of it, Malin explains: "Basically, when me and Cara were on the bed with you and you told us, I was like 'no way'. I thought it was so random."
She adds: "As soon as you left, Nathan and Tel came over and my face was [shocked]. They were like, 'what, what, what'? and that was it. And I knew that they wouldn't tell anybody and they didn't."
But Olivia tells her: "For me, regardless of who asked you - your mum, or a friend. If I say 'please do not tell anyone' and was so blatantly obvious about that. For you to go and tell Terry and Nathan, I just don't get why."
Malin admits she was in the wrong and apologises to Olivia, claiming it was a "one off". But adding salt to the wound, Cara chips in: "It's not the only thing though.
"You tell Tel a lot of girl stuff. People in the villa are noticing and hear things that you tell Tel. I'm telling you as a mate. Especially after today, a couple of people have said, 'Well Ma hears something and she tells Tel'."
Ouch.
Love Island continues tonight, 9pm, ITV2