Love Island's Liana Isadora Van Riel has SLAMMED co-star Adam Maxted after learning he'd made a crude comment about bedding her.
The stripper was furious after learning Adam had told the boys he would "bang" her and then choose Tina Stinnes. The revelation was made while the islanders played a game of 'Mugged Off', where they had to match quotes to islanders.
"How dare you say that comment when you didn't even know me?" asked Liana.
"What? Because I'm a stripper and you can say I'm going to chuck her and then have the posh girl? Lads' banter? How's that lads' banter? You say you're a gentleman, how is that gentlemanly? It makes you look like a d**k."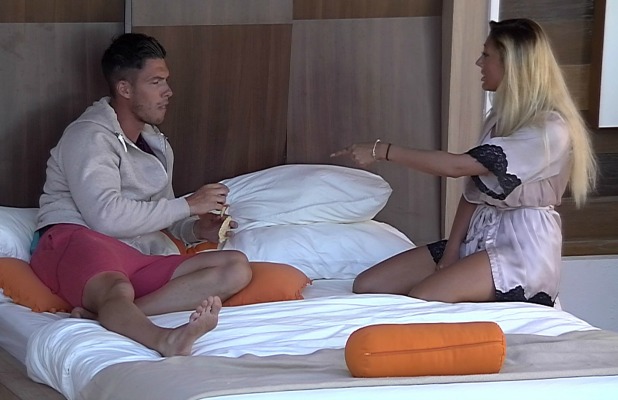 Adam tried to apologise - while still eating his snack - but Liana wasn't having it: "You don't look very sincere, you're eating your snack a jack. I think you're a joke. As if you thought you could f**k me anyway, I wouldn't even f**k* you.
"I'm so offended. How many guys say that over girls and it's such old thinking? It's not lad banter, you said it because a blonde stripper walked in with big t*ts. 'I'm going to f**k her and chuck her'. That's why you said it; it wasn't lad banter at all. It's the way you've treated me, the way you've spoken about me and how you can make a comment when you don't even know me?"
Adam replied: "I'm totally in the wrong, and I apologise."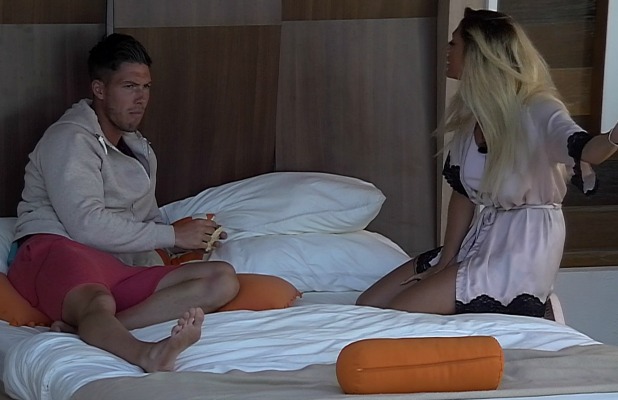 But Liana wouldn't accept his apology: "No, f**k your apology, because you look like a bigger d**k than I do. How can you say you're a gentleman? I've seen more gentlemen come into the strip club in Magaluf. I'm fuming."
Adam later retreated to the Beach Hut where he admitted some of what Liana had said to him had sunk in: "Probably a silly thing to say looking back. She delivered a very passionate speech; there were some very valid points in there, which I have taken on board. I don't think that leaves us in the best position at the moment. I think that ship may have sailed."
The
departure of Zara Holland had left Adam single
, which meant single girls Liana and Tina had the chance to couple up.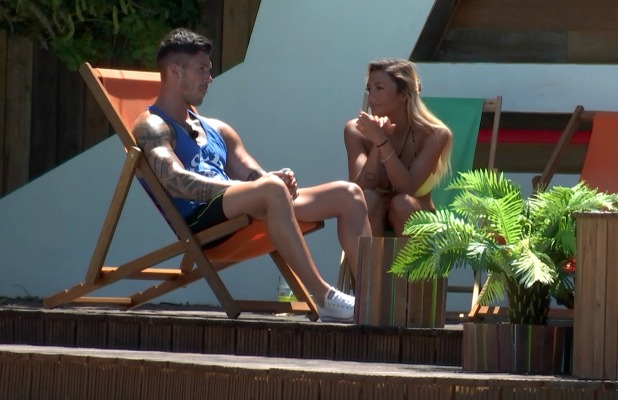 In tonight's episode, Adam spent time with both... and had seemed to be getting on with Liana before the massive row (even if he told Olivia she was "too plastic" and he preferred a girl who could dress down and go low-key).
His opinion on Liana changed when they got to know each other, telling her he felt she was a bit reserved at first because of the big personalities in the house, but now she's "coming out of [her] shell."
Adam told Liana he'd been impressed that she read poetry during the Miss Love Island 2016 contest on Tuesday night. "I think it's great that you didn't come out and do a strip," he said. "It's good that you showed you have more to you. Girls that do stripping get stereotyped unfairly."
"To be honest, Liana surprised all us guys last night," he added in the Beach Hut. "She's been a bit down the past couple of days and she hasn't really spent much time with the guys getting to know us. Last night was great, she came out of her shell, she wrote a great poem. We were really impressed. I think she's a very nice girl. I've said before – I'll make the effort, but if I feel like I'm getting nothing back then whatever. That's just the way I am."
But Liana wasn't as keen as Adam, saying she knew there was only one single boy in the villa, but she didn't feel feel the chemistry with Adam.
"Obviously there's only one free boy in the villa and that's Adam," she said. "I don't really know what he's doing but I don't click with him in that kind of way. I don't know if Tina does either. It's a bit of a strange situation to be honest."
Love Island
continues 9pm on ITV2.