"I don't understand any of this. It's starting to hurt my brain."
Joey Essex
's view on the whole Brexit issue is no doubt one shared by many of us: there's been so much information, so many statistics, and so many politicians urging us to vote in or out, it can all get a bit confusing.
(We had a Brexit debate at
Hearst HQ
this week with members of both Vote Leave and Remain having their say. Search on Twitter for #HearstEUDebate for more.)
So step up "honorary political expert" Joey to help us all!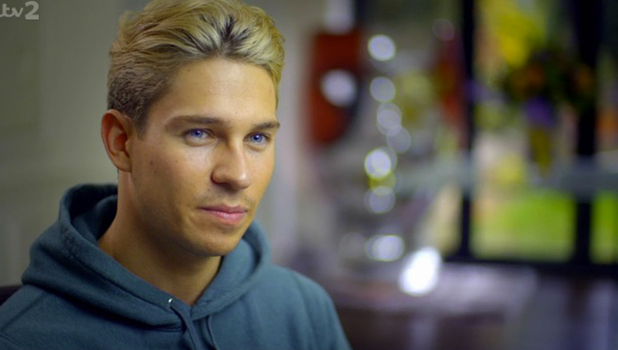 In the latest episode of his
Educating Joey Essex
series, the former
TOWIE
star attempted to break down the referendum and make it a bit more accessible ahead of Thursday 23 June's big vote.
Here's 12 things we learned from the show.
1. Where did it all start?
We joined the European Community – or EU – in 1973. It's 28 countries that agreed common laws and have their own European parliament. But Prime Minister David Cameron (IN) has now given the UK the chance to decide what is best for our country and future: in or out?
2. The referendum is, er, like a belly button...
"The referendum is like one big belly button," declared Joey. "Are you an inny or an outy? I have an inny… should we stop talking about belly buttons?"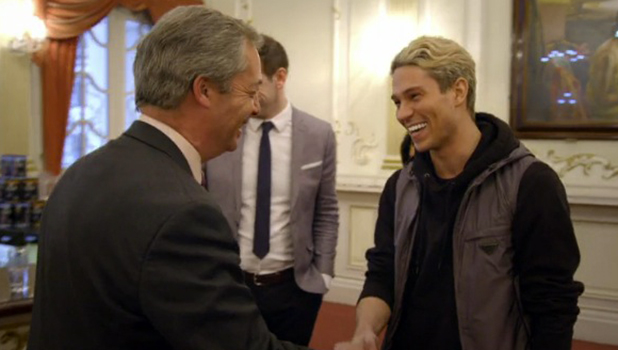 3. This is a BIG decision
Joey went to a Brexit debate between politicians Nigel Farage (OUT) and Nick Clegg (IN) at the London Palladium and admitted afterwards: "I never realised how big this was until today." Clegg told him: "It's not like elections where you can back this team one moment, another the next. It's irrevocable and it will happen." Farage backed that up by saying: "This is possibly the biggest vote you or I will have in our lifetimes. This is how important it is."
4. You're not alone if the jargon confuses you
There are many issues to debate: immigration, property, healthcare, defence, education… the list goes on and on. As Joey said, "I don't understand any of this. This is starting to hurt my brain." So you're not alone if the jargon is flummoxing you. (Joey thought Brexit was a type of food and Remain was something to do with Romania.)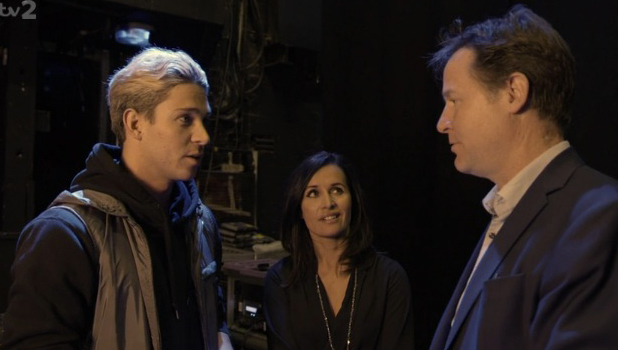 5. Joey is impressed by Clegg's honesty
Meeting Clegg (IN) backstage at the London Palladium, Joey remarked he was impressed Clegg hadn't fibbed to him during their previous meeting: "You told me you doubted you would win the election!" Clegg replied: "I don't think I fully predicted just quite how bad it would be…"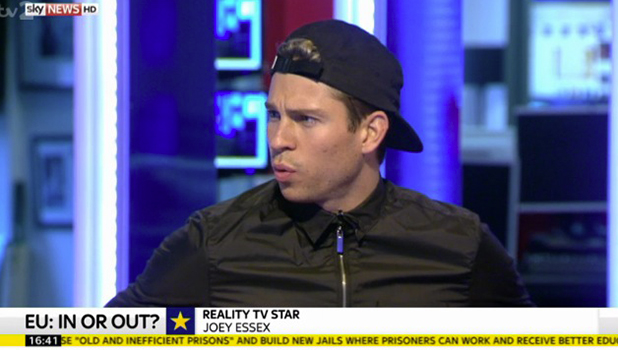 6. Sky News is very hard to find
Sky News is apparently very hard to get to, if you're Joey Essex, that is. He was late for his on-air slot with Kay Burley because he couldn't find the correct studio, and ended up running around the West London television park searching for her (while desperately needing the bathroom.) He was so late his slot was nearly cancelled! (And he seemed a bit surprised that one report said he was "flirting" with Kay!)
7. Newsreaders have to stay impartial
Joey bumped into Alistair Stewart at the ITV studios and quizzed him on whether he's an inny or an outy. Alistair declined to answer: "People trust us because we're completely impartial."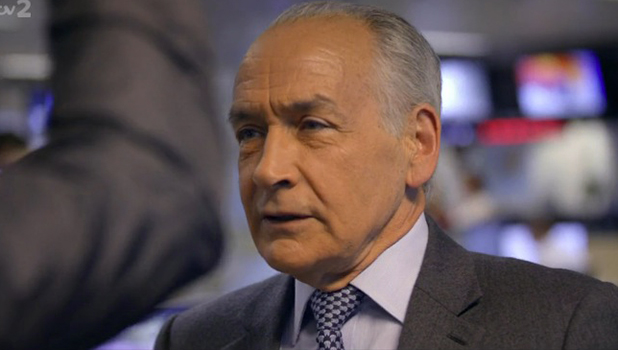 8. Jeremy Corbyn offered Joey a job (and has Snapchat)
The Labour leader (IN) seemed rather surprised when Joey complimented his outfit and joked: "My God, you're the first person who has ever said that to me. Are you looking for a job as a fashion advisor?" They also went on Snapchat to play around with filters and try out Face Swap. It wasn't all fun, though, as Joey quizzed Jeremy on what would happen to British companies if we left the EU. He used the example of a dairy farm he'd just visited who sold milk to a German company based in the UK. "If we go out, obviously trade with Europe will become more difficult," said Corbyn, "and it's quite likely there will be trade barriers put up between Europe and Britain, so we would need negotiations to gain access to that market."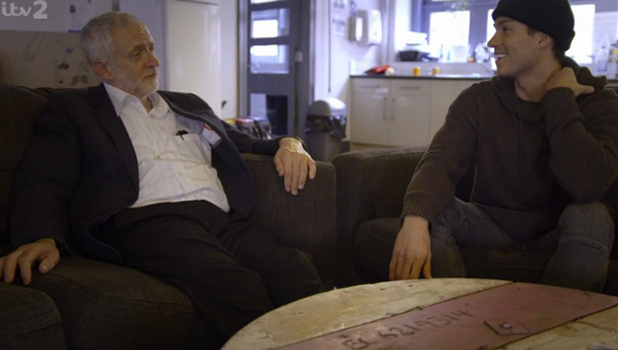 9. "You cannot have abnormal curvature of a banana."
Joey slipped onto Boris Johnson's (OUT) campaign bus in Preston, where he quizzed the politician on why he wants us to leave – and whether he'll take over Cameron's job if the country votes to leave Europe. "Absolutely not!" he said. "David Cameron has massive support. He's only just won a general election victory. The key thing is that's not the issue. The issue is what we are going to do with our relations with the EU. Are we a great country? Do we believe in ourselves? Is the thing anti-democratic? Yes it is. Could we do better. Yes we can." Oh, and Boris confirmed to Joey under EU regulations "you cannot have abnormal curvature of a banana" or sell bananas in viewer than four in a bunch.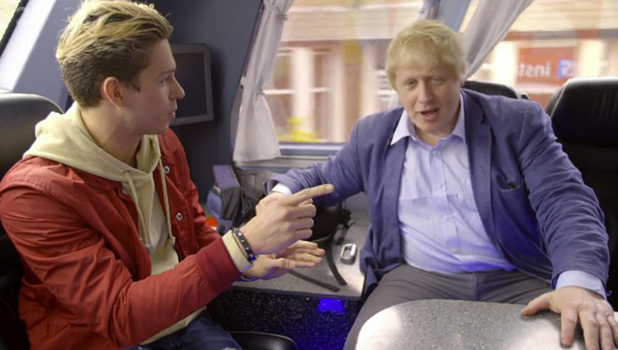 10. Joey's fish market roots
Farage (OUT) tried to explain Brexit to Joey using Joey's first job working at Billingsgate Fish Market. "We share Britain's territorial waters with the rest of the European Union. The British fleet is allowed to catch less than 20 per cent of the fish swimming in British waters." Farage added fishmongers at Billingsgate "would know we are getting short changed with this deal." He also told Joey if OUT won: "We get our country back. We are independent, make our own laws, control our own borders, we go back to being normal." Joey then went down to Billingsgate to find out what the fishers thought. One was all for out, saying it would be better for the market, but another worried going out would mean the price of certain fish – like sushi products - rising. "Why?" asked Joey. "Because tuna doesn't live here?" Yes.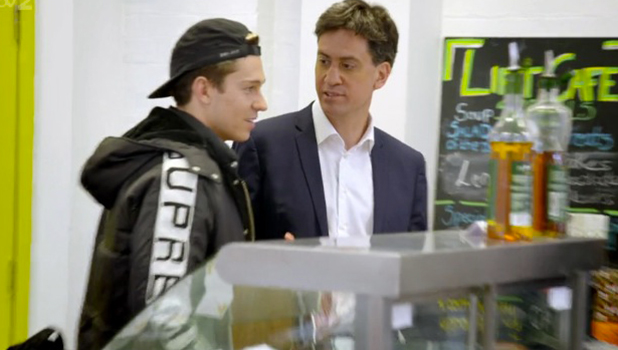 11. Ed Milliband finds Joey's soya love funny
Clearly former Labour leader Ed (IN) and Joey have history when it comes to coffee! When meeting Ed after a speech, Joey ordered soya with his drink, prompting Ed to laugh: "You with your soya milk!" Sitting down with Joey, Ed said staying in Europe was important for young people. "You can't cut yourselves off from the rest of the world," he said. "Young people's challenges can't be overcome by one country on their own and that, for me, is the fundamental argument. As for the fish question and Britain's fishing rights, Ed said: "Being a member of a club means you don't always get your own way. I want to change various things about the country but I think we're better off doing it inside the EU than outside."
12. What will Joey vote?
At the start of the show, he had joked about flipping a coin to make his decision. After meeting various members of Vote Leave and Remain he had made a decision to vote… well, he wouldn't tell us!
>>Watch Educating Joey Essex on the referendum via the ITV Hub here<<