Love Island star Kady McDermott has divided fans on Twitter, after hitting out at newcomer Tina Stinnes for choosing to date her current beau Scott Thomas.
Fans will know Kady and Scott have been coupled up for several weeks now, but their relationship has been pretty rocky -
especially recently when Kady was tempted to ditch Scott for newcomer James Khan.
She had grown tired of her constant arguments with Scott, but still decided to pick him in the latest re-coupling. Now, she and Scott are being tested again as newcomer Tina has set her sights on Scott. She chose to banish Kady to the hideaway for one night, so she could enjoy an evening alone with Scott and Kady's reactions had all of Twitter talking...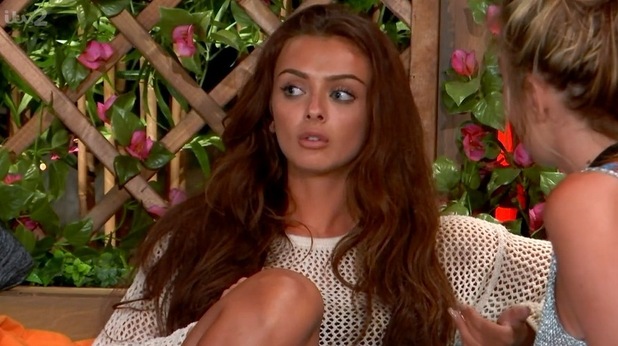 From the hideaway, Kady could see Scott and Tina leaving for their double date with Alex Bowen and newcomer Liana. She shouted out: "Have fun..." Before hitting out at Tina by adding: "You're a c***. Love you Scott... You're a b*tch. Your dress is sh*t. What the f**k is this game?"
Kady shocked her co-star Olivia Buckland who had been sent to the hideaway with her, and Scott responded by telling Tina: "That was too much."
Twitter, meanwhile, appeared divided. Some hit out at Kady for being "hypocritical" as she had done the same to Scott by dating Love Island's latest evictee James and had originally stolen Scott away from Zara Holland. Others, meanwhile, showed their support for Kady and accused Scott of taking things "too far" with Tina by telling her he wants to get to know her and date her.
Scott dishing Kady out a taste of her own medicine on #LoveIsland pahahahaaha

— samantha storr (@smanfa15) June 20, 2016
Kady's not happy about Tina stealing Scott, but she was more than happy to do it to Zara! #loveisland #doublestandards

— Danielle Olivia ❄️ (@Daniolivia_1992) June 20, 2016
#LoveIsland Actually thought Kady was decent until she started shouting her mouth of seeing Scott and Tina walk past her and Olivia

— Amber Keeton (@itsamberkeeton) June 20, 2016
Kady had Scott on a plate n still decided to look elsewhere so don't blame him playin her back

— Pending... (@georgenoony) June 20, 2016
#LoveIsland kady was unsure of James and Scott but she didn't say I wanna get to know James and go on a date. #takingthingstofar

— Amiee Jane (@amym4446) June 20, 2016
Some people, Kady had to go on a date with James whereas Scott is telling Tina he wants to get to know her, bit different but#LoveIsland

— kelsey (@kelseyflynnx) June 20, 2016
I really want Kady and Scott to work @LoveIsland

— Zoe Emond (@xzxoxe) June 19, 2016
Tweets poured in after viewers watched
Tina and Liana arrive at the villa on last night's episode of the show.
Zara was quick to quiz the girls on which boys they liked, finding out Liana had her eye on Terry Walsh and Alex, while Tina liked the look of Scott and Adam Maxted.
Zara then relayed the information back to Kady and Olivia, who are currently coupled with Scott and Alex, prompting Kady to say: "Watch her try and couple up with f**king Scott. I am so territorial, no one understands. I don't know whether to say to Tina, 'I heard you like Scott, crack on.' Or, 'I heard you like Scott, f**k off.' The girl hasn't even given me eye contact, I don't trust people that don't give me eye contact. I can't believe she said she likes Scott... I'm not threatened at all."
She then asked Tina which boy she would choose to go on a date with, but Tina told Kady she "didn't know." This only angered Kady more and led to her accusing Tina of being "sneaky."
When Tina was told to choose one couple to put on a break (picking Scott and Kady), Kady had told her islanders: "Tell Tina, Kady says, 'You're a sneaky b****. In here girls tell each other if you like their man... That's not how it works in here.' Say there will be fireworks when she's back."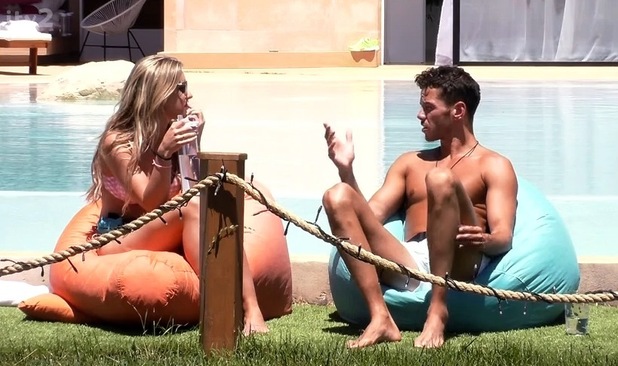 Scott, meanwhile, had told Tina he wanted to go on a date with her. He said: "I think you're an attractive girl, and I am happy with Kady, but I feel like if I get the opportunity to go on a date, then I would. I had an amazing two weeks with her then the last few days, she's put me through s***.
"The timing of you coming in is so pointed and she's completely switched with me... I'd love to get to you know in some shape or form because I just think in here you can't just put your eggs in one basket, especially the way I've been treated the last few days. It's something to think about."
Tina then said she doesn't think Kady really likes Scott. She said in the beach hut: "She's not terrifying, she's just like, you can just see her staring with her beady eyes, staring at me while I'm talking to him. And I don't want to p*** her off, obviously, but I just don't feel like she likes him. I think she likes the game of him and she likes the comfort. And she only likes him when it's a fun game for her."
Love Island airs nightly on ITV2.
Follow us on Twitter @RevealMag for all your celeb, fashion and beauty news!
Fancy winning some GREAT prizes? Check out Reveal Competitions here!