Geordie Shore: Big Birthday Battle had some pretty HUGE moments when it came to Charlotte Crosby and Gaz Beadle's relationships.
To be honest, it was one massive emotional rollercoaster, right? They were on, then they were off - Charlotte and Gary did a complete full circle when they were in the house for the MTV show's five year special and we can safely say, the pair had us hooked.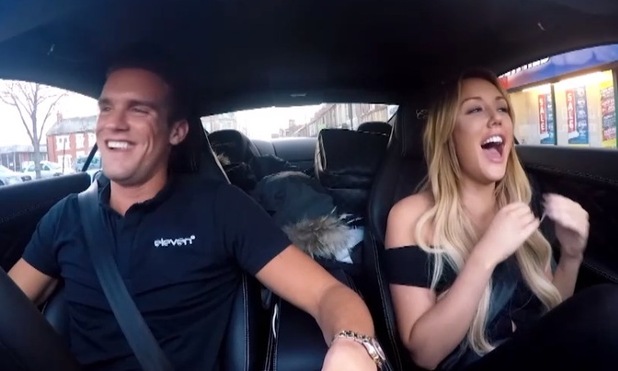 How adorable was their first official date? And did you ever think you'd hear Gary put Charlotte and 'girlfriend' in the same sentence?
Reveal
recaps their biggest moments from
Geordie Shore: Big Birthday Battle.
Warning: You may need the tissues ready and waiting...
Gary finally reveals how he feels about Charlotte
To kick off the series, Gaz and Charlotte returned to the house together, and this time round he told Charlotte he was only interested in pulling her. Gaz had split with ex-girlfriend Lillie Lexie Gregg during series twelve of the show, and deciding to be honest with Charlotte about their break up, Gary admits his co-star had a part to play.
He revealed to Charlotte that he split with Lillie partly because of their relationship. He confessed that after five years, he still gets nervous around Charlotte and never finds things "easy" with her, but he really likes her. Charlotte, meanwhile, saw his confession as a huge milestone.
Gaz pies a girl for Charlotte
Proving that he is only interested in Charlotte, Gary won himself massive brownie points when he chose to reject a girl's advances. He decided to pie her off, hoping that it would help Charlotte realise he was being serious about their romance. It's safe to say, she was pretty chuffed to hear the news.
Gary admits he wants a relationship with Charlotte
Things had been going well with Charlotte and early into the series, Gary decided he wanted to make things more official between them. Speaking to his former co-star Jay Gardner who had returned for the spinoff series, Gary admitted he wanted to stop messing Charlotte around. He said he wanted to give their relationship a go, leaving Jay completely shocked and us as fans completely excited.
Charlotte and Gary agree to start officially seeing each other
After his chat with Jay, Gary decided to pluck up the courage and ask Charlotte if she wanted to make things between them that little bit more serious. He told her he wanted to be with her and
asked if she would like the pair to start officially seeing each other.
Charlotte expressed her concerns at being hurt by Gary again, but he reassured her, she is the only girl for him. Charlotte agreed and broke the news to her girl pals, telling them she had a "semi-boyfriend." Cute.
Gaz takes Charlotte on their first proper date
What do couples do that are dating? Well, they go on dates of course.
Gary decided to whisk Charlotte off on their first proper date together
and he definitely pulled out all the stops. Not only did he blindfold Charlotte to keep everything a total surprise, but he laid on a spread of candles, rose petals and champagne, before surprising her with a huge bouquet of roses. And who said Gaz Beadle doesn't do romance?
Their evening together made Charlotte come over all emotional. Gary revealed he was ready to commit to her, while she gushed that all she had ever wanted was Gary to act the way he had been since they returned to the house.
Gaz then gets sick after his first proper date with Charlotte
We're not sure whether it was nerves from his first date with Charlotte or excitement at the pair's potential future together, but things got a little too much for Gary. And in between all the romance, he provided some comical (albeit pretty gross) value, when he ended up being sick while sitting on the end of the bed in the sh*g pad. Luckily for him, it didn't seem to phase Charlotte and she was on hand to rub his back and give him some water.
Niiiice.
Gary gets a grilling from the girls over Charlotte
Of course, it wouldn't be Gary and Charlotte without some kind of drama and when Gary was seen talking to other girls during a night of work, he was quickly confronted by her girl pals. Sophie questioned Gary's actions when she claimed he was getting a little too close to one of the guests. He, however, insisted he wasn't interested and made sure to let Charlotte know his eyes wouldn't wander anywhere else.
Gary tells Charlotte he wants her to be his girlfriend
Given their history, Charlotte was keen to hear what Gary's plans were for the pair when they wrapped up filming. Would their romance continue? Gary, meanwhile, had it all figured out. He told Charlotte that he hoped the pair would become more serious on the outside, and even dropped the G-bomb.
He told Charlotte he wanted her to be his girlfriend.
If she wanted to be, that is...
Charlotte breaks down after kissing Marty
Just when things were going oh-so-well between them, Charlotte threw a massive spanner in the works. She drunkenly kissed Marty McKenna. Yup, we didn't see that one coming either. She and Marty had got a little carried away during Team Charlotte's S&M party and the pair ended up locking lips. Charlotte appeared to regret it almost immediately, though, and broke down in tears to BFF Holly Hagan, claiming she had "f**ked up" her chances with Gaz.
Charlotte confesses to kissing Marty
Wanting to be the one to tell Gary about her slip up before anyone else could, Charlotte grabbed Gaz for a private chat and confessed to kissing Marty. She insisted it didn't mean anything, but for him, she had "blown everything."
Gaz leaves the house after Charlotte confesses to kissing Marty
Upset over Charlotte and Marty's kiss, Gaz decided to leave the house
. He was frustrated that everybody had been fretting over him messing up the pair's relationship, he had did everything he could to prove them wrong, and then Charlotte messed up. He vented to Aaron Chalmers that he couldn't have done more to reassure Charlotte he was serious about her. Gaz revealed he didn't want to talk to Charlotte and he didn't want to see Marty. Instead, he jumped in a cab and headed home.
Gary tells Charlotte "it's never going to work."
When Gaz returned to the house, he had refused to talk to Charlotte. She, meanwhile, was determined for Gary to hear her out, after she claimed she had given him so many chances over the years. The pair finally spoke, with Charlotte admitting she can't explain why she kissed Marty, but if she could go back and not do it, she wouldn't have. Gary's mind, however, was made up. He told Charlotte her kiss with Marty had been closure for him.
Gary said his relationship with Charlotte was "never going to work."
He was done.
Charlotte gives an emotional speech about Gaz to try and win him back
Gary may have been willing to give up on their relationship, but Charlotte wasn't taking no for an answer. Instead,
she came up with her own plan to win Gary back and it involved delivering an emotional speech
, on top of a kitchen table, in front of a room full of people. She said: "I just want to say that this boy here is literally not only my best friend, but he's my rock and since day one, I came in this house and we've been through so many ups and so many downs. I don't know a life in this house without Gary. If I was to ever lose him, I don't think I would be able to ever live in this house anymore. It's only ever been Gary, and it will only ever be Gary. That's all."
Charlotte begs Gaz for forgiveness after kissing Marty
Her efforts won herself a conversation with Gary, and she asked her on/off flame to forgive her. Gary admitted that he felt the same about everything Charlotte had said about the pair in her speech, and warned her not to ever do that to him again. Telling Charlotte what she wanted to hear, Gary said: "I'm not writing us off, ok?"
Charlotte and Gary clear the air
On their last morning in the house together,
Charlotte decided to sit down with Gary and find out whether the pair still had any chance of a future together
. She admitted that if anything, her kiss with Marty, had made her realise how much Gary did care about her. While Gary told her the kiss had knocked them back in terms of where their relationship stood, Charlotte clarified that it hadn't "knocked the pair off" completely. Leaving us all with hope that things can work out for them in the future (just maybe...), Charlotte said: "I think in five years time, we'll laugh about this time and be like, 'Why were we so stupid?'"
That episode actually marked Charlotte's last ever on
Geordie Shore
.
She announced her decision to QUIT the show at the start of June
. Following filming, Charlotte and Gary's romance didn't work out. She revealed that her leaving
Geordie Shore
, was partly so she could put some distance between herself and Gary.
Gary, meanwhile, has since suggested the pair now need to "move on."
Follow us on Twitter @RevealMag for all your celeb, fashion and beauty news!
Fancy winning some GREAT prizes? Check out Reveal Competitions here!