Zara Holland's dethronement as Miss Great Britain has sparked huge reaction on Twitter (as you'd expect) with plenty of opinions being thrown around.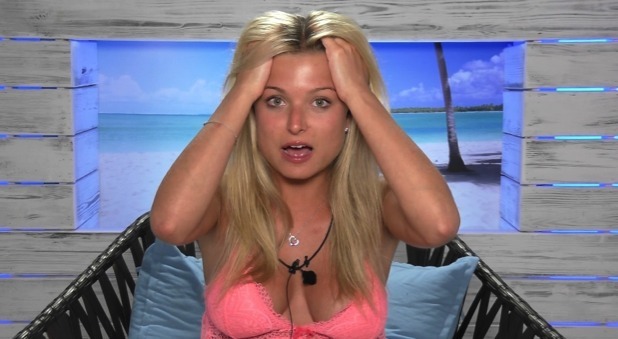 ICYMI, she was stripped of her title by the Miss Great Britain Organisation after having sex with Alex Bowen on
Love Island
, which pageant bosses said wasn't in keeping with the role model responsibilities of the title.
Here's how the internet reacted:
Those who gave the decision a thumbs up:
Agree with them taking miss GB away from Zara, not at the fact she had sex but it was on national tv isn't showing a good role model

— Ellie (@elliehackney_) June 16, 2016
Pleased to know the the Miss Great Britain office made the right decision to dethrone Zara Holland #missgreatbritain

— Kate Marie (@MissKateMariex) June 16, 2016
The decision to de-crown Zara as Miss Great Britain was the right one!

— GG (@MsGinaa_) June 16, 2016
Those who wondered if a Mr Great Britain would get treated the same
THIS!!! Also - if the guy was Mr Great Britain, would he have been stripped of his title?! Doubtful. https://t.co/VcX9GhSk7W

— Lucy Horobin (@LucyHorobin) June 17, 2016
If that had been Mr Great Britain shagging on tv I bet he wouldn't of had his title taken away, simply just upgraded to "legend status"

— Ty (@AnTyvist) June 17, 2016
personally i don't think that a man voted 'Mr Great Britain' would have the title taken away for having sex so i don't agree with it

— Lauren (@laurenpalmerx) June 16, 2016
Bet if it was Mr Great Britain it would be different

— CiarWard (@MpCiara) June 16, 2016
Those who disagreed:
I disagree with the fact Zara Holland had been de-crowned as Miss GB because she had sex, you know, human nature #LoveIsland

— Ali (@AlexBennion_) June 17, 2016
#zaraholland#loveisland#its a bit harsh to loose her crown for a romp she s probably feeling crap as it is she s only 20 give her a break

— wendy (@wendythomas18) June 17, 2016
have never heard of zara Holland before today but to strip her of her missGB title for having sex on a show called love island is ridiculous

— aphra (@AphraPerring) June 17, 2016
#ZaraHolland Stripped of her #MissGB Title is BS!!! She did Nothing Wrong. Why do only Women get condemned for expressing Sexuality?!

— M i s s Melissa.♡ (@melissabolessa) June 17, 2016
Those that saw the opportunity for a joke:
Miss BJ?!!! https://t.co/Mahufvnoo4

— Vicky Pattison (@VickyPattison) June 16, 2016
Those that started predicting Zara's next career move:
Zara Holland. How to ruin your career in 18 days autobiography coming soon #loveisland

— Vicki (@VickiThompson1) June 17, 2016
Those who don't care one way or another:
I don't know who the hell Zara is and why she's been de crowned, but I really don't care

— jess (@jesswroe_) June 16, 2016
A statement from Miss Great Britain bosses said: "Following recent actions within the ITV2 show
Love Island
, it was with deep regret that we, the Miss Great Britain Organisation, have to announce that Zara Holland has formally been de-crowned as Miss Great Britain 2015/16.
"As an organisation we have not taken this decision lightly, we are close to all of our winners and wherever possible stand by them during their reign. That said, we feel we have no choice but to make this decision under the current circumstances.
"Although Miss Great Britain is the oldest pageant system in the UK, we pride ourselves on promoting the positivity of pageants in modern society and this includes the promotion of a strong, positive female role model in our winners.
"The feedback we have received from pageant insiders and members of the general public is such that we cannot promote Zara as a positive role model moving forward.
"We wholly understand that everyone makes mistakes, but Zara, as an ambassador for Miss Great Britain, simply did not uphold the responsibility expected of the title.
"We will meet with Zara upon her return to the UK to fully explain our decision and wish her the very best going forward."
Love Island airs nightly on ITV2.
Follow us on Twitter @RevealMag for all your celeb, fashion and beauty news!