Zayn Malik was forced to pull out of yesterday's Capital Summertime Ball (11 June) due to his anxiety that has "haunted" him over the last few months.
The former One Direction singer was due to perform at the Wembley Stadium-based event but took to Instagram to tell fans he was unable to do the show - which would have been his first ever UK solo stage performance.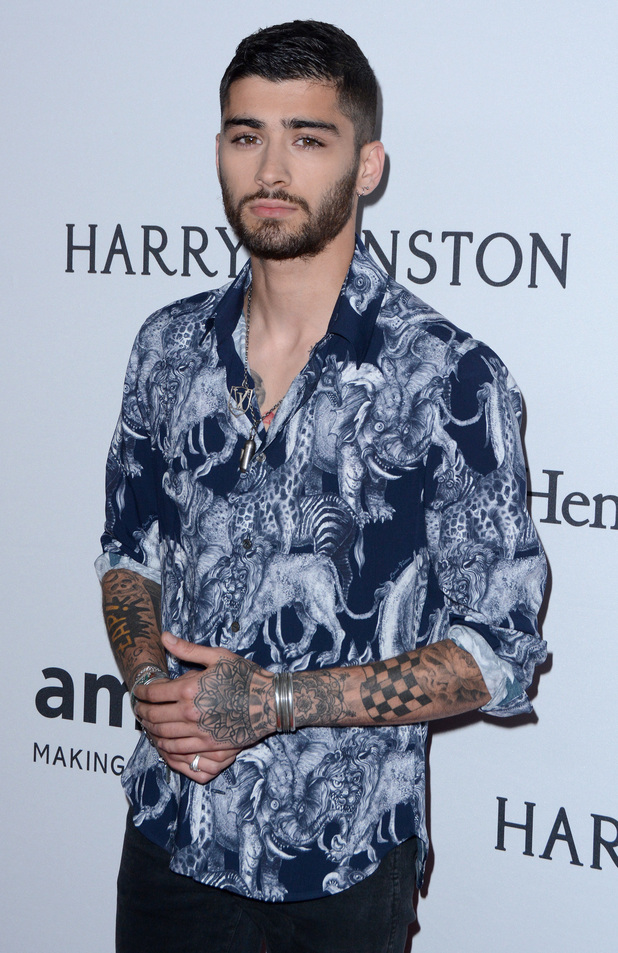 But the 'Pillowtalk' singer cancelled at the last minute, citing his anxiety as the issue. In a post to his followers, Zayn wrote: "To all those people who have been waiting to see me perform at the Capital Summertime Ball today..
"I flew into the UK last night to appear in my home country in front of my family, friends, and most importantly my UK fans.
"Unfortunately my anxiety that has haunted me throughout the last few months around live performances has gotten the better of me ... with the magnitude of the event, I have suffered the worst anxiety of my career."
Continuing, Zayn wrote: "I cannot apologise enough but I want to be honest with everyone who has patiently waited to see me, I promise I will do my best to make this up to everybody I've let down today.
"I know those who suffer anxiety will understand and I hope that those who don't can empathise with my situation."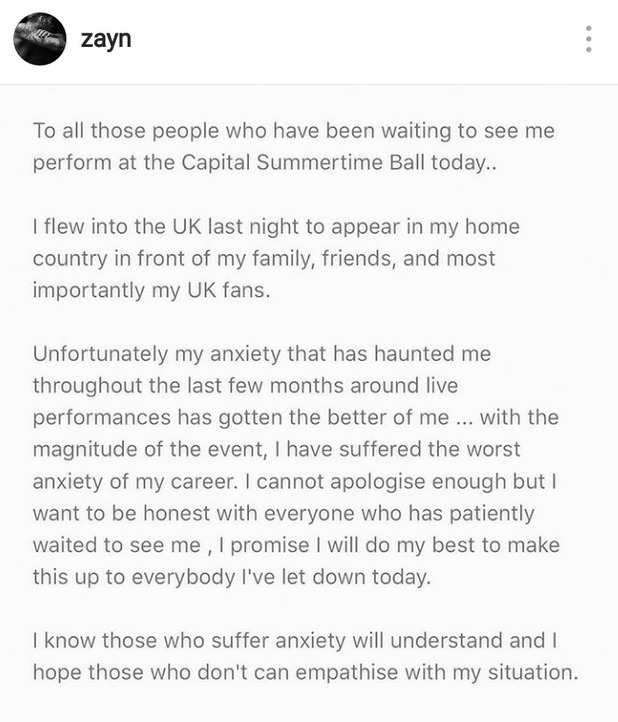 Supportive fans flooded the star with messages writing: "Get well soon! We love you!", while another said: "There is absolutely no need to apologise. Do whats best for you. Keep being amazing ! Im proud of you zayn (sic)."
Zayn was signed off his tour with One Direction in 2015 due to stress
and just six days later
he quit the band for good
.
Announcing his departure at the time, the 23-year-old explained: "My life with One Direction has been more than I could ever have imagined. But, after five years, I feel like it is now the right time for me to leave the band. I'd like to apologise to the fans if I've let anyone down, but I have to do what feels right in my heart,
"I am leaving because I want to be a normal 22-year-old who is able to relax and have some private time out of the spotlight. I know I have four friends for life in Louis, Liam, Harry and Niall. I know they will continue to be the best band in the world."
Since leaving the
X Factor
band, Zayn has gone on to release solo material and even scored a number one in the UK charts with his song, 'Pillowtalk'.