Love Island: What is going on with Olivia Buckland and Rykard Jenkins?!
They may be currently coupled up, but Olivia and Rykard had pied off any chances off romances, insisting they are just good friends who have each other's back. But, is that all it is?
The pair definitely had us beginning to think otherwise as things got pretty steamy between them in the bedroom on last night's show (8 June) and we definitely was NOT expecting it.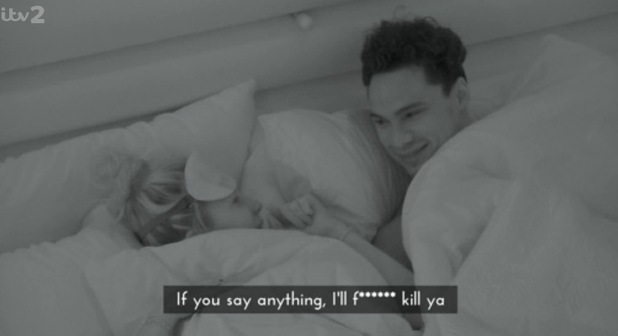 Throughout the episode,
Olivia had set her sights on newcomer Adam Maxted
and was plotting how to steal his attentions away from Zara Holland. Rykard, meanwhile, was kissing Rachel Fenton on multiple occasions,
after their romantic massage date the night before
, with everyone presuming they will soon couple up thanks to their blossoming romance.
Rykard had gushed over Rachel calling her an "angel", before complimenting her on her intelligence. He said: "It was nice to have a girl that's so intelligent. Actual intelligent conversation. It wasn't about social media. And it wasn't about clubs. It's so amazing to talk to someone like that."
So, you can imagine our surprise when he and Olivia were seen getting up to no good as the islanders went to sleep!
Once things had stopped steaming up, Olivia turned to Rykard and said: "Seriously? If you tell anyone I'll f**king kill you."
She then asked: "What is wrong with us," before the pair burst into a fit of giggles.
And to make things more awkward, Rachel was 'sleeping' in the bed next to them, but actually it looked like she was still definitely awake.
Their little rendezvous didn't go down too well for themselves, and it seems like Olivia and Rykard have now got themselves a bad rep on Twitter. Although, some are now rooting for Rykard not to ditch Olivia for Rachel...
Oh guys, what have you done?
Rykard and Olivia are such snakes!!!!

— Amelia Leake (@ameliaa_leake) June 9, 2016
really can't believe Olivia and rykard, gameplayers for sure! #LoveIsland

— Jodi westwood (@Jodiwestwood1) June 9, 2016
IM SOO CONFUSED WHAT HAPPENED BETWEEN RYKARD AND OLIVIA #LoveIsland

— Kizzzzzle (@_kim_____211) June 9, 2016
Just caught up on last nights #LoveIsland what is Rykard doing?! Olivia is awful compared to Rachel. How can she bang on about girl code?!

— Beth Hopps (@BethHopps) June 9, 2016
OMG OLIVIA AND RYKARD wtf

— #ANTI (@ReeClare) June 9, 2016
Still in shock about Olivia and Rykard last night

— Sophie-Marie Clegg (@SophsClegg) June 9, 2016
What the bloody hell are rykard and Olivia doing?! That's just nasty!! @LoveIsland

— beth (@bethanbletcher) June 9, 2016
Am I the only one who really hopes rykard and Olivia become a thing

— Yusra Olivia (@olivechowdry) June 9, 2016
Really rykard and Olivia??? #LoveIsland

— Australia (@incoercible_me) June 9, 2016
I think Olivia likes Rykard & vice versa...they need to sort their situationship out #PoorRachel #Loveisland

— J A V E N E (@feedherthoughts) June 9, 2016
I've Wanted Rykard and Olivia to be coupled (properly) from the start omg, is this the start of something #LoveIsland

— Amy (@amywilmore) June 9, 2016
Absolote scenes when someone comes into the villa and let's that news out aboht rykard and Olivia Hahahaha #LoveIsland #dirtydogisland

— LIAMMM (@TB6391) June 9, 2016
Follow us on Twitter @RevealMag for all your celeb, fashion and beauty news!
Fancy winning some GREAT prizes? Check out Reveal Competitions here!