Katie Price has declared the old Kieran Hayler is "dead" and her husband is an entirely changed person since his very public infidelity.
The mother-of-five chose to stand by Kieran in 2014 when it emerged he'd slept with her best friend while she was pregnant with the couple's second child, daughter Bunny.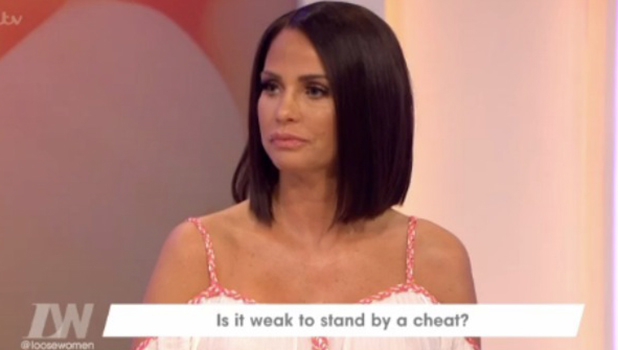 Speaking on
Loose Women
today, she said: "In my situation, everyone said just leave Kieran. It would have been easy to walk away but I thought, no, I want to fight for this.
"We always say the old Kieran is dead and he's a different person. It's so weird. There is a new Kieran who has been reborn.
"It was tough: I was pregnant at the time so I couldn't turn to drink. I don't do drugs. I didn't have medication. It was pure strength. And I give myself a pat on the shoulder that I was strong enough to save him.
"It was the best thing I ever did."
Katie, 38, added: "I think a lot of people thought it wouldn't last. Even the therapist said he was one of the worst he'd ever treated. He spent three days with him and said he couldn't help him as he was lying to himself and it was up to Kieran to make that change."
She
previously told The Sun's Fabulous magazine
: "Other people think Kieran is a cheat and a liar but I don't care what they think. I'm the harshest judge and I know how much he has changed. In the past two years he's gone from boy to a man. I trust him 100 per cent."
Katie went on to say: "There was something in me that knew I shouldn't give up on him, and I've learnt a lesson about myself because I've never been good about second chances. Despite all the pain and horribleness that was going on when I found out he had cheated, I knew in my gut he was still the right man. And he's a better man for having gone through therapy and all that. I love him to bits and so do my kids."
Fancy winning some GREAT prizes? Check out Reveal Competitions here!