Charlotte Crosby has so far failed to respond to ex-boyfriend Gaz Beadle's suggestion she return to Geordie Shore.
Last week, the 26-year-old dramatically quit the MTV show that made her famous, vowing never to return, not even for special appearances, partly as she didn't want to be around Gaz, 28, anymore.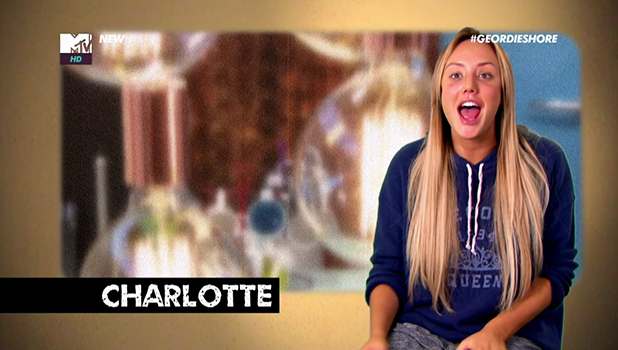 But she then
suggested regretting that decision, when she tweeted she'd made the "worst mistake"
and felt like she was losing an important part of her life.
Charlotte's tweet came after the cast flew to Magaluf to start filming series 13
without her.
That prompted
Gaz to tweet today: "It's not too late… Get a bag packed and get your arse out here."
He added a green heart emoji and a plane emoji.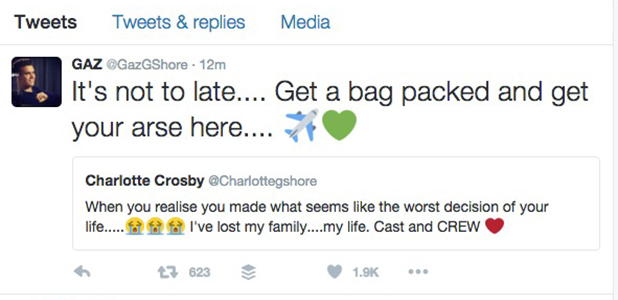 But Charlotte has yet to respond… Does that mean she doesn't want to speak with Gaz? He has since deleted his original tweet.
The pair's relationship has been in the headlines last week after
Charlotte revealed in a magazine interview she'd been hospitalised with internal bleeding following an ectopic pregnancy
. She said
Gaz had been filming in Thailand for Ex On The Beach
at the time. Although he was "lovely" when she got through to him, she realised they weren't meant to be.
Initially, Gaz stayed silent on Charlotte's pregnancy revelation, but then he penned a column for the
Daily Star,
in which he gave his side of the story, which seems to have prompted Charlotte's decision to quit.
She tweeted: "Sadly because a certain some1 can't admit to being in the wrong and have to write a short story full of excuses. I have made the the very hard decision to leave the show, it's something I have went back and forth with for a while now. (sic)."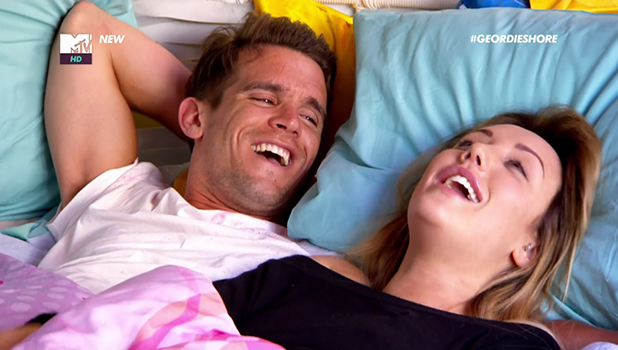 It all led to a Twitter row between the pair, with Gaz telling Charlotte not to blame him if she wanted to leave. Words were exchanged by both sides before all the tweets were deleted and Charlotte admitted she felt "embarrassed" by her outburst.
She's been a castmember since day one so perhaps it's no surprise she seemed sad yesterday when she realised she wouldn't be joining the gang to film series 13.
She tweeted: "When you realise you made what seems like the worst decision of your life. I've lost my family… and my life. Cast and CREW."
But numerous co-stars reached out to Charlotte to assure her they'd always be there for her, as did fans, who said it wasn't too late for Charlotte to return if she really wanted to. Others told Charlotte she had a bright future, with or without the show.
@Charlottegshore you havent lost us don't be stupid!! You ALWAYS have a place in the house! Let yaself heal n come back stronger than ever

— MissHollyHagan (@HollyGShore) June 5, 2016
@Charlottegshore you haven't lost us, we are still here and always will be you divvy xxxx

— Nathan C Henry (@NathanHGShore) June 5, 2016
@Charlottegshore one door shuts and another will open honey, something bigger and better for you I'm sure, chin up lovely x

— Freckles82 (@freckles_82) June 5, 2016
@Charlottegshore do what you need to do char, we're all here for you not matter what choice you take in your lifelove you bab x

— jasmine (@jasxcoupe) June 5, 2016
@Charlottegshore it's never too late!!!! hop on that plane and have the time of your life bounce back!

— Shannon Valentine (@shanvalentine_) June 5, 2016
@Charlottegshore theres always time gooooo!!! Ignore everything whats happend move on ignore him. Dont let him take this away from u !!!

— Samantha Marie (@scookeee) June 5, 2016
@Charlottegshore do what you feel is right charlotte only you will know the right decision to make, follow your heart we will b there

— Kaz (@kazl84) June 5, 2016
Fancy winning some GREAT prizes? Check out Reveal Competitions here!