Animal lover Jodie Marsh was out and about today protesting against puppy farming.
The glamour model-turned-television presenter and bodybuilder is well known for championing animal rights' so perhaps it's no surprise she was among the stars at today's protest in Parliament Square, London.
Jodie wore an all-white outfit as she joined the likes of Meg Mathews and Anais Gallagher.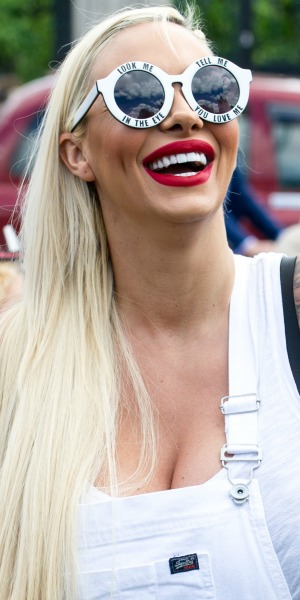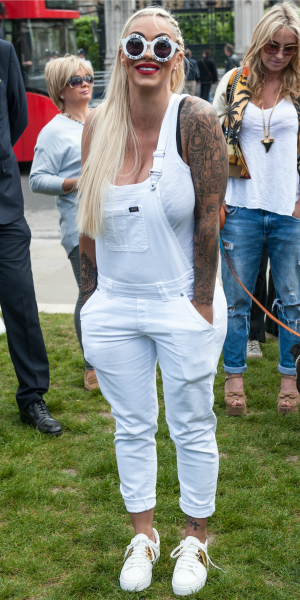 She said on Twitter she was bringing a film crew with her, so we wonder if she's working on a documentary about puppy farming?
"I am filming something epic at the moment!!!" she teased this week. "This is the most mind blowing & emotional thing I've ever done... And I'm excited for the future. I have access lined up for new TV shows that will BLOW people's minds! Just gotta find a channel I like now."
Jodie announced this week that she's
moving away from TLC, the channel where she's made a string of successful documentaries
on thought provoking and gritty subjects.
"I'm basically leaving everything from my past exactly there: IN MY PAST! I need a new man/woman and a new channel to work with. These shows I'm making at the moment will be the last 2 I make for TLC - I'm leaving to pursue new things. I might even start my own channel."
Jodie continued: "I've made 20 something documentaries & all of them have done REALLY well but I need to push myself to harder places & events for these docs. I need to show everyone what I'm capable of and how fearless I am..... Get ready world... I'm coming for you."
She
split from husband James Placido in April.
Follow us on Twitter @RevealMag for all your celeb, fashion and beauty news!