Lydia Bright has said's happier than ever following her most-recent split from James 'Arg' Argent.
In a new video posted by the
TOWIE
official Twitter account, fashion designer Lydia is seen discussing her break-up with best friend Georgia Kousoulou.
"Sadly me and James broke up," said Lydia.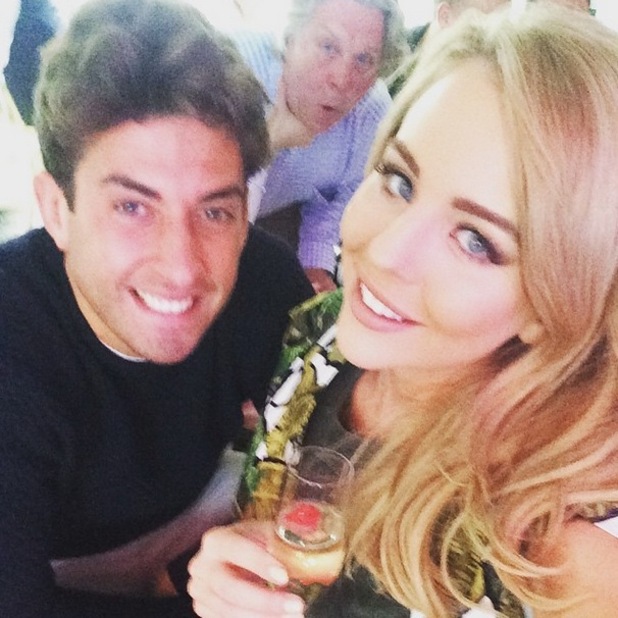 "I keep thinking how long ago it was, maybe two and a half months ago. But we kind of kept it private because it probably wasn't the best break up that's ever happened."
That being said, the star admitted she was feeling
"very positive" following her recent holiday to Indonesia
, adding: "I think I'm the happiest I've ever been in my life. I know that's a bold statement but I honestly do."
"James is at boot camp at the moment," she continued. "I don't know how long he's staying there but I think it's a while as he wants to lose a lot of weight. That suits me very well at the moment because I don't have to bump into him. I know he will be coming back to Essex at some point."
Lydia also said she'd realised something about herself since the split: she always planned for the future and what would happen the day after next, rather than living in the moment.
"What I find when I look back on myself is I always look to the future and make plans," she said. "My mum always says, 'God makes plans and the devil laughs them' and now I can see that I made all these plans that obviously aren't happening any more, so now I want to focus on living in the present."
"I'm really enjoying being single," she added. "Which I'm surprised about."
.@LydiaRoseBright has some strong statements about her split with Arg and @MissGeorgiakx is sharing BIG news #TOWIEhttps://t.co/t3xDeQ6MMV

— Only Way is Essex (@OnlyWayIsEssex) May 23, 2016
The couple initially met at the Duke of Essex Polo seven years ago, and both appeared in the very first series of
The Only Way Is Essex
. Lydia eventually left the show in 2012, saying she needed to get away from then-ex Arg in order to move on, but she returned two years later.
Their romance picked up again and although there were issues - we watched as
Lydia asked Arg to write a list of women he'd been unfaithful to her with
and expressed concern at his drinking – they had seemed happy during the 17th series of the show,
even flat hunting together in March.
At the time, Lydia told Arg: "Let's just clear it up, when we say family home, with a family coming in like five years. Because we are doing this, though, getting a house together we need to make it a pact that we can never break up with each other again."
Speaking on ITV's
Lorraine
earlier this month, Lydia confirmed: "Me and James actually broke up, which was a tough decision to make but I kind of felt I didn't really have a choice."
The 26-year-old star added: "I feel a lot stronger and happier now. I just came back from visiting a friend in Indonesia and went travelling around the islands. It was an amazing trip and I've come back positive and strong and looking forward to the future."
When Lorraine Kelly suggested that Lydia will always love Arg, the Essex star agreed: "Of course, yes I will." Lorraine then added, "I could shake him sometimes!" to which Lydia replied, "You and me both, Lorraine!"