Jodie Marsh has revealed she is planning on leaving behind everything in her past, and that includes her work with TV channel TLC.
Through working with the channel, Jodie has made a name for herself as a documentary maker, but she recently revealed that she will only be more making two more documentaries with TLC, before finding another channel to work with.
Taking to Twitter, Jodie shared a series of tweets with fans explaining her decision to pursue projects elsewhere.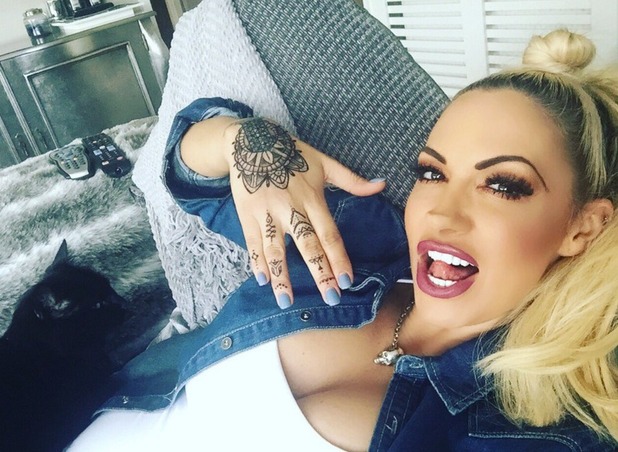 She said: "I am filming something epic at the moment!!! This is the most mind blowing & emotional thing I've ever done... And I'm excited for the future. I have access lined up for new TV shows that will BLOW people's minds! Just gotta find a channel I like now.
"I'm basically leaving everything from my past exactly there: IN MY PAST! I need a new man/woman and a new channel to work with. These shows I'm making at the moment will be the last 2 I make for TLC - I'm leaving to pursue new things. I might even start my own channel."
Jodie continued: "I've made 20 something documentaries & all of them have done REALLY well but I need to push myself to harder places & events for these docs. I need to show everyone what I'm capable of and how fearless I am..... Get ready world... I'm coming for you."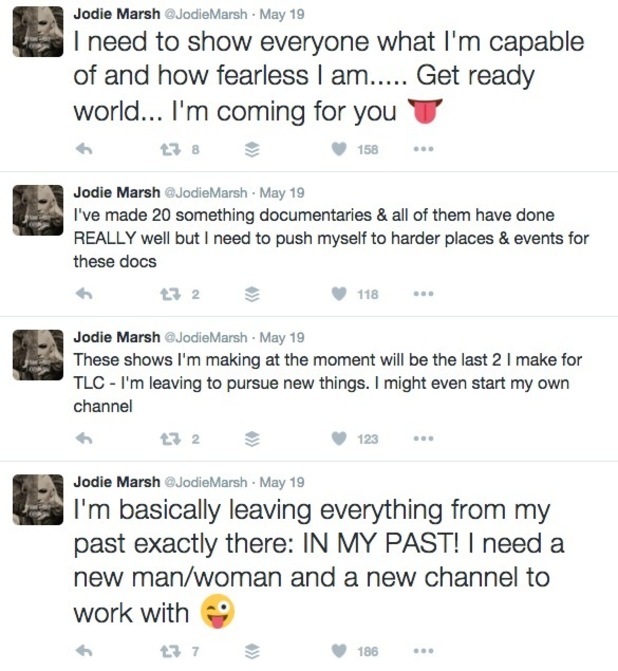 Jodie's documentaries with TLC have seen her tackle a number of controversial issues, including women who pay for sex, mail order brides, plastic surgery, revenge porn and the preconceptions surrounding benefits.
However,
she teased back in April that she'd had "incredible meetings"
with new TV channels.
We wonder what she has next up her sleeve?!
Jodie claimed that her decision to move away from TLC was due to her wanting to move forward in all aspects of her life. This comes after she revealed she and her ex-husband James Placido had split.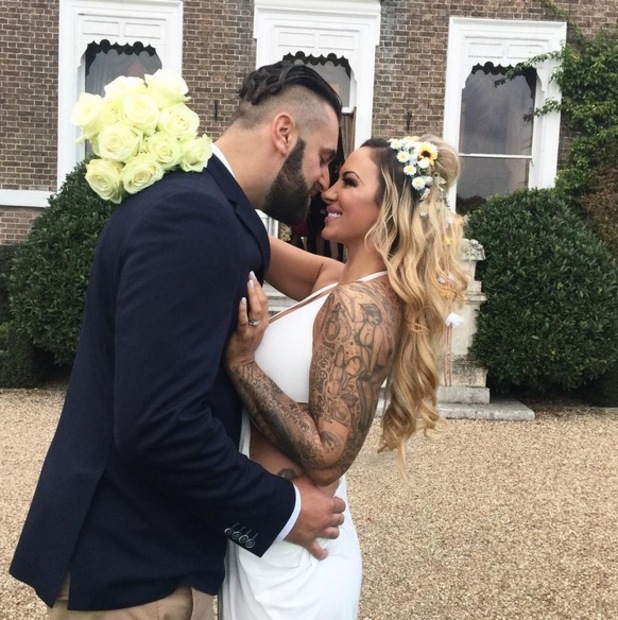 Back in April, Jodie confirmed her separation from James (just eight months after tying the knot), and their break up came as a shock to fans, as the couple had seemed blissfully happy together. Jodie and James wed in secret in Barbados last August and she was often gushing about married life on social media.
She still hasn't confirmed a reason for their split, but
Jodie did tell fans there was "nothing to fight for"
when it came to her relationship with James.
The 37-year-old has since said her split with James has been "tough"
, but she defiantly told fans that
she is remaining positive and looking forward to what the future may bring.
She revealed on Instagram: "I've got a cat on my lap, a new tattoo, new job offers on the table and life is going to be absolutely sweet.........."
Jodie also hinted she could be starting a family and
spoke of her plans to have a baby by sperm donation
on Twitter.
Excited about what she has in store for herself, Jodie tweeted: "I am so excited for everything at the moment. Life feels so good all of a sudden. From the darkness there is light!!!!! #happybubble."
Glad to hear it!
Follow us on Twitter @RevealMag for all your celeb, fashion and beauty news!
Fancy winning some GREAT prizes? Check out Reveal Competitions here!