Katie Price has admitted she was stunned when son Harvey dropped the c-word during a live appearance on Loose Women.
The mother-of-five brought her eldest son - who has disabilities including Prader-Willi syndrome and visual impairment - on the ITV show to discuss the vile trolling he has received online.
She wanted to show the teenager is vulernable and kind-hearted and unable to respond to nasty comments himself.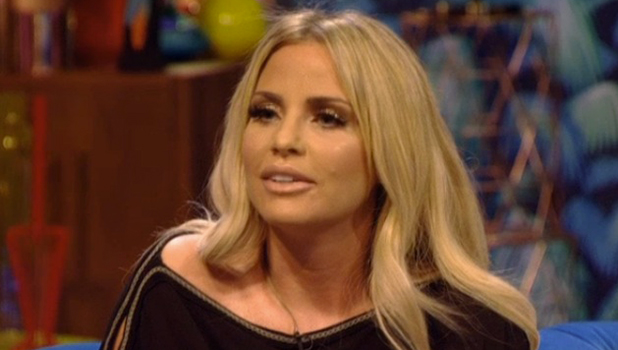 But when she asked
Harvey what he would say if people were horrible to him, he replied: "Hello, you c**t."
Oops.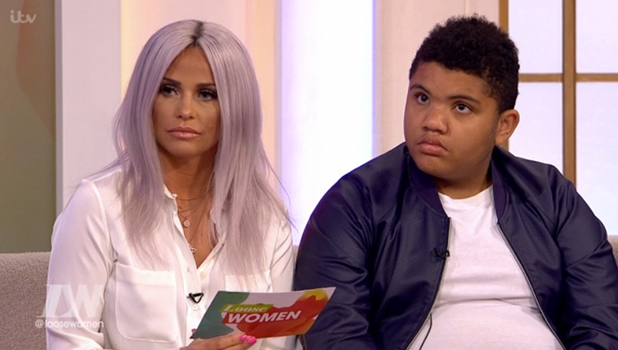 Appearing on
Up Late with Rylan
, the 37-year-old admitted she was stunned by his swearing – especially as she'd promised ITV bosses he wouldn't swear on air.
She joked: "He must have planned it in his head!"
Rylan asked: "Where you sitting around the kitchen table saying, 'This is what you say, boy?'"
"No!" she replied. "With Harvey, normally if you say to him, 'If people are horrible to you, what do you say?' He wouldn't understand and would probably say, 'Can I have a blueberry muffin?' or something. I have no idea what was processing in his head."
She added: "They wanted us to do a pre-record but I said I didn't want that. I didn't want to hide what he is. I promise you, he won't swear. Before we went on air, I said to Harvey: no swearing! 'Yes mummy'. Honestly, when he said that… I was like, I just can't believe it."
Rylan replied: "Coming from a nearly 14-year-old boy, it was the perfect response to a troll."