Katie Price has publicly praised Piers Morgan on Twitter for the support he has shown her son Harvey in their fight against trolls.
Back in March,
Katie vowed to take action against online trolls targeting her son Harvey
and began to name and shame them on social media. She has condemned their behaviour towards her thirteen-year-old, claiming that trolling is just like "bullying" and should be stopped.
Earlier this week, she appeared on
Loose Women
to speak out on the matter and was joined by Harvey live on air. Piers was a guest on the panel and following the show, he gushed about Harvey to his followers. Piers tweeted: "Pleasure to meet this gutsy, funny guy today: #harveyprice @loosewomen @MissKatiePrice."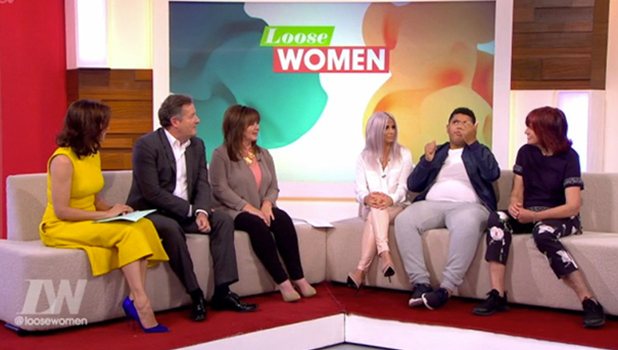 On seeing his tweet, Katie made sure to reply and praised Piers for all his support.
She tweeted: "I have to say @piersmorgan you will always be a cheeky monkey but always have been a true gent and you were great with Harvey."
I have to say @piersmorgan you will always be a cheeky monkey but always have been a true gent and you were great with Harvey

— Katie Price (@MissKatiePrice) May 19, 2016
Viewers watched Piers credit Harvey for being "hilarious and incredibly bright" while on the show. He strongly spoke out against trolls who had shared nasty messages and offensive images targeting Harvey, who has disabilities including Prader-Willi syndrome and visual impairment.
He said: "You spend time with Harvey and he's a lovely chap. My admiration for Katie is enormous for the way she takes care of him. There will already be idiots sitting at home in their little dungeons with parents, firing out abusive tweets about Harvey. Maybe they heard him swear earlier and think, 'Isn't it funny to mock him?' I don't find it funny to mock Harvey.
"He's a courageous man with a great sense of humour and I think his mum does a brilliant job with this boy. Show a bit of humanity. I see a lot of people troll me. I like to correct their spelling. I can deal with it. I'm big enough and ugly enough to look after myself. Same with Katie. But when it comes to Harvey, he can't get on Twitter and respond to these clowns."
Piers concluded: "Have a go at me or Katie, we can take care of ourselves. Don't go after this boy or people like him who are defenceless and can't defend themselves."
Katie, meanwhile, added: "I know Harvey looks big and can look intimidating," said Katie, "but he has a heart of gold and wouldn't know how to hurt someone. He's all about love."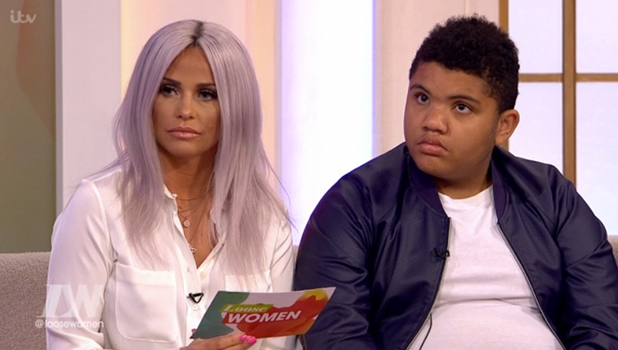 At the time the nasty posts were brought to Katie's attention,
she actually received an apology from one troll who had mocked Harvey online.
They insisted they were "truly sorry" for the content they had shared about Harvey and promised it would "never happen again."
They shared their apology on Facebook, it read: "For the record, I never made any of these Harvey Price pictures I just posted it. I would like to apologise to Katie Price and family and this will never happen again.
"I am a lovely person inside and I think Harvey is a lovely person. I really do. It was very immature of myself. This will not happen again and I am deeply sorry. I agree what I posted/shared was disgusting - it will NEVER happen again."
Since then, Katie has been inundated with support after telling fans she is "so angry and upset."
Many took to Twitter to compliment Harvey following his
Loose Women
debut, and Katie's parenting.
Say whatever you want but Katie Price seems to be one of the most loving and understanding mums I've ever seen, she's incredible with Harvey

— georgia (@georgiaoneiII) May 19, 2016
@MissKatiePrice @piersmorgan @loosewomen massive respect to Katie for how well Harvey has done. Ignore the evil who put him/you down

— Emma (@emma_ewalsh57) May 19, 2016
@MissKatiePrice @piersmorgan @loosewomen Harvey's an absolute treasure.
Katie you're a brilliant mother! Ignore the trolls, they're vile!

— FilansFreak :) (@ShanAmbrose) May 19, 2016
@MissKatiePrice have your app already . Absolutely fantastic interview with Harvey on LW, he is lovely young man, credit to you katie ️xx

— Misskells (@misskells_kb) May 18, 2016
Just caught up with @MissKatiePrice on #loosewomen what an amazing young man you have Katie Harvey is a credit to you

— Sparklymrsc (@sparklymrsc) May 18, 2016
@piersmorgan watched you on loose women with Katie and Harvey and my heart just melted how you interacted with Harvey #needmoreppllikeyou X

— Claire (@Pipester35) May 18, 2016
Follow us on Twitter @RevealMag for all your celeb, fashion and beauty news!
Fancy winning some GREAT prizes? Check out Reveal Competitions here!